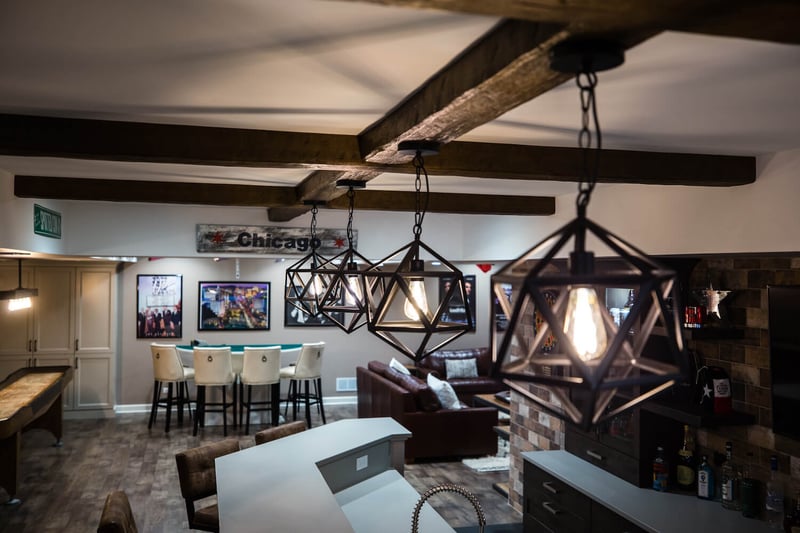 When designing your new kitchen remodel, bathroom remodel or home remodel there are a lot of variables to consider. One of the most important factors when showcasing your new remodel is the lighting that you choose to invigorate the space. Today we look at a variety of lighting options that can showcase your home beautifully.
1. Recessed Lighting
Recessed lighting is installed in the ceiling above your space. Sometimes referred to as can lighting, recessed lighting hides all wiring with the light bulb covering the area of the ceiling. The lighting created from recessed lighting can be used for a range of functions from ambient to accent to task. This is a very common choice for hallways and other simple areas of your home.
2. Track Lighting
Just like the name implies, track lighting are lighting fixtures hung on a track mounted to the ceiling or hung off the ceiling. The track consists of lighting that can be moved along the track depending on your desired light function. This ability to adjust and move the lighting makes track lighting ideal for kitchens or open concept spaces where task or accent lighting is needed.
3. Sconces
Sconces are wall mounted fixtures that fit nicely beside a bedside or where an additional elegance may be needed. Sconces can be either uplights or downlights, providing a calming atmosphere. Typically sconces do not provide a powerful light, but are one of the most decorative lighting pieces you could choose for your remodeling project.
4. Ceiling-Mounted Fixtures
A great choice for a bedroom or confined casual space, ceiling mounted fixtures are installed into the ceiling and overhang the space. Ceiling mounted lighting tends to be used to provide ambient light in a room as with a more general, dispersed lighting style.
5. Cove Lighting
A very trendy and modern option, cove lighting is lighting that is built into the upper portion of the wall or ceiling. Typically, Cove lighting is provided by a thin strip of LEDs along a cove, or niche, that is already created in the room. It provides diffuse, ambient lighting.
These lighting options for your home remodeling project are destined to provide lighting solutions for your new and beautiful space. At OHi, we have a team that is ready to assist you with any questions, customizations or requests to fulfill your dreams during your remodeling process. Schedule an appointment with our Finishing Touches Consultant and they will help guide you through the process.