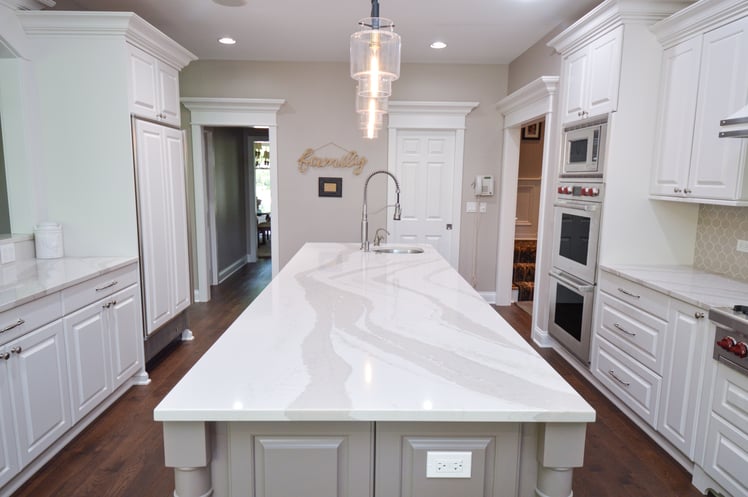 The kitchen is made for creating; you make meals, build relationships, do crafts, and so much more; It's probably the most used room of your home. Since you spend so much time in it, it gets a lot of wear and tear, which means it's the number one contender for a remodel. However, sometimes you don't necessarily need to remodel the whole space but simply refresh a few aspects. One of the most common features to refresh is the countertops. This is because they get the most wear and tear and are an important element of the design. We've put together a list of three reasons a countertop refresh might be the perfect option if you're not ready for a full-scale remodel
Cost
Rearranging a floor plan, plumbing and electrical work, and adding new appliances start to add up when completely remodeling your kitchen and becomes costly. Cabinets are one of the highest expenses when doing a full-scale remodel. This is why keeping your cabinets but changing out your countertops can be an excellent way to save money while making your kitchen feel brand new. By just replacing your countertops, you are also cutting significantly cutting the cost of labor. Simply replacing your countertops saves you around 85% of the cost of a full remodel and is an excellent return on investment, as up-to-date countertops like quartz increase your home's value. The kitchen is a home's biggest selling point, so having quality countertops that improve functionality and are aesthetically pleasing is a great way to increase your resale value.
Quality
Many older homes or builder-grade homes feature the dreaded laminate or Corian countertops. These countertops can creak, peel, and stain incredibly easily. They often cannot meet the durability needs of people who frequently use their kitchen, not to mention they usually have a dullness to them. Some homes feature countertops in an unappealing color scheme that cannot compare to the wide variety of today's selection. Replacing your countertops ensures that you will have the highest quality, like quartz, that is incredibly low-maintenance and scratch-resistant. This durability is especially helpful for those with kids or if you cook often. You can also choose a style that matches your personality and overall home aesthetic. Quartz, quartzite, and marble are all beloved options for today's clients. They have a wide range of colors, textures, or features, like a dash of metallic accents. Replacing your countertops can help shape your home's new feel by shifting the space's tone or better capturing your personality.
Time
An average kitchen remodel can take months, leaving you without access to your kitchen for a long period of time. A simple countertop upgrade can be done quickly and efficiently without half the level of labor required for a full-scale remodel. Considering the scope of space countertops take up, this should not come as a surprise. Replacing your countertops is a time-efficient way to make your dream kitchen come true without being under construction for weeks on end.
Are you getting the remodeling itch? Or tired of looking at your old, worn countertops? Contact us to start your kitchen refresh process today. We'd be happy to help you save money while updating your home.