After falling asleep to Tidying Up with Marie Kondo on Netflix, you begin dreaming of your perfectly clean, organized and decluttered space. In the morning, you stumble out of bed and in a groggy haze, trip on the pair of shoes you never put away, and smash into THAT chair. You know the one, the infamous chair that serves as a catchall for laundry, hangers, things that need to be returned, etc. Abruptly awakened by the pain of a stubbed toe, you come to the aggravating realization that your bedroom is not the only place in your home that would make Marie Kondo quit and run for the hills (just kidding, she's an angel).
Instead of simply dreaming to get organized, take action! To help you get started, here are some pointers from Tammy Ogaard to efficiently optimize your space.
What's The Hang-Up?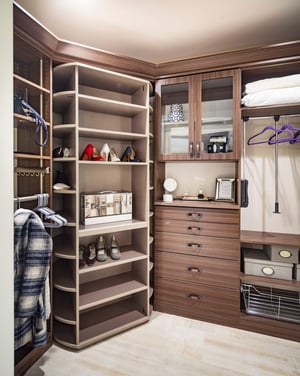 The best place to start is the mother lode of all clutter: your closet. Whenever you have guests, you instantly adopt the cleaning style of an adolescent by shoving everything into the nooks and crannies of your closet. Your Halloween costume from three years ago? Check. The VCR you hold onto in case it makes a comeback? Check. Your sense of dignity? Check. All that can, and should, change. We'd like to say it starts with remodeling your closet, but you actually need to start with remodeling your mindset and making an effort to get rid of unused items. If you don't take those steps first, then the utility of a new closet will be lost in the clutter.

When you are ready to commit to a stress-free closet, consider investing in a custom closet system, tailored to your specific needs. Once you unload any unnecessary items, you will gain a better understanding of what you actually need. For example, if you have an abundance of dresses, consider allocating a larger section dedicated to a singular bar. There is still room for a shelf above the bar for seasonal clothing storage, or folded clothes. If you have a lot more shirts, or are sharing with a partner, two rungs will increase your hanging space. After the primary hanging space is decided upon, you can start considering upgrades, such as a rotating shoe carousel (or at least shoe racks) and built in drawers to hold your folded items. Once it's built, you may be overwhelmed by how to store different articles of clothing, and we understand. Luckily, there are guides to help you distinguish the best option to get the longest lifespan out of your clothing. Spoiler: crumpled in a ball on the floor is never a suggestion.
Close The Door On Clutter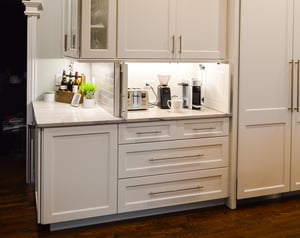 When you invest in a kitchen remodel, you're going to want to show it off! Keeping the countertops cleared and the cabinets organized will soon be a top priority of yours, especially after friends and family start dropping by unannounced to see your new space. In an effort to declutter your kitchen, you start asking yourself questions like, "do I really need this Bacon Bowl Maker?" While there are many items that we can live without, for most people, a coffee maker is NOT one of those items. Fortunately, you don't need to sacrifice sleek, tidy countertops for an unsightly coffee maker. As design trends evolve, there are now more creative ways to organize and hide your necessities than ever before. For example, you can build a hidden coffee cove that, when you're finished, is concealed by a cabinet door. Inside the cove, you'll find an outlet, room for the appliance, plus additional space to store sugar and creamer.

Then you're left with the glaring issue of your utensils. The jar by the stove filled with every gizmo and gadget was cute for a week, but now it just causes stress every time you try to pull a utensil out and three others are latched onto it. We give you permission to shove it in a drawer… a fancy drawer that has built in stainless steel organizers for all of your utensils, including specialized compartments for slot-less knife storage, allowing you to ditch the wooden knife block that clutters your counter.For maximum efficiency, build it directly next to the stove for easy access while cooking. One of our favorite kitchen accessories is the pull-out spice rack. It will help keep every spice in place, making it easy to read the labels, quickly find what you're looking for, all while encouraging healthier eating.

Ultimately, installing new cabinets is the key to an organized kitchen. The pull-out pantry shelves enable you to keep food properly stocked without over buying and over stuffing the cabinets. If you need accountability, you can try the trendy open-faced cabinets. It will require matching dishes and holds you accountable to promising not to fill the space with unnecessary junk. You can make the kitchen that's right for you and your organizational needs.
Make A More Appealing Entrance
As you walk into your house, tired from a long day of work, the last thing you care about is hanging your coat in a closet. Sometimes, you simply shrug out of it and lay it on the nearest chair. You literally kick your shoes off, paying no mind to where they land. You glance around to find you're following suit to the rest of your family. The next morning, when everyone is rushing out the door, trying not to spill coffee, they are halted by trying to find their shoes causing quite the hoopla. Luckily, it doesn't have to be this way. Installing entryway cubbies is the perfect way to combat such tangled messes. Include a cubby for each family member where they can keep their favorite pair of shoes, hats, and gloves. Put coat hooks in each cubby, so coats are no longer strewn about. Now when you invite friends over for a game night, the first thing they see won't be a cluttered pile of coats, but rather a tastefully elegant entryway.
Now What?
There are endless possibilities for creating your dream home, and OHi has been helping families in Chicago and its surrounding suburbs remodel their homes since we founded our family business in 1900. Our expert team members will help you find design inspiration and carry out your vision. We've been improving our neighborhood one home at a time through expert advice, exclusive products, and exceptional service. Check out our portfolio, or contact us to speak with an OHi family member about your remodel!