Incorporating natural elements into daily life is an increasingly popular movement across all lifestyles. As more of the population is becoming aware to the effects of pollution, more and more people are taking interest in the planet and choosing natural products. From clothing to haircare and makeup, to the materials we put in our homes, it has become much easier to integrate natural elements across all aspects of day to day life. Designer Dove Brown shares a couple of her favorite elements and how you can incorporate them into your interior design.
Wood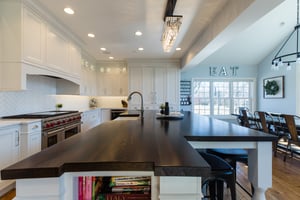 Wood is one of the most versatile natural elements you can put in your home. Its wide range of species, colors, and textures make it easy to incorporate into any design style from contemporary to shabby chic to mid-century modern.

Although the most common use is as traditional hardwood floors, wood can be transformed into a variety of products. For example, a popular style in kitchens is butcher block countertops. While butcher block is a beautiful look, it is probably not the best choice if you cook a lot. Depending on a house's architecture, it might already have exposed wooden beams, however another option is to install a beadboard ceiling. Depending on the style you want to achieve, you can stain or paint the beadboard, or even leave it unfinished for a more rustic look.
Natural Stone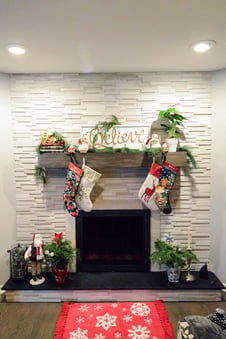 There are many types of natural stones, each with its own set of unique characteristics. With regards to interior design, the most commonly used natural stones are granite, marble, soapstone, and slate. These stones frequently function in the home as sinks, countertops, flooring, and backsplash. They can also be beautifully integrated as the face of a fireplace, seen here in an Arlington Heights remodel we recently completed.

In kitchens, natural stone is ideal for sinks and countertops because it is extremely durable and easy to clean. Unlike stainless steel sinks, natural stone is also able to hide scratches and fingerprints easier. More importantly, natural stone countertops' sealers reduce how porous it is, therefore increasing its resistance to bacteria which is essential when preparing food.

Natural stone is also regularly found in bathrooms as tile on the floor and in the shower. Stone is frequently seen on the exterior of a home because it is weather-resistant, but that's what makes it the optimal material in bathrooms as well. Due to extreme temperature changes and heavy exposure to moisture, bathrooms need to be comprised of water-resistant products, such as natural stone. Additionally, if you have a cramped bathroom, you can convert it into a wet room to make it feel larger. If that is the case, natural stone is an excellent option because it can act as the tile throughout the entire bathroom floor and shower wall, without fear of water damage.
Now What?
There are endless possibilities for creating your dream home, and OHi has been helping families in Chicago and its surrounding suburbs remodel their homes since we founded our family business in 1900. Our expert team members will help you find design inspiration and carry out your vision. We've been improving our neighborhood one home at a time through expert advice, exclusive products, and exceptional service. Check out our portfolio, or contact us to speak with an OHi family member about your remodel!
Related Articles