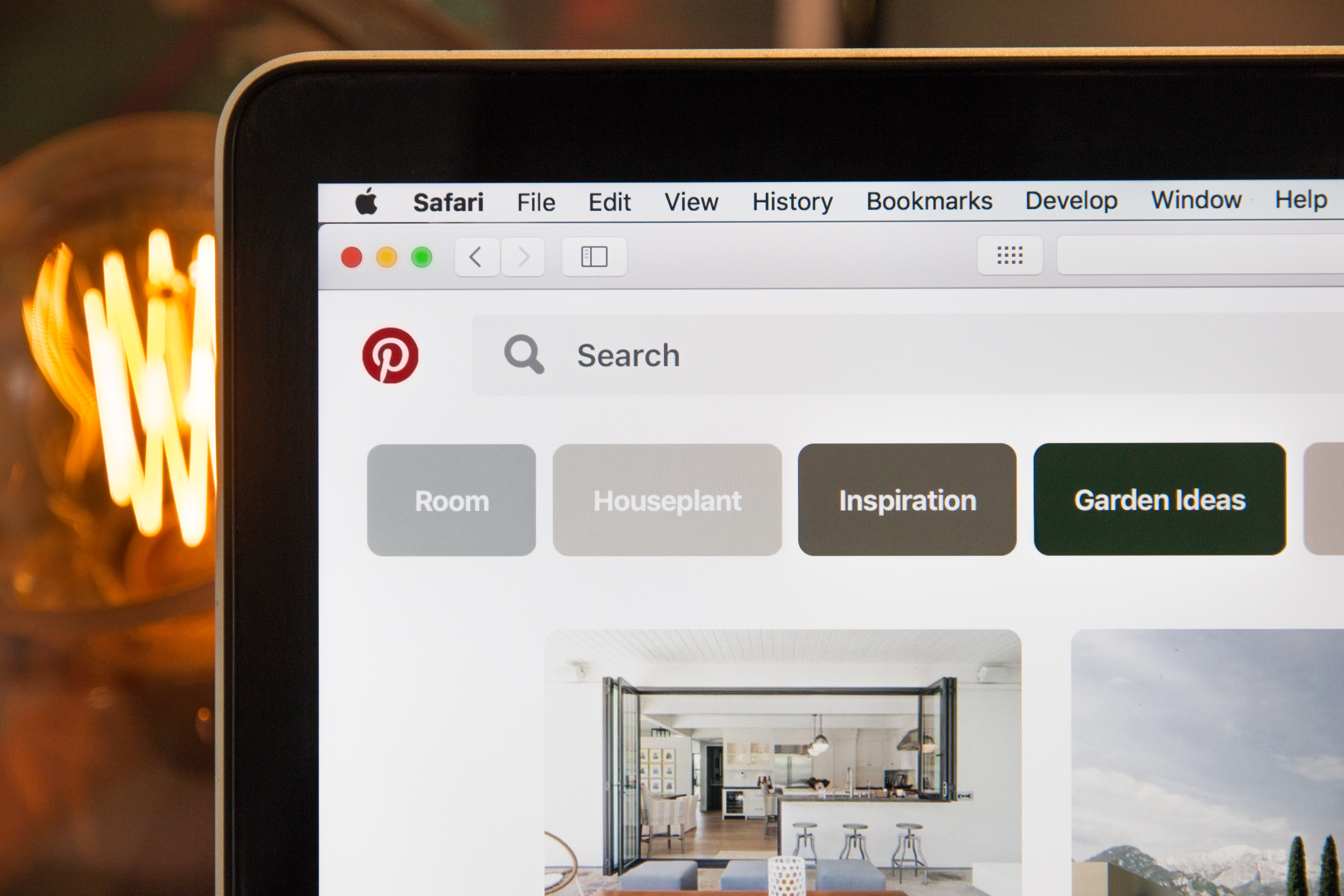 Sometimes, social media can be confusing, especially when it's never been used. However, social media can also help us stay connected, spread ideas, and share our own creativity. In the design world, we especially love platforms that allow us to highlight the gorgeous homes our client's inhabit. We also love using it as a tool to gauge the taste of our current clients. One of the best platforms to do both is Pinterest. This social sharing site allows users to save and share images that inspire them. We hope that you can also use it as a tool, whether to shape the dream of your future remodel or to help communicate your vision to an OHi designer for a current remodeling project. But before that can happen, we thought we'd provide a step-by-step guide on how to best use Pinterest.
Step-By-Step Guide For Creating Boards and Saving Pins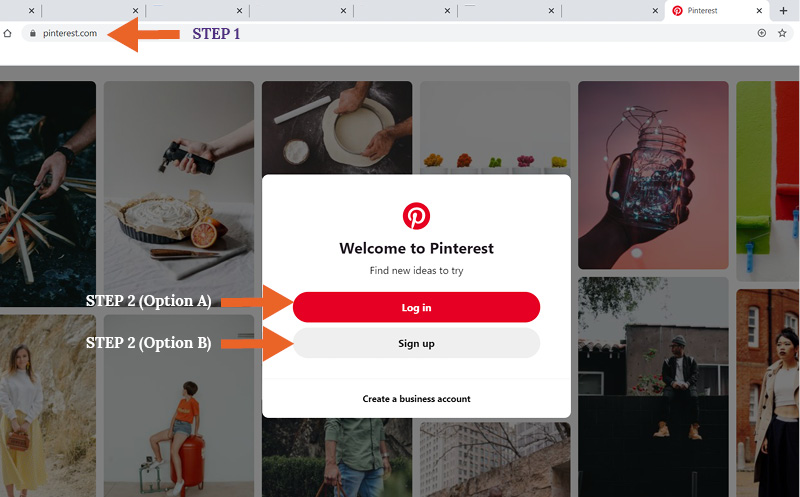 Step 1:
In the search bar at the top of your web browser, type in pinterest.com. Hit enter and you will be redirected to the Pinterest home page.
Step 2:
If you have an account, you might already by signed in. If that is the case, skip to step 3.
If, however, you are signed out, log into your account. This requires you to enter your username and password. If you forgot you password, go through the steps of creating a new one by clicking "Forgot your password".
If you do not have an account, click "Sign up". It will proceed to ask you an assortment questions, such as email, date of birth, gender, etc. Once it lets you into Pinterest, it will then ask you a few of your likes and interests to help recommend some pins to get you started.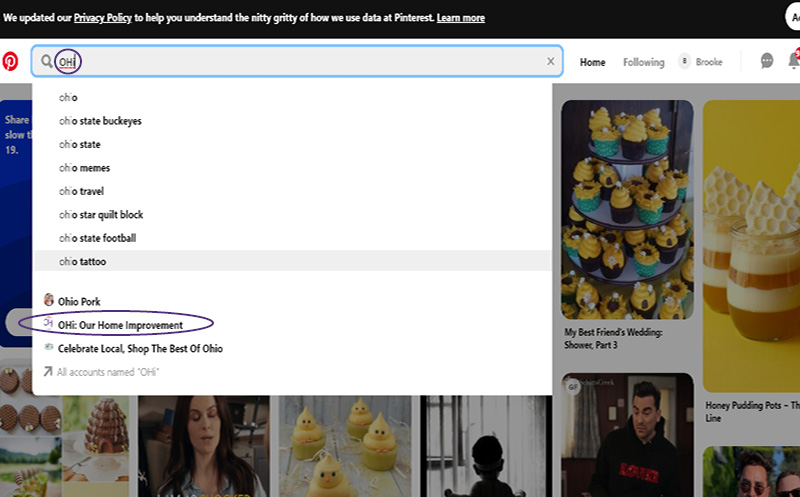 Step 3:
Once you are on your home page of Pinterest, it will show a variety of pins based on recent searches or interests you indicated. You will see a search bar next to the Pinterest logo in the upper left-hand corner. Click it and type OHi. If it doesn't pop up as an options as shown above, type OHi: Our Home Improvement. Then click on the OHi option from the drop-down menu.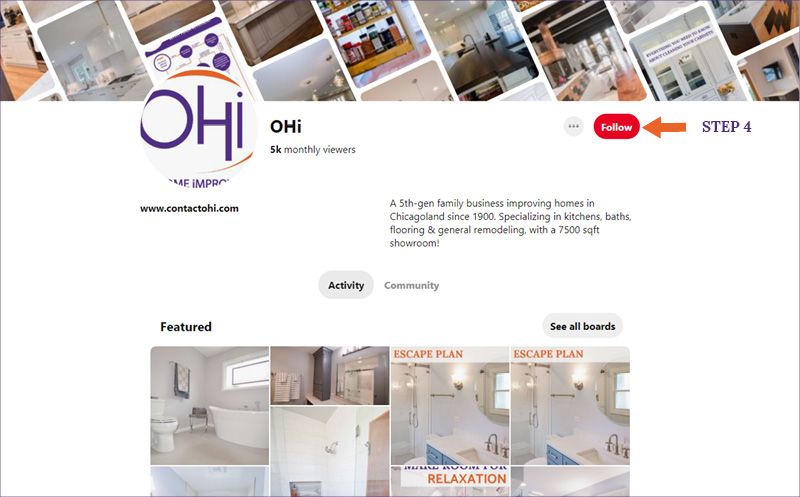 Step 4
You will then be directed to OHi's Pinterest account. This step is optional, however highly encouraged. If you would like to see all the latest pins from OHi on your home page, click the follow button. This will allow you to see all of our latest designs, as well as make it easier for you to find our pins to put on your own boards.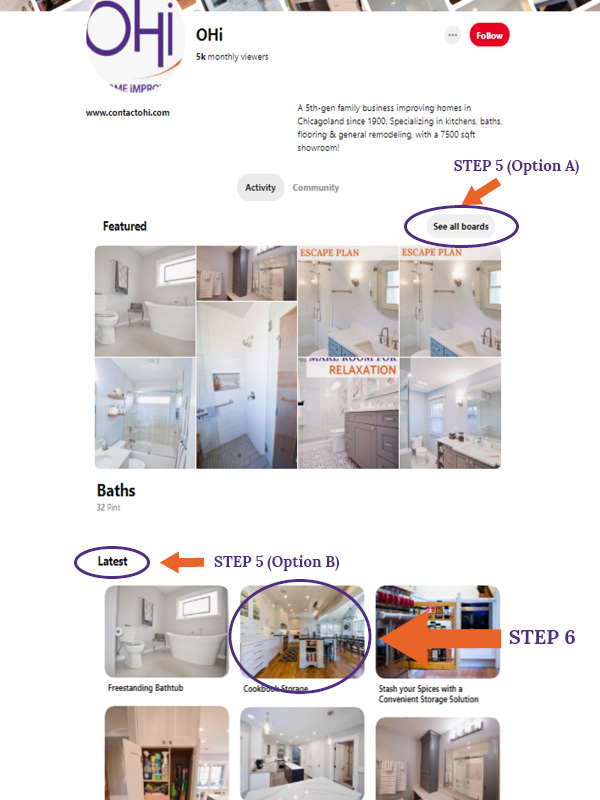 Step 5
After you follow OHi, scroll down and you will see a few image icons. At the top, you'll see a button saying "See all boards". If you click this button, it will lead you to all the OHi boards, which is helpful if you're looking for specific inspiration, such as bathrooms, kitchen or flooring. If, however, you want to see assortment of our latest pins, continue to scroll down. This will show every pin from OHi starting with the most recent.
Step 6:
Click on an image that inspires you. This could be something that you are intrigued by or something that MUST be in your home when you decide to remodel.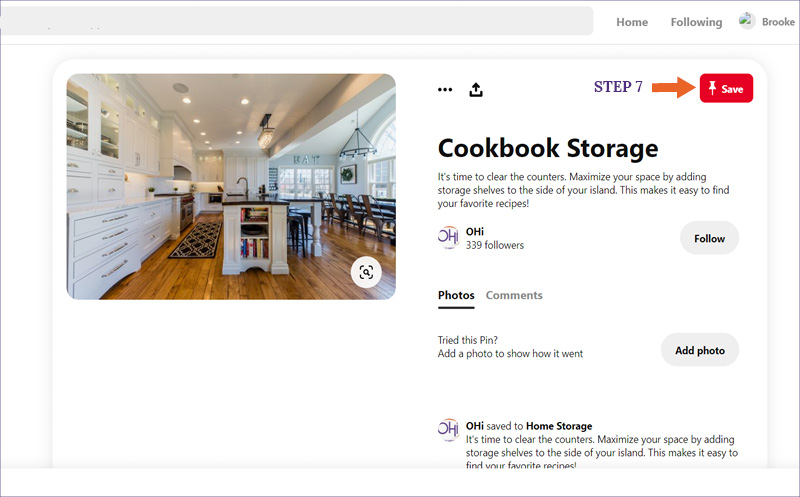 Step 7
Once you see the pin up close, you may decide it's not what you're looking for. If, however, you love what you see, click the "Save" button in the top right hand corner.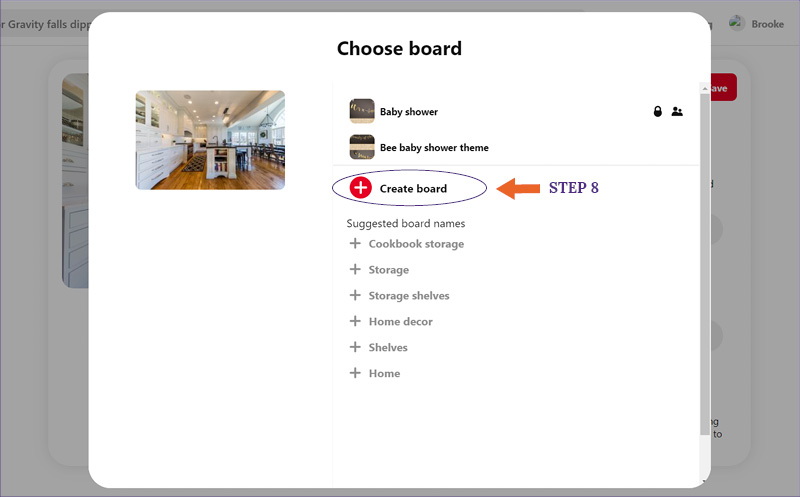 Step 8
You will then be asked to choose a board. Your boards help organize your pins based on topic. If you don't have a board fitting for this pin, or you want a board to be shared with someone like your best friend, or an OHi designer (and you don't already have one), click "Create board".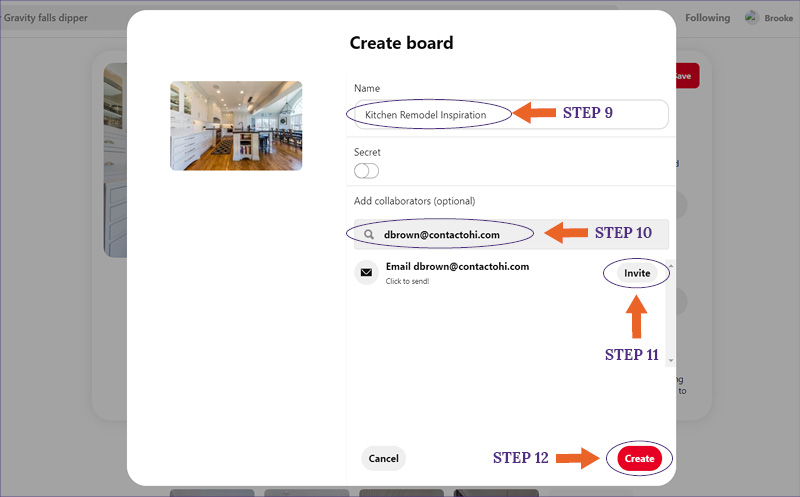 Step 9
Create a title for your new board. In this case, I am looking for inspiration for a kitchen remodel, and want it to be clear cut. However, some people love to be creative with their board titles. It's completely up to you which route you want to take. Just be sure that you know the purpose of each board.
Step 10
If you want to share this board, thus allowing someone else to pin to you board,as well as giving them direct access to view the board, enter their email in the search box under "Add collaborators".
Step 11
Click the "Invite" button and Pinterest will send an email to your collaborator, giving them access to your board.
Step 12
Click the create button. The above screen will disappear, and the image you wanted to save will now be on that specific board for you to access at anytime.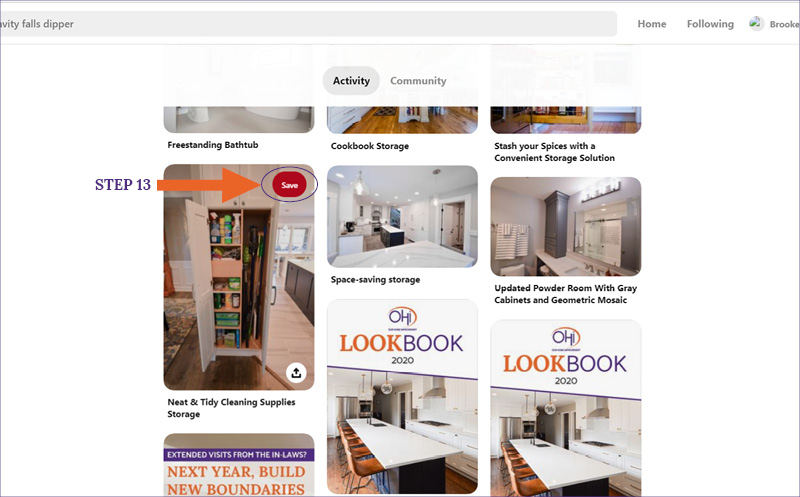 Step 13
Now repeat the process as much as you like. Browse Pinterest for all kinds of kitchen inspiration, and pin what you find to your boards. Since you already have a board for kitchen design inspiration, pinning because extremely simple. Just hover your mouse over the image you want to save. Then, click on the red "Save" button.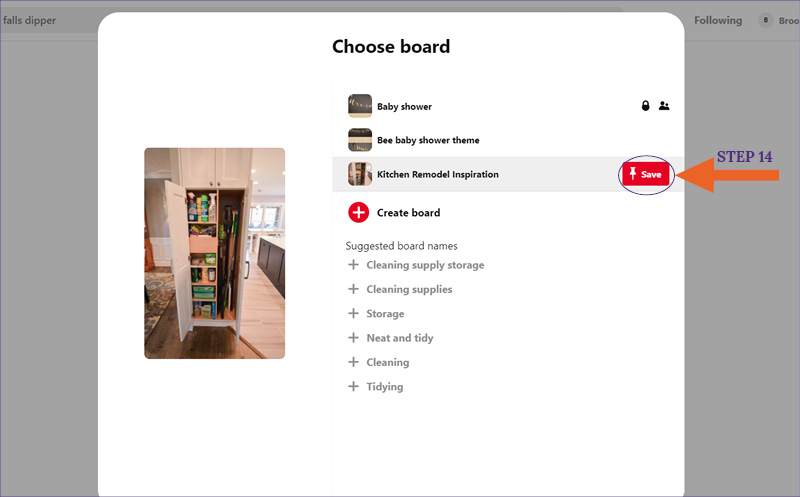 Step 14
Next, find the board you want your pin to be saved to, hover over it, and click "Save" . The pin will then go to that board.
You are now equipped to become a master pinner, and will be creating comprehensive boards for everything from kitchen design, to graduation parties.
How To Use This Tool To Help With Your Remodel
Share Your Boards
As mentioned above, sharing your board allows for more input and guidance. We love nothing more than when our current clients share a Pinterest board with our designers. Not only does it help our team get a better idea for the selections phase of design, but we can also start sharing some of our favorite ideas as well.
Sharing your board is also a great way to stay connected with friends and family, whether by sharing funny memes, inspirational quotes, and bucketlist activities to try.
Dig Deeper
Go beyond the picture of your pin by visiting the site it originated from. When you click on your the image of your pin, it will take you to the original site where you can read more about the products your seeing. For example, many OHi pins bring you to a project's portfolio page that explains the story of the design, as well as the specific products being used. If you're doing you're own remodel, this is a great way to make a specific list of what you're looking for.
Stay Organized
Most importantly, Pinterest is a great way to keep your creative thoughts organized. Each board can hold a trove of ideas. If they were all together, it might get overwhelming and jumbled. Using Pinterest to curate your taste and ideas is sure to take away some of the chaos that can be involved with planning and dreaming.
We hope this guide helps explain Pinterest and the ways we find it helpful for the design process of a remodel. If you're ready to start the process of your remodel, schedule a design consultation, and get connected with a designer to share your vision with. If you're still in the dreaming phase, follow OHi for great design inspiration.