As children grow and change, so do their tastes, interests, and personalities. Why shouldn't their bedrooms change along with them? Check out these simple, cost-effective ways to redecorate a room as children grow and develop, courtesy of Showroom Manager Tammy Ogaard.
Keep Colors Neutral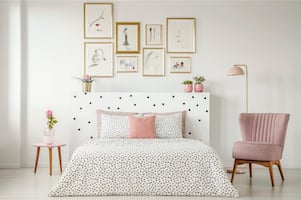 If someone asks a child what their favorite color is on Monday, it may be completely different on Friday. Imagine how much that can change across several years! In order to avoid having a teenager who regrets the color they picked for their room when they were eight, paint children's rooms a neutral color like beige or light blue, and keep flooring styles neutral as well. As they grow and their preferences change, it's much easier to alter the accents and decorations of the room to their color preferences than to repaint the entire thing.
Dodge Kid-Sized Furniture
That tyke-sized recliner may be super cute right now, but a child will grow out of it in a matter of a few years—or even months! It's much easier and more affordable to start children out with adult-sized furniture that they can grow into, rather than purchasing larger and larger pieces as they grow.
Make Storage A Priority
It's common for children to grow attached to certain toys, books, or other memorabilia as they grow older, and it might not all fit in their closets! Adding storage such as wall-mounted bookshelves, wicker storage baskets, or openable ottomans can allow children to express themselves with their own possessions, without making cleanup a hassle.
Find Temporary Accents
In order to feel comfortable and at home, children often want to select their own style, decorations, and accents for their room. But because their favorite band, TV show, or toys may change rapidly, it's best to keep these accents temporary. Let kids express themselves with easy-to-remove wall stickers or personal photographs that can be changed as quickly as their tastes. Or, incorporate elements like blackboards during the next home redesign that allow kids to express themselves differently every day.
Now What?
There are endless possibilities for creating your dream home, and OHi has been helping families in Chicago and its surrounding suburbs remodel their homes since we founded our family business in 1900. Our expert team members will help you find design inspiration and carry out your vision. We've been improving our neighborhood one home at a time through expert advice, exclusive products, and exceptional service. Check out our portfolio, or contact us to speak with an OHi family member about your remodel!