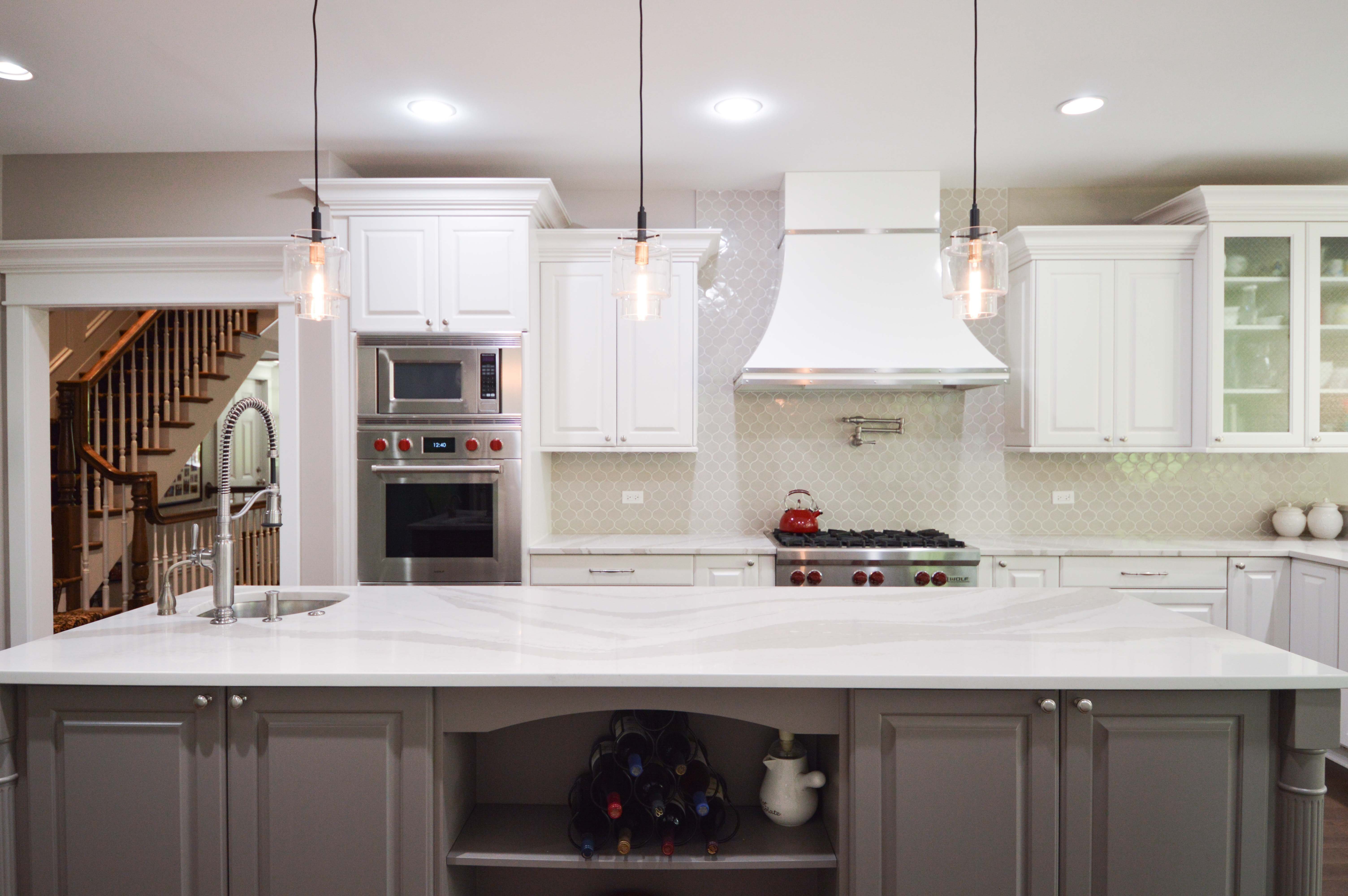 Every day, when you walk into your new kitchen, you run your hand across the surface of your shiny, smooth quartz countertops. Cool to the touch and seemingly indestructible in their quality, you wonder what the cleaning and care routine for them should be. After all, you invested a pretty penny for these, and it was worth it! They can last a lifetime.
Before you start biting your nails over adding another intensive step to your cleaning list, we're here to share the dirt on countertop cleaning: it's extremely simple. We've researched and compiled our notes to give you the breakdown on how to clean your quartz countertops. Looking for a specific brand's care guide or warranty details? We've included those as well!
Caring for Quartz:
In the last 5 years, quartz has skyrocketed to become the best-selling countertop material because it is touted as a beautiful, durable, and low maintenance product. Unfortunately, many consumers misunderstand durable to mean indestructible and low-maintenance to mean no-maintenance. They are then guilty of using sharp knives to cut directly on their quartz surface, or rarely include it in the cleaning routine.
Spoiler alert: this is not the best way to care for your quartz. Instead, you need to consider enacting a weekly wipe down
How to Clean
When you wipe down your quartz once a week, start simple with a soft cloth, dish soap (like Dawn), and water. Use a second cloth to dry them. For those who want to use stronger cleaners to ensure the bacteria is gone, or for tougher spills, consult your specific brand's care guide, since each brand suggests different products.
For example, Caesarstone recommends you use Soft Scrub Liquid Gel with Bleach, whereas using Soft scrub on Cambria is a HUGE no-no and could revoke your warranty! But don't sweat it...Cambria includes a thorough list of acceptable cleaning products. Just be sure not to purchase variation on those products, because some variations may include bleach or ammonia, which can affect the coloring.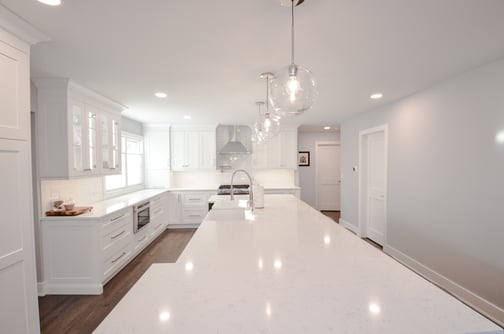 If you're opposed to using chemicals, and want an all-natural cleaner, most brands (including Cambria and Caesarstone) recommend you mix your own cleaning solution comprised of 50% water and 50% vinegar.
Caesarstone goes a little further in their care guide to suggest a deep clean with their suggested products (beyond your normal soap and water cleaning) once a month in order to help the natural build up of patina. Patina is a substance found in quartz that helps create the natural shine, color, and luster of the slab. Too much patina is not good, but the natural patina, when quartz is well cared for, helps give it the look only quartz can have.
They also provide specific methods for cleaning tougher spills and stains. For example, to remove a dried spill, use a plastic putty knife to chip off any hardened material, and then wipe the area with soap or cleaning product. When using a cleaner or soap, apply directly to the cloth. As far as tougher stains or special spills, Caesarstone offers different methods for the cleaning. If you're facing an oil spill, use Dawn soap and water. Let the soapy cloth soak on the spill for five minutes, remove cloth, wipe away with a damp cloth containing no soap, and then dry the area.
Each major quartz brand warns against using magic erasers, S.O.S. pads, or any abrasive scrubbing pad. With this in mind, many warn against using sponges, as the material may also scratch the surface. If you wipe the countertops with a cleaning solution, do not leave the product on the counter for an extended period of time, as this may cause staining or discoloration.
Other Best Practices
Apart from cleaning, there are two major things you need to know to increase the longevity of your quartz counters.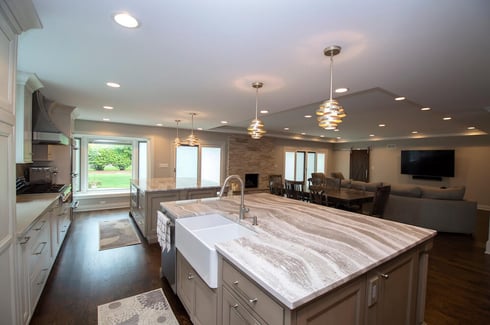 First, when you are using knives, always use a cutting board. An accidental slip of the knife, especially if it's just a butter knife, will most likely not result in a scratch (it will just dull the knife). Also, when you have hot pans or any hot material, do not place it on the surface. Use a trivet or potholder, because the surface is not heat resistant.
Following these guidelines will help give your countertops the longest lifespan, as well as ensure you don't void your warranty. In regard to your warranty, either register your product right away or hold onto your invoice for proof of purchase. Also, be sure to read through your specific warranty guide to find more details about caring for your surfaces.
Complete Care Guides and Warranty Terms for Quartz Carried by OHi
Cambria
Click here to find the complete care & maintenance guide
Click here to find the complete warranty terms
Caesarstone
Click here to find the complete care & maintenance guide
Click here to find the complete warranty terms
ColorQuartz
Click here to find the complete care & maintenance guide
Click here to find the complete warranty terms
Difiniti
Click here to find the complete care & maintenance guide
Click here to find the complete warranty terms
Diresco
Click here to find the complete care & maintenance guide
Click here to find the complete warranty terms
Hanstone
Click here to find the complete care & maintenance guide
Click here to find the complete warranty terms
QuartzMaster
Click here to find the complete care & maintenance guide
Click here to find the complete warranty terms
Vedara
Click here to find the complete care & maintenance guide
Click here to find the complete warranty terms
Vicostone
Click here to find the complete care & maintenance guide
Click here to find the complete warranty terms
Wilsonart
Click here to find the complete care & maintenance guide
Click here to find the complete warranty terms
Related Articles