Galley kitchens, named for those long, narrow kitchens usually found on ships, are popular in small homes due to their space-saving abilities. Often, though, they make a kitchen feel crowded, leaving the homeowner wishing for more usable space. OHi expert Kim Malito shares few simple home improvement projects can make a galley kitchen feel like a bigger, brighter space. And, if you're ready to take it on, opening up your galley to the rest of your home could make for an excellent open concept design.
Mind The Floors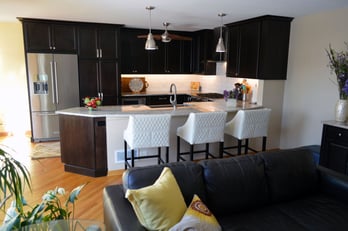 Outdated floors with busy patterns make a galley kitchen feel even smaller than it already is, so replacing those patterns with new flooring can pay off. Hardwood installed lengthwise can elongate the room. Dark-colored floors should be avoided; lighter floors that complement the walls and cabinets make the room feel wider. If hardwood floors aren't in the budget, any glossy floor that reflects light can help the kitchen feel larger.
Lighten Up
Most galley kitchens feature a window, and this light can help the space feel bigger. That concept can be carried throughout the kitchen with recessed lighting or lights under the cabinets, and installing such lighting is a fairly easy and inexpensive home improvement project. Lightening up the walls can have a similar effect to adding light; light bounces off light-colored walls and cabinets to create the illusion of more space. Also, the ceiling can appear higher than it is when painted a few shades lighter than the walls.
Consider Open Storage... Or Open Concept
Open shelving can dress up a galley kitchen, offering a great way to display beautiful dishes and other aesthetically pleasing items—keep the paper plates and Tupperware in closed cabinets! Old cabinets can be replaced with open shelves during a full kitchen remodel, or simply removing the doors can create a similar effect. If there's a free wall, additional shelves can be added there, along with hooks or racks for pots, pans, and cooking utensils.
If you're ready to tackle "the big one" by opening up your galley kitchen to the rest of your home, make sure you enlist the help of a design-build firm that can ensure your long-term safety. While a kitchen remodel is a huge undertaking, we have yet to engage with a client who doesn't think it's worth it!
Now What?
There are endless possibilities for creating your dream home, and OHi has been helping families in Chicago and its surrounding suburbs remodel their homes since we founded our family business in 1900. Our expert team members will help you find design inspiration and carry out your vision. We've been improving our neighborhood one home at a time through expert advice, exclusive products, and exceptional service. Check out our portfolio, or contact us to speak with an OHi family member about your remodel!
Related Articles