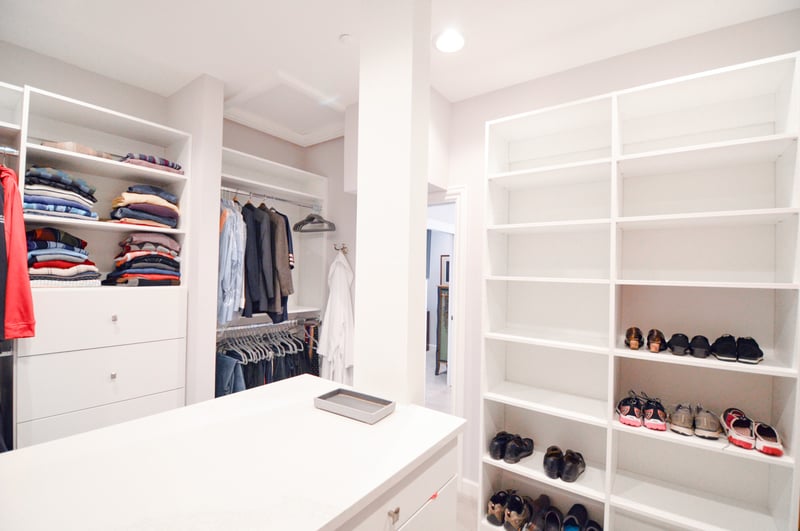 There is one room you remodel that is completely for you: your closet. For some, you dream of the movie makeover walk-in closet - the one with every shoe and accessory in its own place. For others, you'd settle for a closet that gave you access to your shirts hanging in the back corner. The closet is a sacred space. It houses the items that help give you your personal flair. While a kitchen and bathroom make a style statement to visitors, the clothes you wear make a statement to the world, and should be organized in a stress-free and cohesive fashion. We can help you achieve those closet organization dreams, but first, be sure to do your research and think through the following components.
Types of Closets
While we are primarily focusing on bedroom closets for this article, it is important to recognize the various closet spaces you can re-organize and re-dream with our finishing touches program.
Linen Closest
Often, these are the closets found in bathrooms, laundry rooms, or hallways. They are perfect for storing blankets, towels, toiletries, and other extraneous items you want to keep out of sight. Typically, these are constructed with standard wood or metal shelves, yet they can be upgraded with the right pullout accessories, such as a pull-out hamper.
Food Pantry
These are becoming more and more popular, especially for larger families or those who host frequently. These can range from standard built-in shelves to being decked out with kitchen accessories. Some of our vendors, like Rubbermaid, offer additional accessories like clear, air-tight storage containers to help keep your food organized as well. They help create a cohesive, secure, and clean look for your space.
Sheds and Garages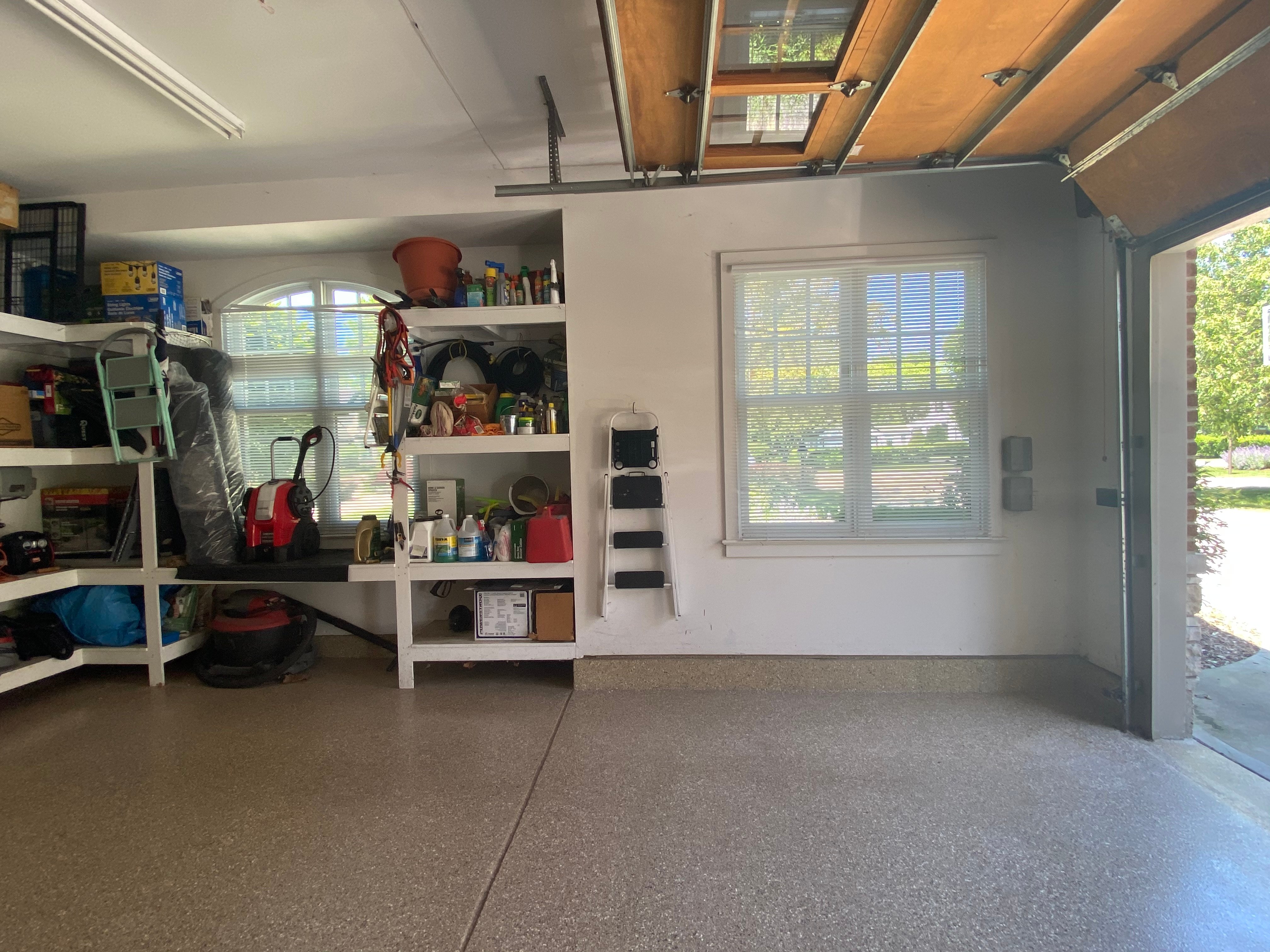 As we'll discuss with bedroom closets, there are systems that are adjustable and customizable based on your needs. That is very much the case for the organization we help create in sheds in garages. These often include special components like hooks for tools, racks for bikes, and durable shelves for storage.
Bedroom Closets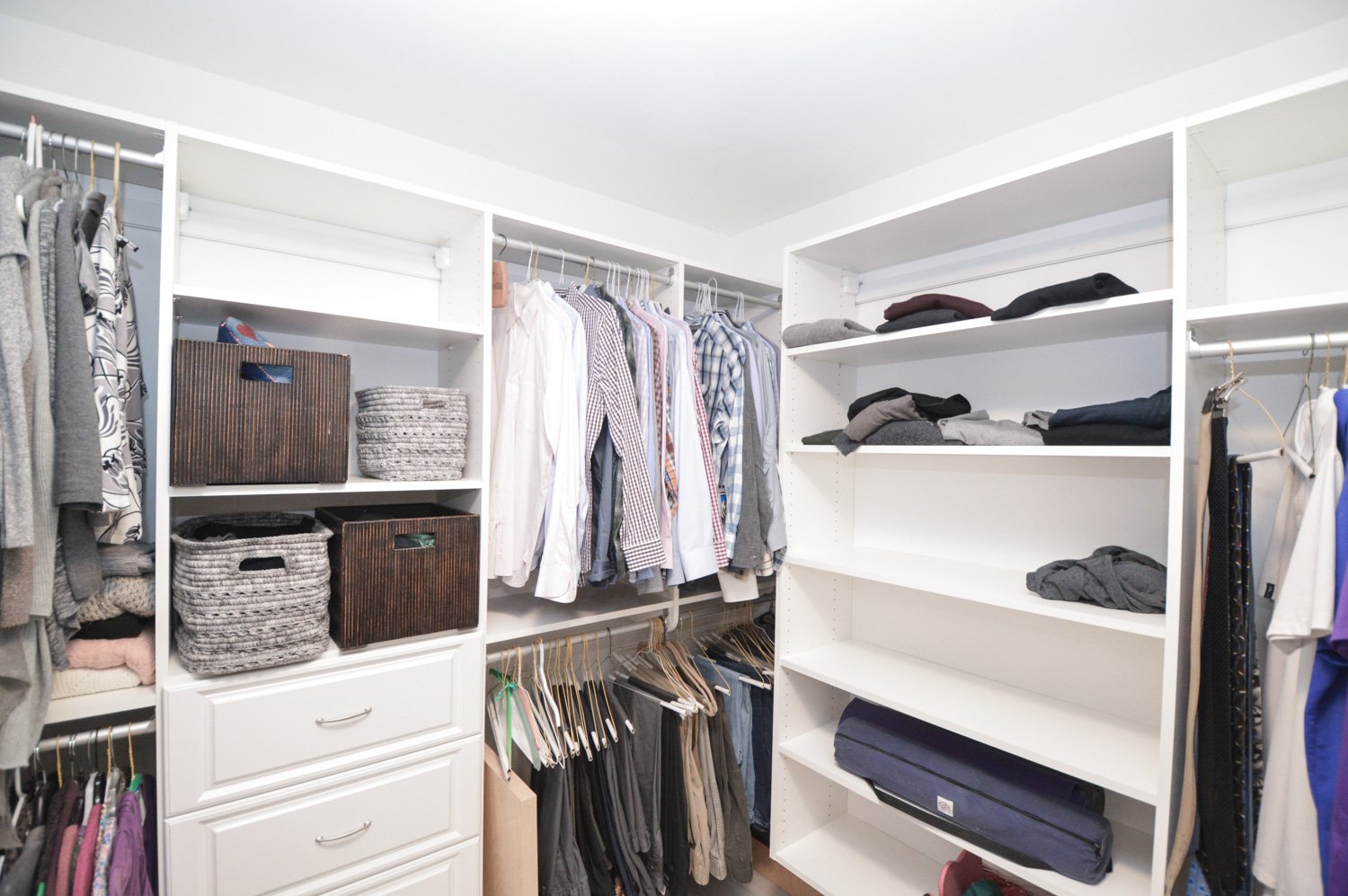 The main focus of this blog, and the closets most of our clients dream of remodeling, are bedroom closets. Whether it's decking out a glorious walk-in closet or maximizing the space of a reach-in closet, there are multiple ways to ensure the organizational system you choose is perfect for your needs.
But first, before you start considering a closet remodel, be sure to take stock of what you are storing. Not only do we recommend cleaning out your closet to weed out any unwanted items (remember, Marie Kondo suggests you only keep items that "spark joy"), but we also recommend taking note of what type of items make up the majority of your wardrobe. If your long hanging items, such as dresses, pants, and jackets far outnumber your short hanging items, this will take up more space than with short hanging items, such as button-up shirts. Reason being, you can install two horizontal poles to maximize your space with shorter items.
Another tip is to be sure to note how many extraneous items you have, such as ties, scarves, shoes, and even T-shirts. While these items do not necessarily need to be hung, they still need to be stored.
Traditional Closet Systems
After you've quite literally taken stock of your closet, you're ready to decide which closet system is right for you. For some, cost is more important, for others, the look is a top priority. Regardless, whichever system you switch to, you will achieve better functionality. If the idea of determining the right system overwhelms you, seek assistance from our Finishing Touches team, and they will help guide you through the process.
Direct Mount
This system is probably the most common in standard closets. It is not an interchangeable system that can be adjusted if your needs change. The style or organizational options you choose at the beginning will be permanent. However, this is also the most durable option and helps keep your organization streamlined.
Configuration System
This is the most adaptable option since you can adjust the positions and length of many of the components even after installation. That means if your needs change as you age, your closet can change with you. The pieces are detachable which is what allows it to be so customized. Other benefits include easy setup and a variety of fun accessories to help enhance your organizational efforts. The downside is that it can be less durable, and less attractive.
Custom Built Closet
This is by far the nicest looking system. It is similar to the direct mount, however, it involves semi-custom cabinetry. This is the most durable and timeless look, especially for a walk-in closet. It has a clean, personal look, but also tends to be the most expensive. This system can be paired with various pull-out accessories to help upgrade your organization even further.
Closet Accessories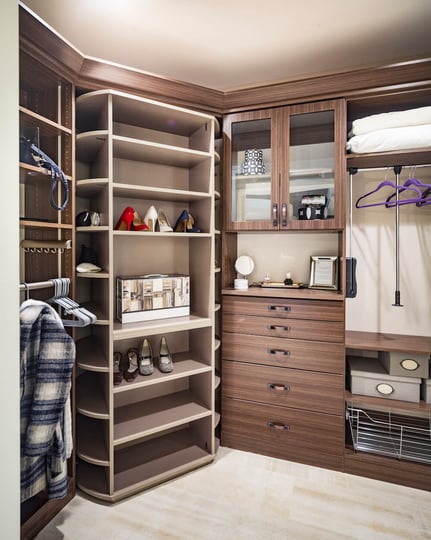 Often, an outfit only feels complete with the right accessories - the same can be said for a closet. Take a look at some of our favorite accessories that take your closet to the next level.
Rotating Shoe Rack
If you're anything like me, you've amassed an overwhelming, albeit impressive, shoe collection. The problem is, they often end up piled on the floor, next to the door because there is no room in my closet. Now, if you're doing your walk-in closet, not only can you install shoe cubbies to help give each pair a set home, but you can really splurge on a rotating shoe rack. While this rack takes up quite a bit of space, nothing else quite displays your beloved collection in the same glamorous way.
Pullout Hampers
This accessory is another must. Having a built-in hamper location, whether it's in a tilt out cabinet or an alcove built to fit a hamper basket, this is the only way to keep your dirty laundry all in one place and out of sight.
Jewelry Organization
While we're talking dream closets, we should mention the drawer compartments and hooks made to specially keep your jewelry organized. Say goodbye to tangled necklaces and misplaced earrings, as they'll all be stored, organized, and neatly displayed in one place.
Drawer Dividers
Do you ever dream of everything being kept orderly and neatly separated? Then drawer dividers are for you! While these are most commonly used to organize our delicates, they can also help keep your shirts compartmentalized.
Pullout Shelf
This option is particularly appealing to people who are interested in making their home their forever home, meaning they hope to age in place. This way, the top shelves that are often difficult to reach can be pulled down and come to you. Now you won't lose any storage space and can always have access to every inch, even without a step ladder.
Tie Storage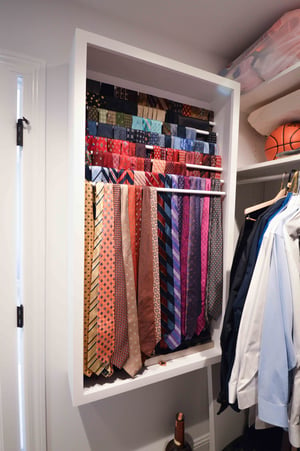 The way women collect shoes, men accumulate neck ties. The only problem is that they can be difficult to store. Luckily, there are a few options to combat that problem. While some people opt for a shallow top drawer, others choose custom tie hooks to help prevent any wrinkling or creasing. You can also build a custom rack like these Deerfield clients did.
Closet Doors
The final thing to consider when redoing your closet is the type of door you want for your space. There are four common types our clients choose.
Hinged Door
This is considered the best option for both walk-in and reach-in closets as it gives you full access to your space. For a reach-in closet, it is the only option that gives you a complete visual of the whole space. The drawback is that it requires a large space to open into, which can often create traffic problems. It also doesn't work in tight spaces.
Pocket Door
This is quite a popular option for our clients as it keeps the door hidden when the closet is open, and still provides full access. It has a very clean look. The drawback is that your walls need quite a bit of space to have room for a sliding track.
Bypass Door
Often found with reach-in closets, this is a space savvy option that won't interrupt the traffic flow. The major downside is that you only have access to one side of your closet at a time.
Bifold Door
This is the "compromise" option for reach-in closet doors. Unlike the bypass doors, it gives you 90% access to your closet at once. Yet, since they fold into themselves, they only take up a fraction of the space a fully hinged closet door takes.
If you're ready to give your closet the makeover of your dreams, schedule an appointment with our Finishing Touches Consultant and they will help guide you through the process. If you'd like to include a closet remodel with another project, such as a bathroom or a kitchen, schedule an appointment and a member from our team will be in touch with you shortly.