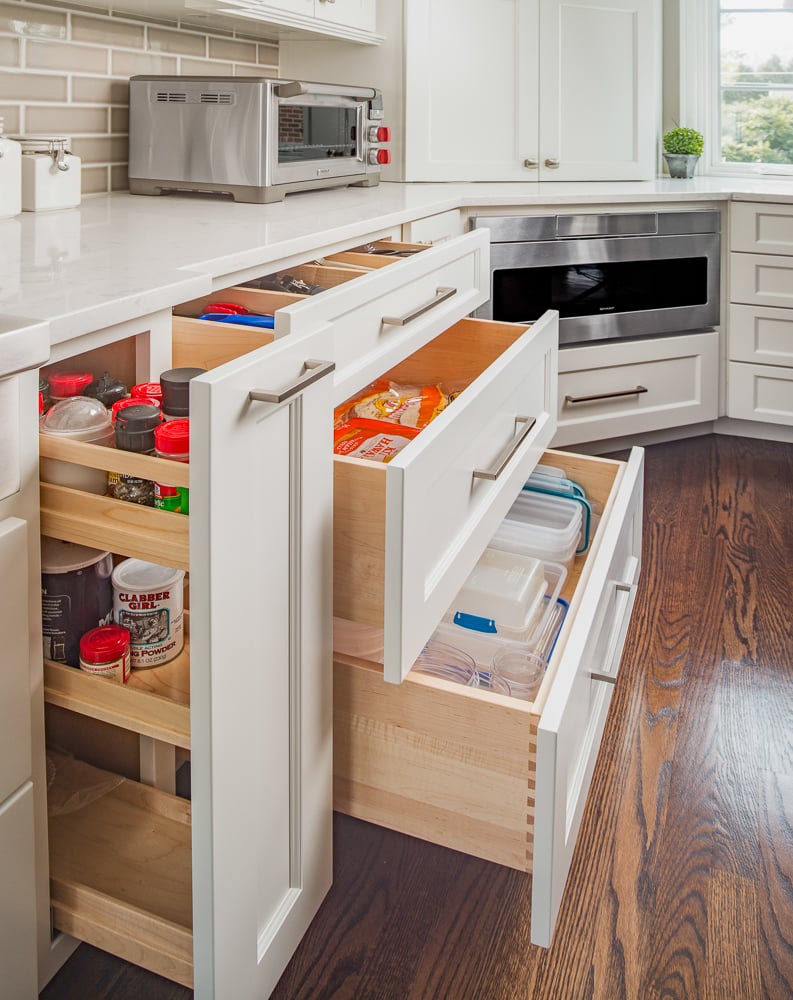 The more time you spend in the home the more time you have to recognize how unorganized it is. Even if you know where everything is, there is no denying how difficult it is to reach certain items, lost to the back corners of your cabinets. Yet, you don't know where to start or what tools are available to help you. This disorganization adds a layer of stress to your life that you simply don't need.
As a designer, one of my favorite things to do after meeting for a complimentary design consultation is to help think through your day-to-day functionality and create a design that not only makes your home beautiful but also makes your life easier. For some, that means a layout perfect for two large pitbulls running around. For others, it means introducing them to the world of pullout cabinet accessories and components. These accessories help even the most scattered person achieve seamless organization, and with a wide variety, there is sure to be an accessory perfect for your home. Organizational bliss is within your reach after you familiarize yourself with the most popular tactics.
In General
Before we discuss each different pullout accessory, it should be noted that pullouts add cost and take space. They add cost because it is an additional component not typically included in a standard cabinet. They take space because most pullouts involve wheels on a metal track, and there has to be space surrounding the accessory to allow it to fit.
Some people do not install any pullout accessories but rather opt for lower cabinet drawers. This still provides access to the back corners of your space and prevents extensive stooping or having to get on your hands and knees to rifle through your cabinet. However, the use of drawers still leads to the loss of storage space, due to the way they are fitted inside a cabinet frame.
While some of the following accessories are most popular in kitchens, we have seen many used creatively in different spaces such as laundry rooms or bathrooms. A standard vertical pullout cabinet, for example, has been utilized as ideal storage in one of our recent laundry room remodels, as it is perfect for holding tall, wide bottles such as laundry detergent. The opportunities are endless and exciting.
Spice Rack Pullouts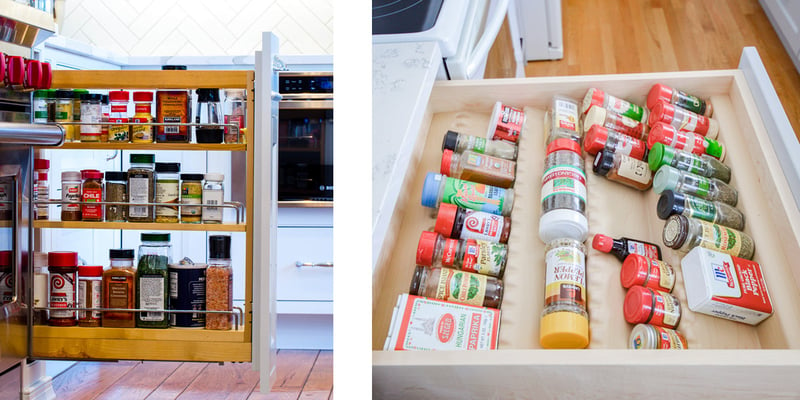 Often, this model is seen as a slim cabinet that slides out along a metal rail, though it can also be installed as a drawer component. It helps keep your spices organized, easily accessible, and clean (say goodbye to sticky bottle lids).
One of the biggest challenges with a spice rack is location. While many like to bookend their oven with the spice racks for easy access while cooking, some find it uncomfortable to have to constantly be stooping to reach the lower parts of the pullout. If that would bother you, discuss with your designer and they can try to locate it higher up or might encourage you to go with a spice drawer component that includes notches that cradle each spice bottle.
Trash can pullouts
This pullout is one of our more common pullouts installed in a kitchen remodel. Often located near the sink, their enclosed nature helps contain the stench while also hiding the unsightliness of trash in your pristine kitchen. If, however, you have a family that goes through a lot of trash, this might be challenging due to the size. The standard trash can that fits is 35 quarts, and with a deep enough cabinet, you can fit two.
Pantry pullouts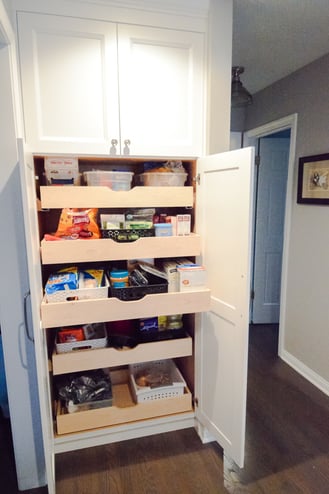 To help achieve maximum use of your storage and accessibility, many clients love to install pullouts in their pantry. Ranging from large to short, you can find a combination of drawers perfect for your storage requirements. These pullouts allow you to organize everything from your favorite snack to the office supplies that often compile your junk drawer. Now, those dry goods shoved in the back corner won't go stale because you forgot about their existence.
Utensil Pullout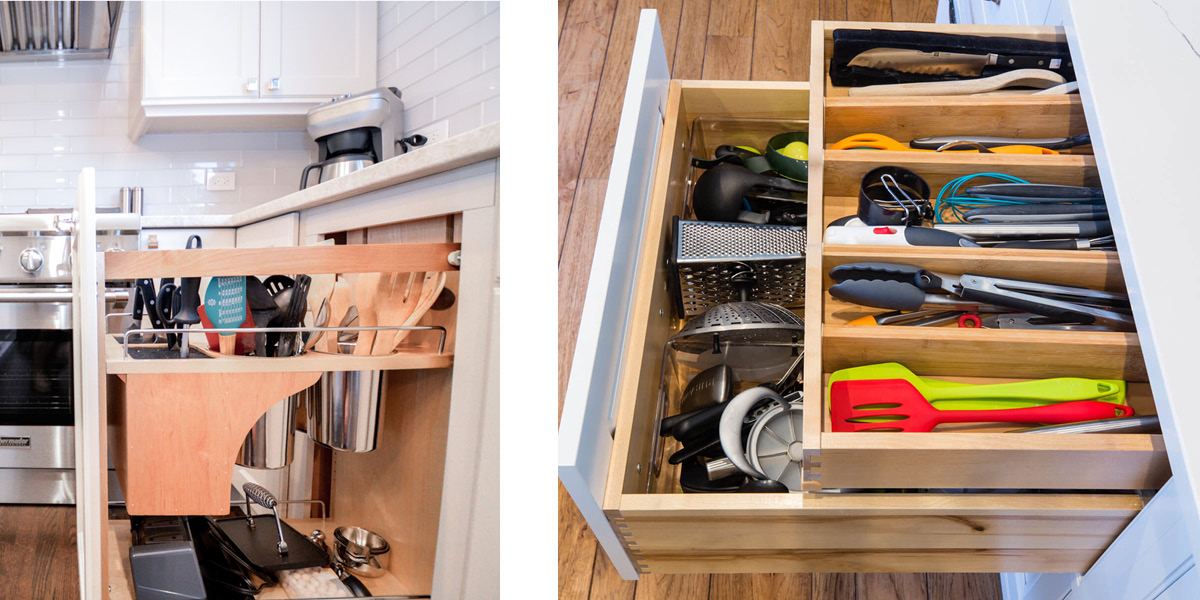 There are two types of utensils accessories for your kitchen cabinets. The first is a narrow vertical pullout that contains a cylindrical cup perfect for utensils. Some include two utensil cups while other models include a knife block. There is additional space in the lower portion of the cabinet perfect for additional cookware or dry goods. Now, your utensils won't clutter your counter or get jammed in a drawer. The downside is this pullout can take up a lot of precious cabinet space.
An alternative is a utensil drawer, with two layers. This is often a deeper drawer with about two thirds of the space dedicated to larger utensils. The top third includes a slimmer drawer perfect for smaller utensils such as rubber spatulas.
Hamper Pullouts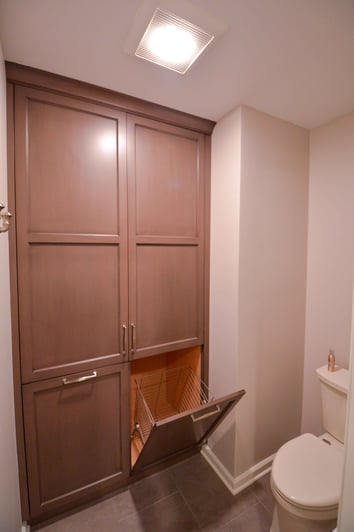 If you hate dirty clothes strewn about your home, consider installing a hamper pullout. While there are many iterations of these, the true hamper pullout is a cabinet installed in your bathroom or laundry room that tils out and has a detachable basket. Having a set place to store your dirty clothes will help keep them from landing on the ground.
Other ways people have created a hamper pullout is by using the trash pullouts to hold hamper tubs. Some people decide against a hamper pullout altogether and instead request alcoves perfect for a laundry bask or stand-alone hamper.
Customization and Components
Pullouts aren't the only way to help keep your home organized and your storage easily accessible. There are also different components and custom creations to help keep your home in its best shape.
Dish Separator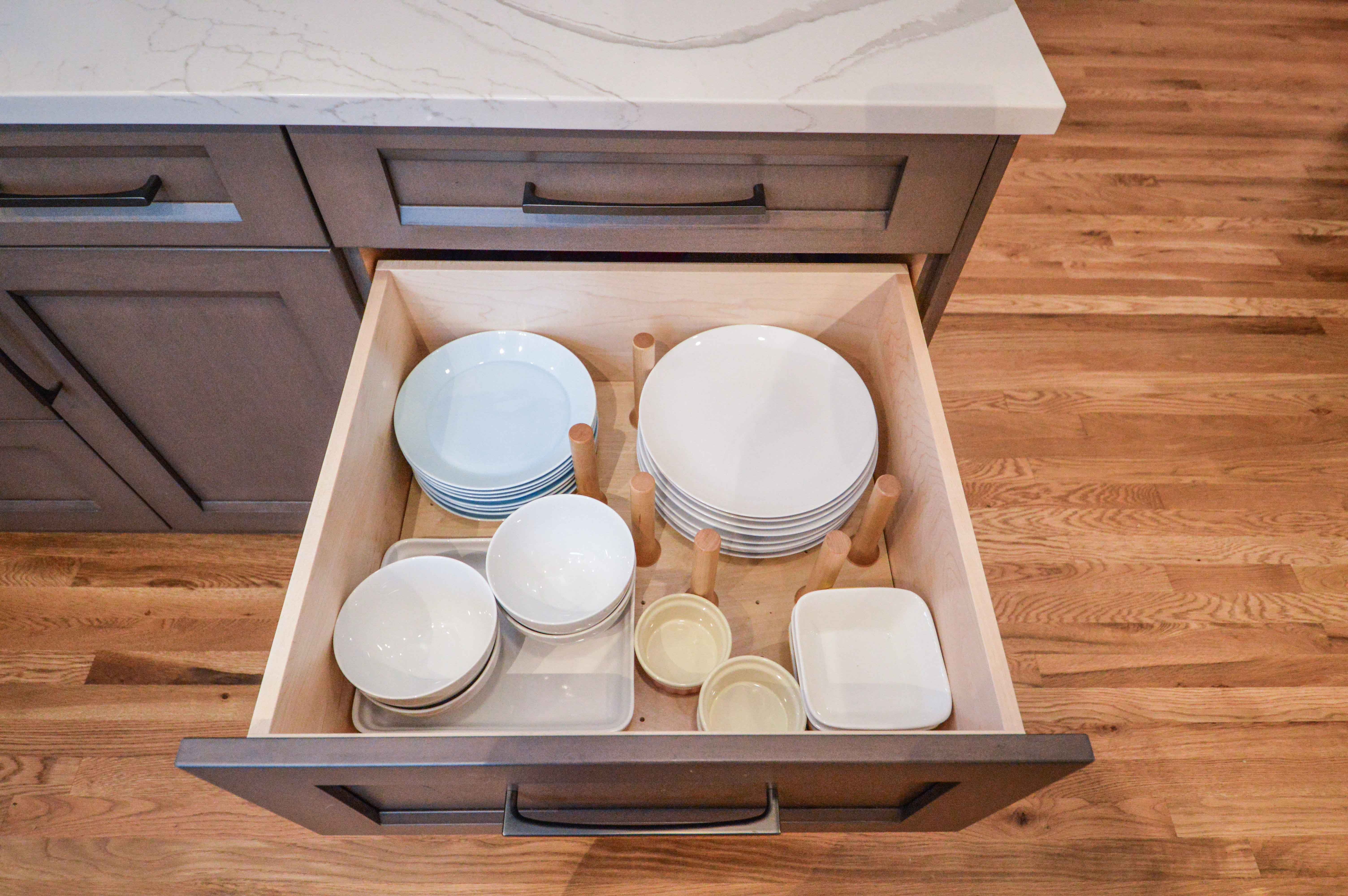 This component helps manage your collection of bowls, whether regular eating bowls or serving bowls. If you have a drawer, you can invest in an extra peg board component that is installed in the bottom of the drawer. A handful of pegs will come with it and you can organize the pegs to help separate and keep your bowls in place. The wonderful thing is that you can rearrange the pegs to meet whatever needs you have.
This system can also help keep your plates organized so you don't have to reach up to grab a heavy plate, which is far more dangerous and strenuous than grabbing a plate from a drawer.
Lid Organizer
Struggling to keep the lids of your pots and pans organized? This organizational component is perfect for you. All you need is a shallow cabinet pullout. Then, a few metallic loops are installed, helping to keep you lids upright, and in one place. The only downsize is that this can take up a lot of space.
Cleaning Closets
This Pinterest worthy design will help keep all your cleaning supplies and tools, such as mops and brooms, in one place! The closet can be designed with specific cubbies based on your cleaning products. For example, you might need a large cubby on the bottom for a bucket, and mid-sized shelves up high for cleaning products. It's nice to have a space dedicated to cleaning supplies, that is definitively separate from food and cookware.
Tie Racks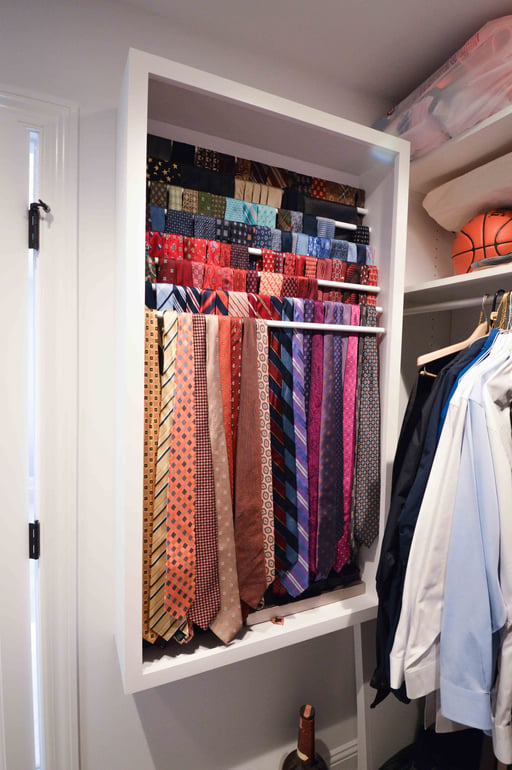 This custom creation was born out of necessity. One of our clients had an abundance of ties, and no good way of storing them without taking much needed closet space. Enter the built-in tie rack. This small square of wall was transformed to include a few bars perfect for hanging and displaying this beautifully impressive collection of ties.
If you have an organizational need, our team of designers can help find a creative solution to keep your home clean and decluttered. Not only can we discuss cabinet accessories, but we can also discuss how an improved layout might lead to more organization bliss. For a complimentary digital design consultation, schedule an appointment online or give us a call.