There is an age-old battle that the holiday season brings to the frontlines. Tears are shed, mashed potatoes are thrown, and daggers are shot with glaring eyes. You won't find this gruesome battle in history books or broadcasted on the news, however, it plagues almost every home, every year. It is the battle between being seated at the kid-table or at the adult table.
This grueling battle has distracted all generations from the new war that is raging in homes, the one that has been boiling below the surface for years: who gets the basement. Traditionally, the basement has been the space where the children are sequestered. While the adults are upstairs in their plush living rooms, enjoying a bit of wine and sophisticated conversations, the kids are below doing who knows what in the partially finished basement clad with cold cement and a shoddy tv.
It's not exactly the most desirable space… that is until you work with OHi, making your basement the place that both kids and adults want to hang out. OHi designer Dove Brown describes the building blocks you need to make your basement the place where both grown ups and kids want to be!
Set The Bar High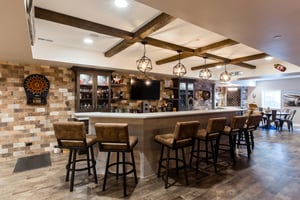 This holiday season, when flanked by your show-off of a brother's newsworthy achievements and your overbearing mother's critical judgments, you're going to feel like you need a drink. When the wine is simply not strong enough, you're going to wish you had an in-home bar. Not only will your in-home bar provide you with the means necessary to mix a strong enough cocktail, it's also the perfect excuse to kindly remove yourself from any overwhelming family situation and serve drinks. To make your in-home bar the centerpiece of your basement, consider integrating darker cabinets, a textured backsplash or accent wall, and Quartz countertops because those are easily cleaned for those who tend to spill. Keep up with the latest trends and use reclaimed wood in your design.
Catch Some R&R
When the family is in town, someone will inevitably ask to crash at your house. Instead of displacing your kids, disrupting their sleep schedules, and consequently yours, avoid the jigsaw puzzle of sleeping arrangements and add a guest bedroom and bathroom in the basement. Now it will feel as though they aren't even there. Also, it doesn't hurt to have an extra bathroom in the house. It may not be an oasis, but will be a helpful and simple addition to lessen the traffic for other bathrooms in the house. This is extra helpful if you have a walk-out basement.
Are You Not Entertained?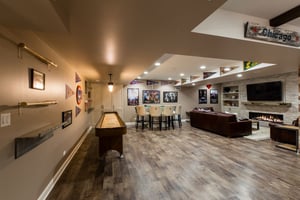 Installing a home entertainment system with comfy couches and cozy armchairs could be the perfect peace offering to please both grown ups and kids alike. A place where both young and old can gather to watch a favorite movie or huddle close to the warmth of the fireplace, all will be thinking about how there is no place they'd rather be. Furthermore, adding in some game tables for playing cards, foosball, air hockey, or pool is always a fun way to liven up the basement space.
Work It
A place to work out that's not across town at the gym? Sign me up. Adding a workout room to your basement can help you make healthy choices all year long. Commercial-grade flooring, potentially even rubber, can keep up with anything you throw at it... even a heavy barbell with hundreds of pounds of weight!
Now What?
There are endless possibilities for making your current home into your dream home, and OHi has been helping families in Chicago and its surrounding suburbs remodel their homes since we founded our family business in 1900. Our expert team members will help you find design inspiration and carry out your vision. We've been improving our neighborhood one home at a time through expert advice, exclusive products, and exceptional service. Check out our portfolio, or contact us to speak with an OHi family member about your remodel!
Related Articles