Kitchen relationships aren't much different than our interpersonal relationships (well, kind of...). What we mean is, are you settling for just OK when you could have spectacular? Your OHi kitchen matchmaker, Dove Brown, is here with another quiz to help you determine if you've found your soulmate, or if you deserve better!

Yikes! You Deserve Better
It's time to have the hard conversation with your kitchen. You can fill it with as many platitudes as you like. Start with a subtle, "It's not you, it's me" because you know you've grown and matured as a person, and, well, your kitchen hasn't.



For a relationship this bad, we recommend a complete overhaul. It's hard to leave behind what you know, but we promise it will be worth it. It starts with a whole new blueprint for your kitchen. When you change your layout, you can start to think about how it can meet your needs for where you're at in life. Maybe you entertain frequently and want an island that seats eight people. Or maybe you cook like you're Julia Child and would blissfully cry if you had a double oven.

There will be tougher decisions to be made concerning flooring, counters, and cabinets because of the various materials, prices, and colors. Once you determine your price range, you can select the material. For flooring, do you want vinyl, hardwood, or tile? For countertops, do you want quartz, quartzite, granite, or marble? Many times, it comes down to price point and taste, however, educate yourself on the differences and benefits of each material.

With the framework of your kitchen planned, you can start shopping for the fun features, such as a Vent-A-Hood for your stove top. You can also expand your lighting options to include standard overhead lights, but also unique options like lowlights, under cabinet lights, and in-cabinet lights. And, of course, don't forget to request soft closing cabinets. Dramatically slamming cabinet doors shut and accidentally pinching your fingers in a drawer while trying to shove it closed will soon become distant memories as the ruckus you're used to will be replaced with tranquil silence. While every adjustment is a welcome change, the most important thing is that you take the necessary steps to get out of your bad relationship because your OHi family knows you deserve better.
You're Settling
When friends or family ask you about your relationship, do you typically shrug your shoulders and mumble about how it's fine? Well, maybe fine isn't good enough. It's not that your kitchen has structural problems, you just know it could be better. Somewhere between first moving in, putting an effort in to make it beautiful, having kids, and getting promoted, you fell into a routine. Your lackadaisical approach will continue so long as your kitchen still works, however, it's not too late to rekindle a spark with an old flame. For you, the best solution may not be a complete overhaul. All you need is a facelift which can be accomplished by updating the countertops, changing your backsplash, or trimming your island to be sleeker and more stylish. For you, your kitchen is still functional, and probably has a decent (not perfect) floorplan.



Maybe your kitchen has remained in the dark ages and embraced a brown, earth tone pallet. It's not awful, but it always feels very heavy and dark when you walk in, especially compared to the blindingly white, pristine kitchens everyone raves about. We recommend adjusting the paint color and backsplash tile. If you choose a white or gray toned mosaic, it will brighten the entire room, creating a dramatic difference in your kitchen, not your bank account.

Now is the time to spice up your relationship with your kitchen. Remember when granite countertops were all the rage? Today, granite is still a viable and stylish option, but it's no longer the most popular material. The crown has been passed to Quartz, a harder, more stain resistant material. Perhaps, you've drooled over the Cambria Quartz that contains a mild shimmer in its veining? We know we have! After all, who doesn't love a little glitter? Splurge a little and save your kitchen from a life of being mundane and strictly pragmatic.

We implore you not to stay with your kitchen just because it's easy or because you're scared of change. Go out into the world, and find something better, like something in OHi's one-stop showroom. Because, when you walk into your kitchen for your midnight snack, you don't want to disappointedly sigh thinking of how you were close to working with OHi. Don't let us be the one that got away.
You've Found Your Soulmate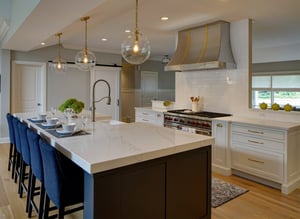 What can we say? Your life is like a romantic comedy. It was love at first sight. You break into song every time the Sorrento, soft close cabinets catch your eye. While your friends all complain about theirs, you know you lucked out. With everything on your wishlist and more, you undoubtedly have the best kitchen. In the words of famed British nanny, Mary Poppins, "It's practically perfect in every way". Even if the honeymoon phase is over, you can't help but feel thankful for the kitchen of your dreams, brought to you by your OHi family. When an ex-kitchen crosses your mind, you toss your head back and laugh, thinking about how silly you were to think those could be lasting relationships. This is the real deal. Keep enjoying your perfect match, you lucky duck!
OHi is ready to help you find your soulmate kitchen. Just contact us, and we'll help you get started! Whether you want to cut ties with your kitchen now or hold out a while longer, we recommend downloading our Cost of a Kitchen Remodel guide which will help break down some of the costs associated with remodeling.
Related Articles