Despite the fact that bathroom remodels increase the value of your home, many people slowly let their bathroom decay. It can be hard to know the right time to plunge into a sometimes overwhelming and costly remodeling project. As a result, people stay in a bad relationship with their bathroom, even though they know there is something better out there.
In this post, OHi family member Tammy Ogaard shares three reasons she often sees people give for not taking on a bathroom remodel. If one relates to you, this blog may finally give you the justification you need for taking the plunge!
You Have Other Work to Do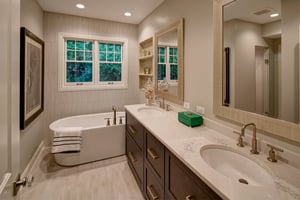 For many people, the bathroom is possibly the most forgotten room in the house when it comes to design, yet the most important when it comes to urgency. It takes the most abuse considering its exposure to moisture, heat, and the unfortunate design trends that arose from the Seventies. Up until now, you have neglected its floor to ceiling mirrored walls, mildewed wallpaper, or atrocious paint color. Sure, it bothered you, but it had served its purpose well...

That is, until the plumbing issues began.

While you can live with outdated design, dealing with ancient plumbing fixtures has not been so easy. The amount of times you've had to call a plumber could pay for your kid's college tuition. You need to replace everything from the toilet, to the leaky sink faucet. The worst-case scenario for you is the possible mildew and mold growing in your walls requiring extensive work and demolition. Bathrooms covered in wallpaper are especially prone to this as it serves as the perfect breeding ground for mold and mildew. Sometimes, the wiring or plumbing wasn't originally installed correctly or up to code and you have to overhaul the entire bathroom, making it the perfect time to splurge.

You deserve a functional bathroom that also has a bit of style. When you're opening up the walls and getting sparkling new porcelain, it might be a let down if the rest of the room remains so drab. So give in, and let a designer bring your bathroom into the 21st century.
Your Bathroom Still Works for You... Kind of...
Currently, your bathroom is not serving the same needs you had when you first bought the house ten years ago. Perhaps, you are aging and would like to remove the tub for a walk-in shower with grip bars and seating. You note the dim lighting every time you have to squint to read your medication or when you're hurriedly trying to get dressed in the morning. Don't even get started on the slippery tile! You demand a better and safer bathroom experience, which starts with a remodel. Then you can discover the world of vinyl floors, shorter vanities designed for accessibility, and a more relaxing shower experience.

Perhaps, you can't even consider aging because all your mental energy is going towards raising your children (who seem like they'll never grow-up). The bathroom and a half seemed like plenty of space when it was just you and your spouse, but now? Now, you precariously time your alarm clock to beat the morning rush for the in-demand space. You've considered how much more pleasant life would be if you expanded that half bath into a full bath, where you can let your kids fight it out. You could install Jack and Jill sinks for them, so they can each have a station to brush their teeth, wash their face, and do their hair. Maybe even consider adding a shallower tub in this bathroom to make washing your youngsters easier. Meanwhile, you and your spouse can now calmly prepare in your dream master suite. You install a deep soaking tub for prime relaxation, Jack and Jill sinks, and connect your walk in closet to the bathroom. It's an adult oasis arriving just in time to preserve your sanity.
You Don't Want to Give into Vanity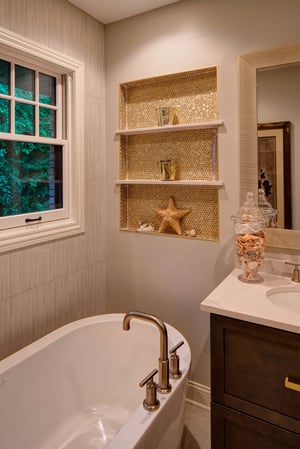 What do you do when your bathroom is slightly dated, but with nothing outrageously hideous or offensive? You don't need any updates, but you desperately want them. You read all the remodeling magazines and consume HGTV like it's oxygen. You know those shows aren't always realistic, but the finished products are drool worthy! Is it too much to ask for your bathroom to have a little pizazz?

At OHi, we affirm your desire for a jaw-dropping bathroom. Think of the heated floors, gorgeous new vanities, exquisite glass showers, and fancy smart toilets from Kohler! There is a whole new elevated world that can be found in your bathroom!

Often, the perfect excuse for a style renovation is when a tile chips in your bathroom, but it's too old for you to find a perfect replacement. This conveniently causes you to re-tile the whole bathroom. You could, of course, just keep the cracked or chipped tile, but you want your space to look good. Therefore, you have no other option than to invest in a bathroom remodel in which you throw in new countertops and a sink as well.

You know little updates go a long way, but maybe your budget conscious spouse isn't a believer. That's when you hit them with the fact that you can invest in more cost-efficient plumbing options, such as toilets and shower heads that conserve water. A compromise that leaves your spouse appeased and you giddy with excitement as you let the warmth from your new heated floors spread up to your heart.
OHi is ready to help you design and build your bathroom oasis. Just contact us, and we'll help you get started!
Related Articles