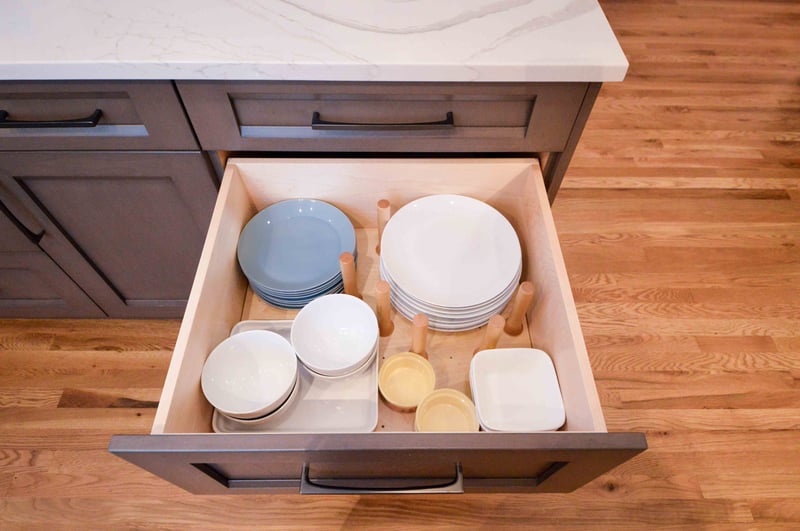 When people dream of a new kitchen, sometimes their vision stops at knowing what color cabinets and shade of hardwood floors they want. Other times, they have an itemized list of every exact material and gadget they want. Wherever you land on the spectrum, we have a few organizational extras to consider while making design decisions for your new dream kitchen. Of course, these accessories aren't a necessity, but they sure do make your life easier!
1. Roll-Out Pantry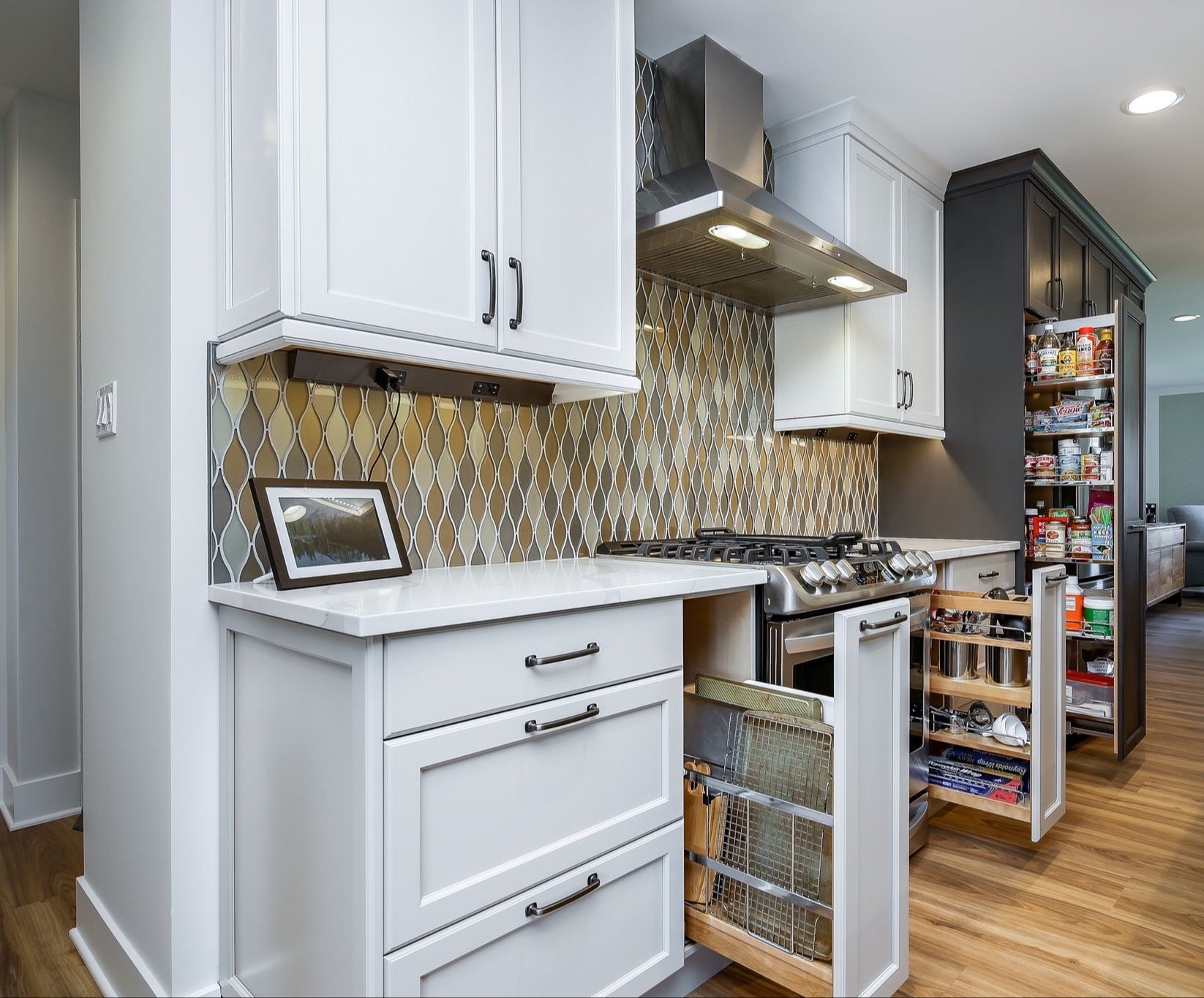 You'd be hard-pressed to find a homeowner who wouldn't love to have a walk-in pantry. Unfortunately, space constraints can sometimes make that impossible. That's when we recommend the next best thing: pullout pantries. The charm of pullout pantries is that it is essentially a large cabinet with shallow roll-out drawers. The drawers have a lip on them to help keep products in their place. However, it solves the problem of losing food to the back corners of your shelves. So say goodbye to stale potato chips and jars of pasta sauce that expired two years ago.
2. Utensil Organizer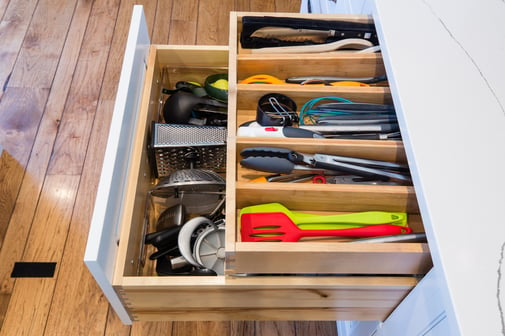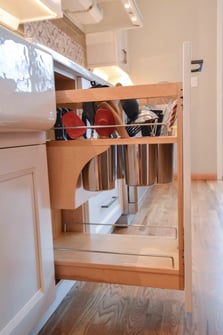 One of the peskiest organizational problems of any kitchen is the dreaded utensil drawer. How many times can your ladle or big spoon jam the drawer? Enough to feel like you're setting a world record. If you don't have that issue, then perhaps your utensil drawer suffers from the chaos of strewn about utensils. For this dire problem, we'd recommend the utensil drawer or pullout. Utensil drawers include solid wood dividers that allow for longer and shorter utensils. It allows for everything to have its own place. The utensil pull-out is usually stationed next to the oven and contains a canister that is perfect for the utensils that notoriously get stuck in drawers.
3. Dishware Organizer
While we generally recommend using base drawers when possible instead of cabinets, sometimes drawers without any guidance can create a disorganized jumble of dishware. For this reason, you can invest in drawers with a pegboard base. This allows for the use of pegs to divide and separate your dishes such as dinner plates and bowls. This way, no matter how the drawer moves, your dishes will still be in place.
4. Spice Cabinet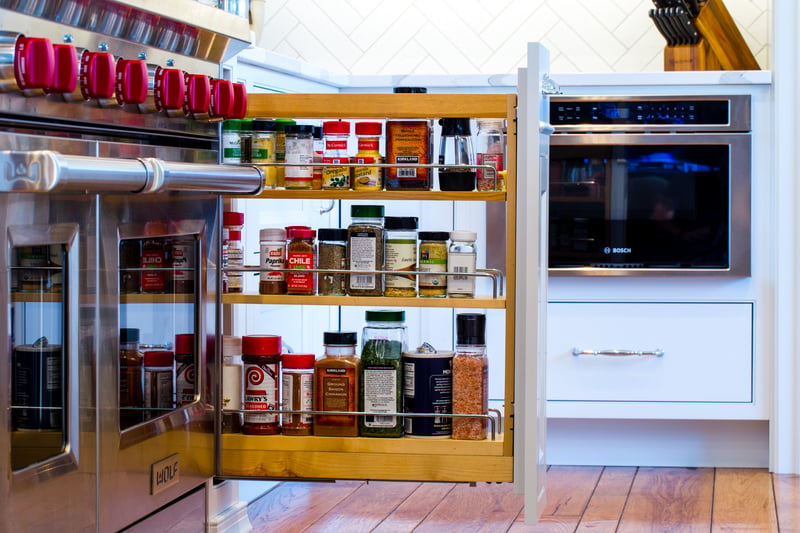 While cooking, having everything readily at hand makes the entire process easier. Those who especially love spices while cooking, know that easy access and organization make last-minute flavorful additions doable. Having spices stacked in a cabinet often leads to them getting lost in the void, or homeowners rebuying because they couldn't find the paprika they swore they had. If you invest in a spice rack, that solves the organizational problem but leads to a clutter problem on your countertops. This is when we introduce the spice rack pullouts. You can create a spice drawer with notches that hold the spices into place; a roll-out spice cabinet that is stationed in your upper cabinet; or a roll-out spice cabinet along the side of your cooking range. This not only provides easy access but helps create a space for organization.
5. Pull-Out Trash Can
Gone are the days when you need to have a trash can stationed beside your countertops. While stationary cans can be larger than pullouts, they often are unseemly and can lead to the quicker spread of bad odors. Relocating it to a pullout drawer better contains the sight of the trash while also putting it in an ideal location, like beside the sink. The smaller size, while potentially cumbersome, will lead to a quicker removal of filled trash bags, which can help reduce the smell.
If you're thinking about a kitchen remodel and want to incorporate one of these helpful kitchen organizational tools, call us today or schedule an appointment online. If you want a little more kitchen inspiration, visit our portfolio to see past projects. If you loved this list, check out our short list of kitchen add-ons to make your life easier, you never know what other accessories you might fall in love with!
Related Articles