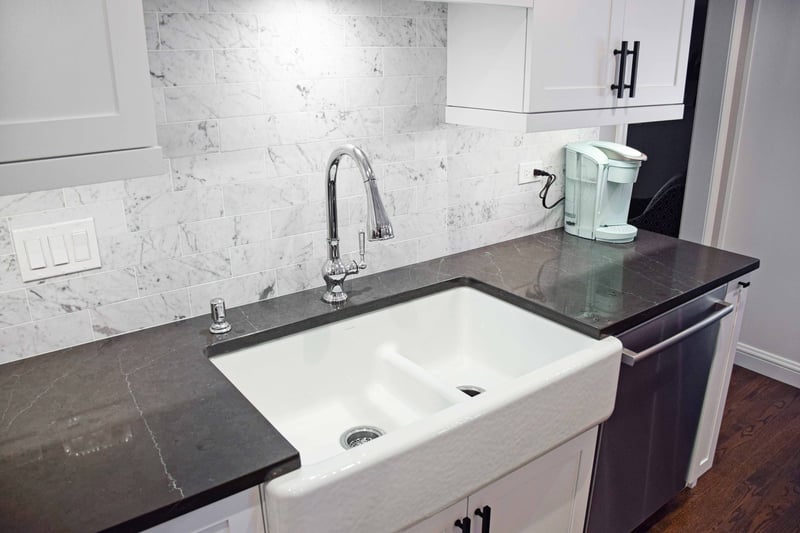 Our countertops receive a lot of love. In the kitchen, they're the place that we prepare our nightly dinners, while the kids toil away at their homework while sitting at the isand. The become the landing zone for keys, important papers, and purses as we walk into the house. They have to stand up against the water frequently splashed on them while we wash our face and brush our teeth. Countertops just might need to be one of the most resilient materials we put into our homes. Yet, too often, we only give their style and function a passing thought.
It doesn't have to be that way.
Take your countertops to the next level by implementing a few of these must-have 2021 trends. From function to color, we are sharing the best materials and looks to choose for your next remodel.
1. Take a Walk on the Dark Side
While it can be hard to move on from the "all-white" kitchen phase, we promise trends like this are a simple way to help you compromise. Choose the white cabinets, but pair them with a bold, dark shade in countertops. Grays, faux concrete, and rich butcher block countertops are taking the design world by storm. Not only do they provide a much-needed contrast to the beloved white cabinet, but they provide a sense of drama and interest to the space.
2. Taken for Granite
For years, we saw clients turning away from natural stones like granite in favor of the design flexibility of quartz. Recently, that has all changed. Homeowners have begun to rediscover the charm of natural stone countertops such as granite and quartzite. Each slab is one-of-kind, providing rich, intricate patterns that your neighbors down the block can't completely mimic. While natural stone may require slightly more upkeep than the ever-popular quartz, modern products and sealants have made it almost equally maintainable. The added bonus? Natural stone is one of the more eco-friendly options for countertop materials.
3. Quartz is Still Tops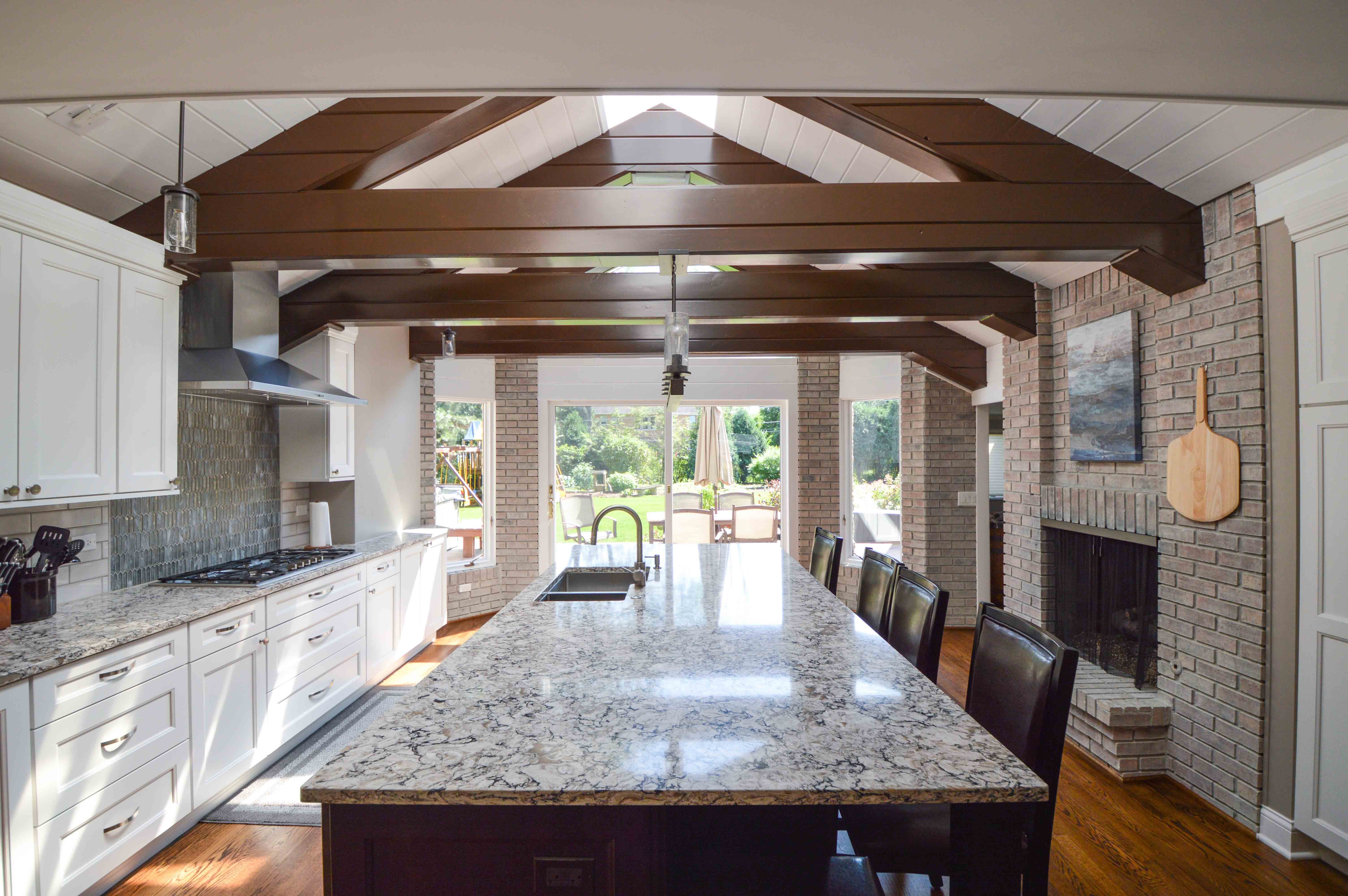 We could write an entire blog on why quartz is the top choice for countertop material. However, we will stick to the highlights. In a year where trends heavily favor cleanability, it is no surprise people are clamoring for quartz. This non-porous, highly durable material makes it one of the easiest to clean surfaces in your home. Without the pores found in natural stone, there is less chance for germs and bacteria to build-up on your countertops. Not to mention, it helps reduce the likelihood of staining from pesky food spills.
Apart from being easily maintained, quartz countertops have a wide array of styles and colors. While it may lack the rich depth of natural stone, it offers the freedom to choose color, veining, and texture since it is man-made.
4. Thin is In
Most people wouldn't be able to tell you that the standard thickness for countertops is 1.25 inches. Yet, if you were to measure your countertops and your mother's countertops and your best friend's countertops, they'd likely meet the common measurement. Until now. Recently, countertop manufacturers began offering slimmer slabs, creating the uptrending "thin" countertops. While this trend works it's way toward the Midwest, you can start dreaming the the light and airy look these countertops will help your kitchen achieve. While they work especially well in contemporary style space, their sleek lights will be a welcome look for any design. They instantaneously add interest as it stands against the common, doldrum thickness we are used to seeing.
5. Pattern Play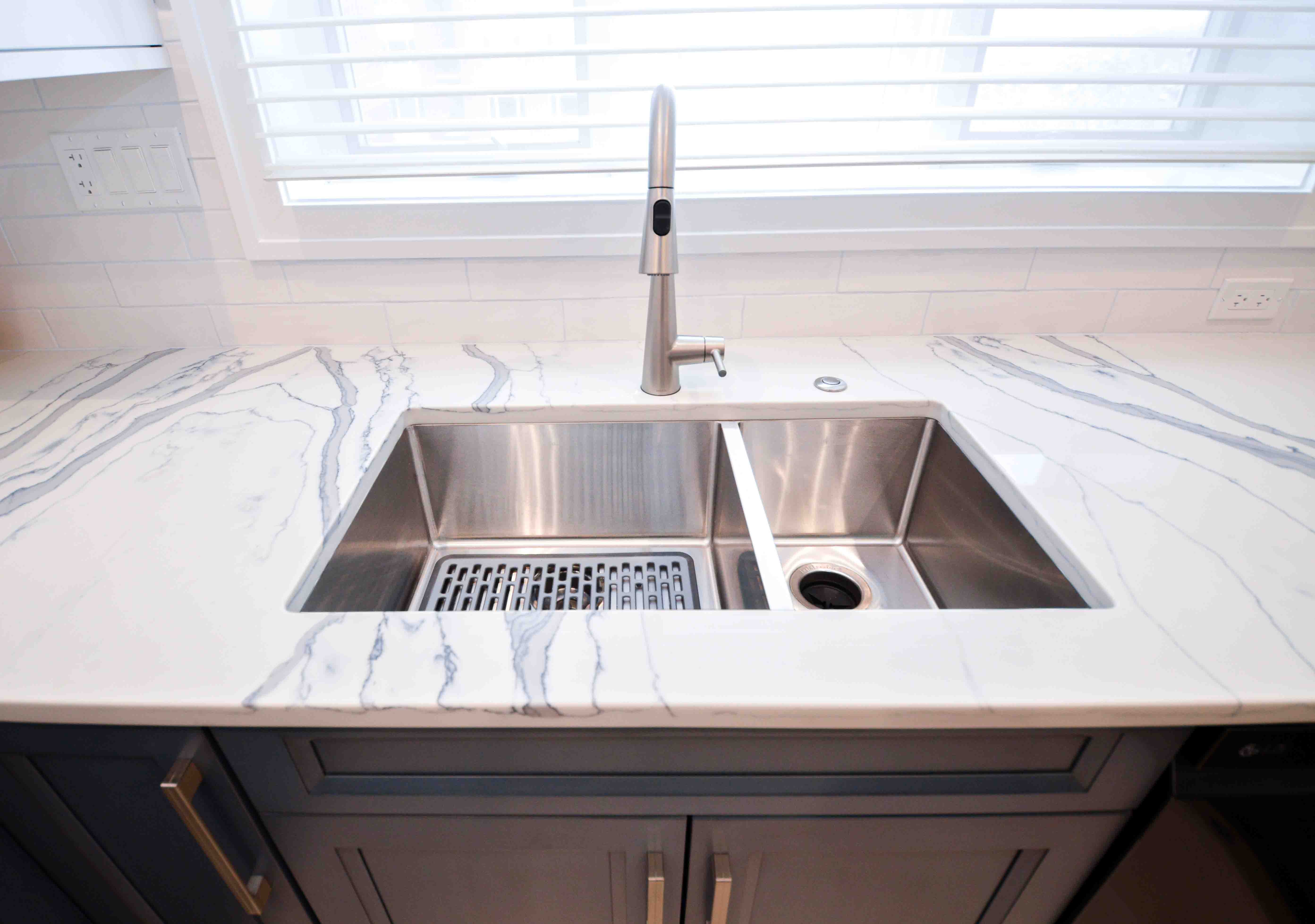 Opting for a darker color palette isn't the only way to spice up the classic white kitchen. Some opt for dramatic patterns instead. This trend, while extremely popular with tile, is starting to become the major draw for countertops. Before quartz we weren't just limited in the natural colors offered, but also in the patterns that would show up in the natural stone. Since quartz is man-made, designers are able to be a lot more playful and creative with the countertop slabs selected. Whether opting for large, dramatic veins that create a daring elegance. Or a wispy blue veining that helps tie in your dreamy backsplash. The options are vast and while plain, simple slabs will always their place, especially with a louder backsplash, countertops with character are quickly becoming a must-have.
If you'd like to learn more about must-have 2021 trends for you kitchen, download our lookbook. If you're considering a remodeling project, give us a call or fill out our project discussion form. Our team members are excited and ready to get to work on your dream space!
Related Articles