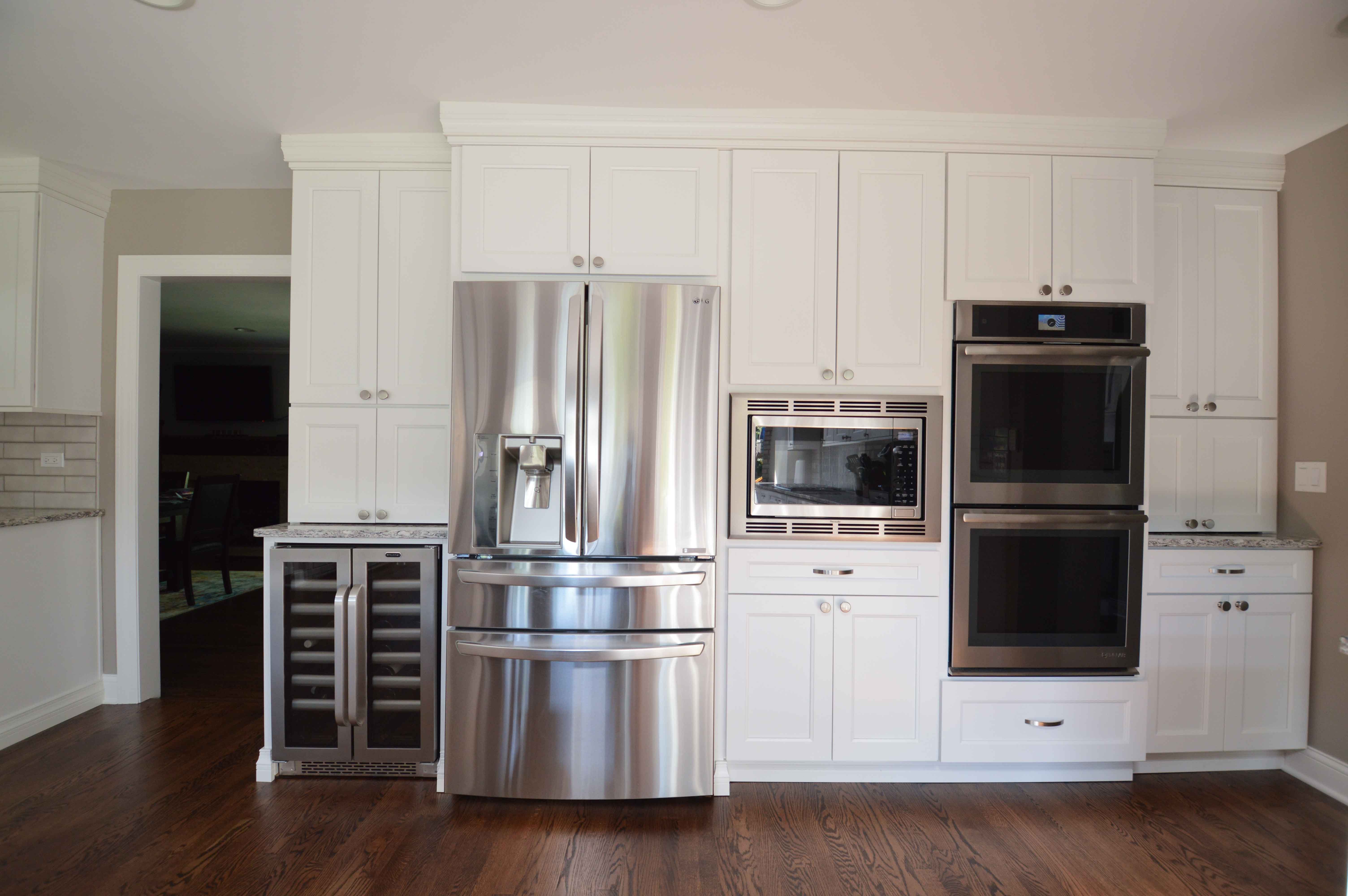 In the excitement of getting to make design selections, such as which cabinet color to choose or the right style of countertop, we often forget one of the most important functional aspects of the kitchen: the appliances. Some clients, especially if their original appliances were recently purchased, keep the old ones. But for many clients, they see their remodel as a chance to get a completely fresh start in the kitchen and want new, updated appliances to match their chic design. Yet, it can be hard to know where to start, especially with so many options.
It should be noted that we at OHi don't personally sell appliances. We showcase some of our favorite brands of appliances in our kitchen displays, and often have a strong, guiding hand when selecting ventilation hoods. Since we don't carry appliances, the cost of new appliances is not included in the estimate we create. However, that doesn't mean we don't have suggestions on how to find the best ones for your space. In fact, after helping countless clients, we have a few general guidelines for those embarking on the fun, slightly overwhelming journey of picking out new appliances to match their brand new kitchen.
General Things to Think About
Before you run out to a department store like Abt or start scrolling through the internet looking for the best deals, I recommend discussing your appliances with your designer. We can offer helpful hints and connect you with the right place to look for the appliance you're dreaming of. We often tell people, before they engage with a sales associate, to be aware of the following things.
Lifestyle
Do you cook three times a day or are you best friends with delivery? Knowing how you intend to use your kitchen is extremely important when purchasing appliances. If you cook often, then you will want to consider investing a little bit more in order to get appliances that last longer and are higher quality. Perhaps you love certain features while cooking, or cook for lots of people. This is also important as you will probably need more space such as a double oven or specialized features. Those will also most likely cost more. If you either rarely cook, or you don't care for all the bells and whistles, there are more affordable appliance options.
Size
Possibly one of the most important factors, you should consult your designer to talk about how much space you have for your appliances and what size you should look for. If you're trying to prioritize cabinet space for extra storage, you will probably want to stick to standard size appliances. If, however, you love cooking and get giddy with excitement at the idea of high powered, chef-grade appliances, then you're probably going to want a larger range or fridge. If that is the case, then know that means less countertop or cabinet space, and needs to be communicated to your designer so they can appropriately adjust the dimensions of your design.
Budget
Know your budget before going to look at a store and stick with it. Talk to your designer about what a good price range might be. If you want a top brand, know that you will pay top dollar, and so your budget will have to be broader.
Bundle
If you want to save, or be more wallet-friendly while shopping for appliances, look into getting an appliance bundle. These often include a mix of appliances from the same brand at a slightly more affordable price.
Trends
While it is always tempting to take part in trends, know that not every trend will look good in your kitchen design. For example, right now, matte white refrigerators are trending. However, a very specific selection of tile and cabinetry would be required to match well with a matte white refrigerator. Therefore, consult your designer before jumping into a trend. On the other hand, if you are absolutely convinced you want a matte white refrigerator, be sure to mention that to a designer early on in the selections process, that way your other selections will match well with your choice.
With all these things in mind, you're ready to take a closer look at how to choose a refrigerator, range, ventilation hood, and microwave.
Your Refrigerator is Running
Midnight snacking is about to get a lot better once you choose your dream fridge. Before that can happen, however, you'll need to know the vocabulary for the different styles of fridges as well as what to consider when choosing those styles.
Top Freezer
This classic model is what most standard houses had in the past. It comes with a large lower compartment that is the refrigerator and a smaller chamber on the top third that is the freezer. While this model is seen less and less, it is by far the most budget friendly option. It also tends to not take up too much room. However, you do have to stoop frequently for your refrigerated goods and get accustomed to less freezer space.
Bottom Freezer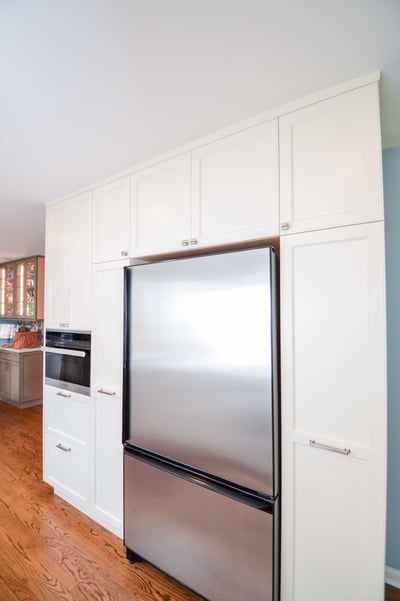 Similar to the Top Freezer style, this one has the refrigerator chamber on the top and the freezer on the bottom. However, in this style, usually the freezer compartment is a drawer, and it makes the chamber size larger. This is great for people who need more freezer space and who don't want to stoop to access the refrigerator portion.
French Door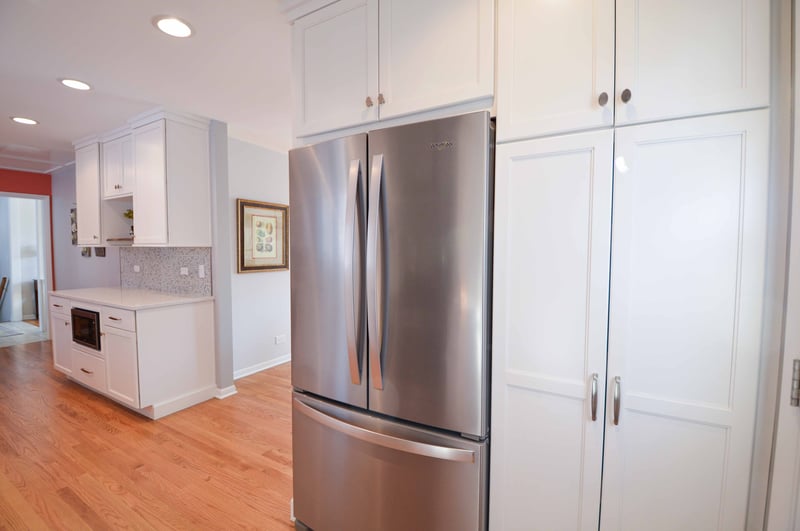 This model is an adaptation of the bottom freezer style, except, you guessed it, the refrigerator portion is enclosed by french doors, which is a fancy way of saying two doors. The benefit is that you can open one side of the fridge while keeping the other side cool. Mostly, however, people choose this model for the look and the benefits that come with a bottom freezer model.
Side By Side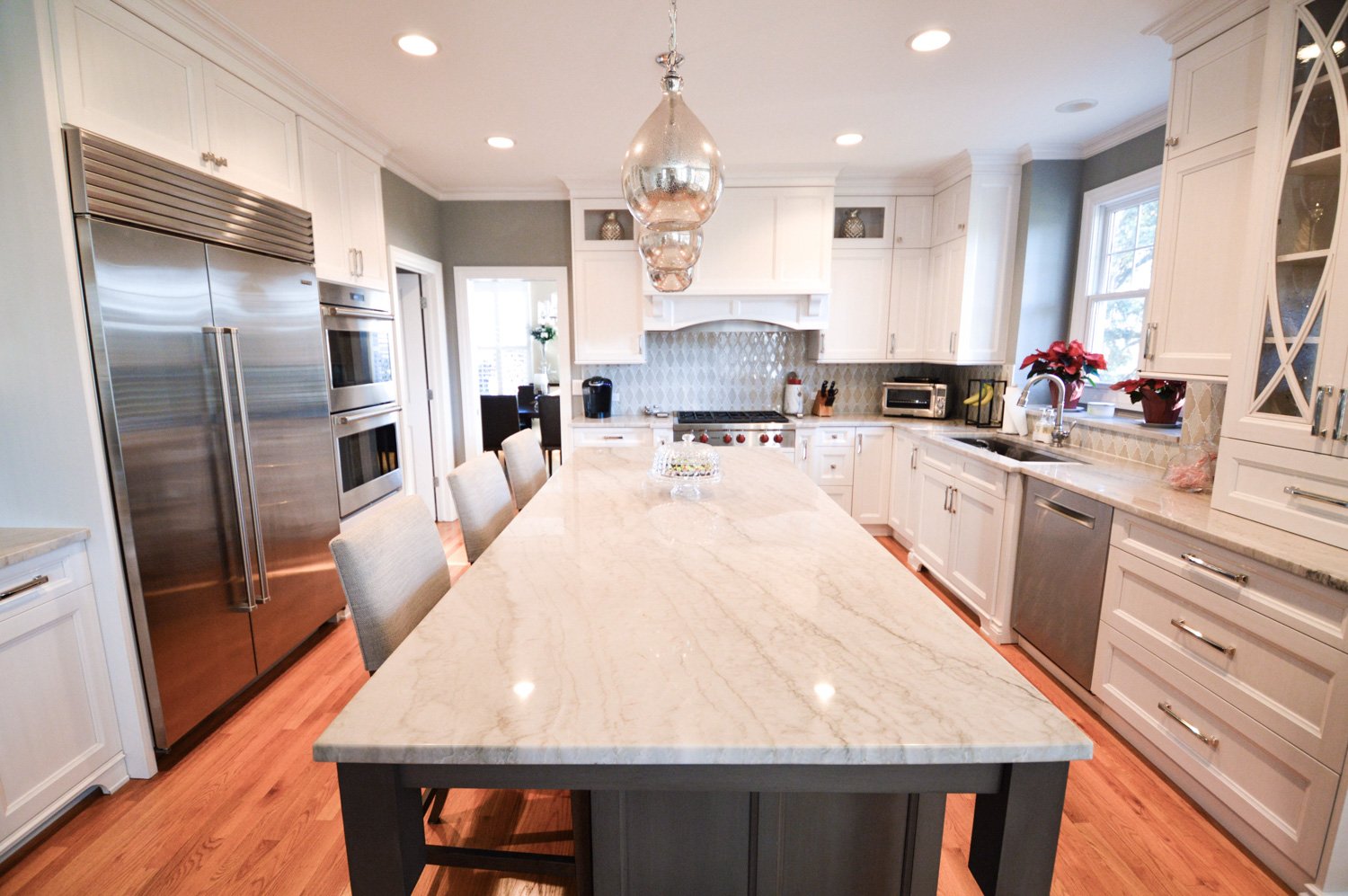 This model is for those who love a good compromise. The ones who want plenty of freezer storage, with easy access to both the freezer and refrigerator. The biggest downside to a side by side, however, is the narrow cavities of both the freezer and refrigerator. If you commonly store large items like trays in your fridge, it might be a challenge for it to fit.
Paneled Fridge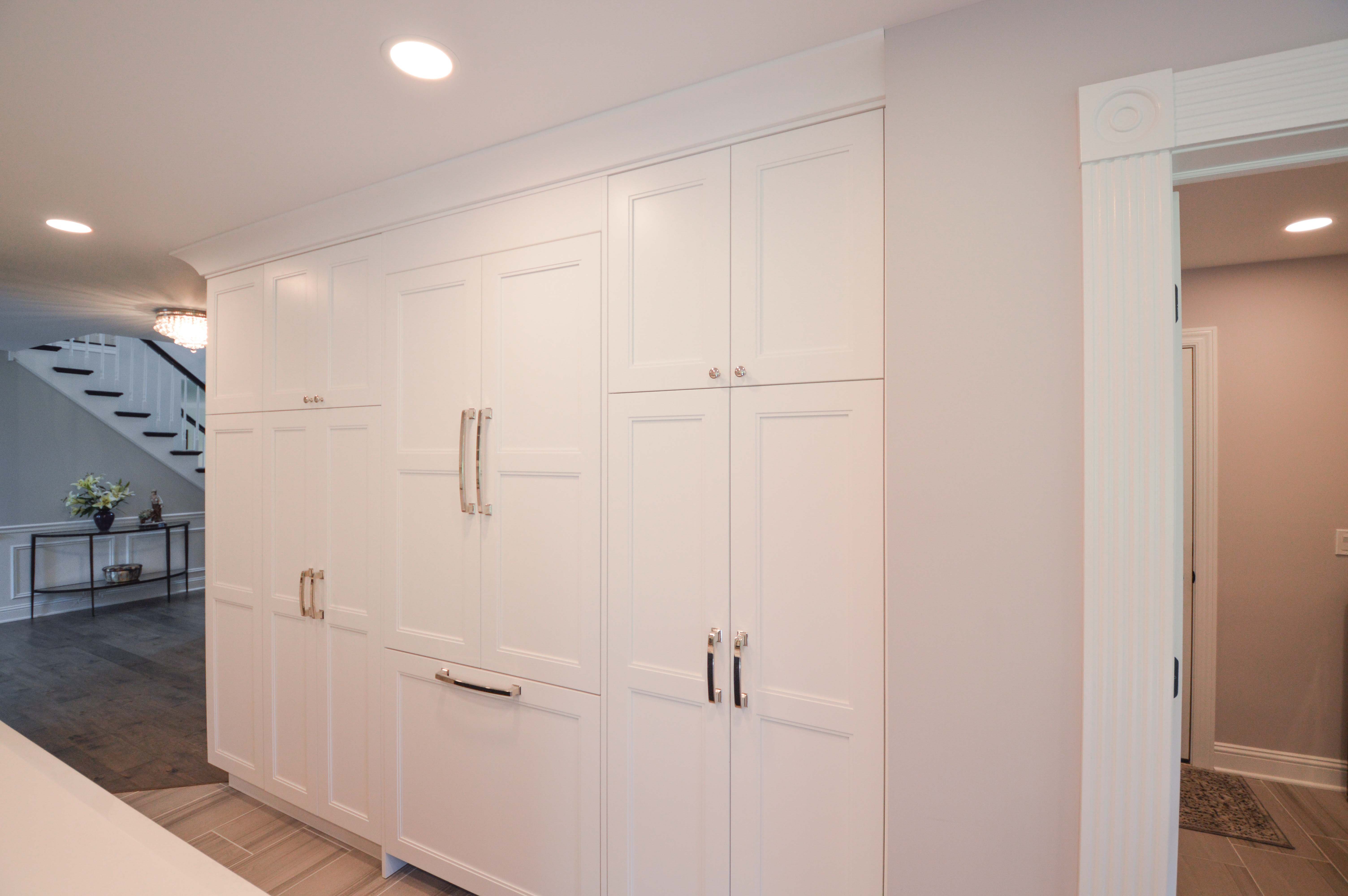 This is when a custom cabinet panel is attached to the front of your refrigerator, helping it to blend in with the rest of your kitchen cabinets giving your kitchen a seamless look. This only works with specific brands of refrigerators, and is a pricier investment as it requires a custom made cabinet front to be ordered. However, the look is undeniably gorgeous.
Again, remember that size matters. A standard fridge ranges between 30-36 inches. Anything more than that will start to eat into your cabinet space. However, larger families, for practical reasons, might need a larger fridge. Or if you often find yourself hosting and preparing meals for large groups of people, a large fridge is always helpful. If you want standard size, and want it to be flush with your countertops, then you are going to be looking for a counter-depth model. This can often reduce your storage availability within the refrigerator and freezer compartments, unless you get a wider model.
Today, refrigerators can be decked out with all kinds of amazing details. From personalized handles, to smart screens that play music, allow for you to watch YouTube, and keep track of your grocery list, these fun elements add more to the price tag. Even a simple ice maker and water dispenser add to the cost. Keep this in mind as you try to stay in budget.
Range of Options (Range vs. Oven vs. Cooktop)
There is one appliance that can cause quite a stir when it comes to knowing the right vocabulary, and that is your range, oven, or cooktop. It gets confusing because what you call each appliance depends on the model you have. Here is a brief rundown and why you might choose one option over the other.
Range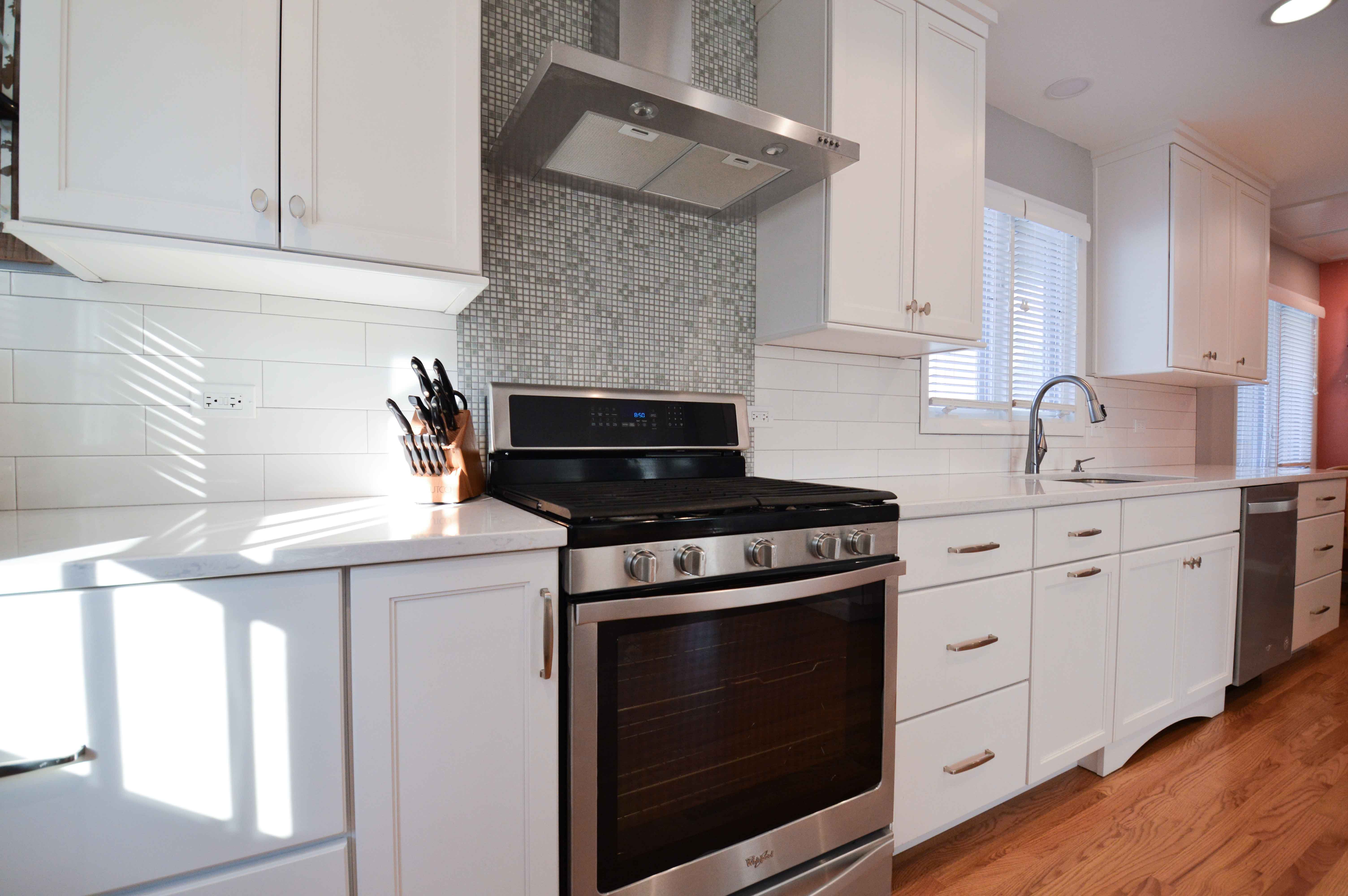 Found in most homes, this standard model is when both an oven and cooktop are attached to one unit. The base is the oven cavity and cooktop with the burners rests on top. While it may take up minimum space, this unit can be inconvenient for those who hate having to continually stoop to take things out of the oven. It also limits you to one oven cavity, which can be challenging to manage when trying to cook multiple dishes at once.
Oven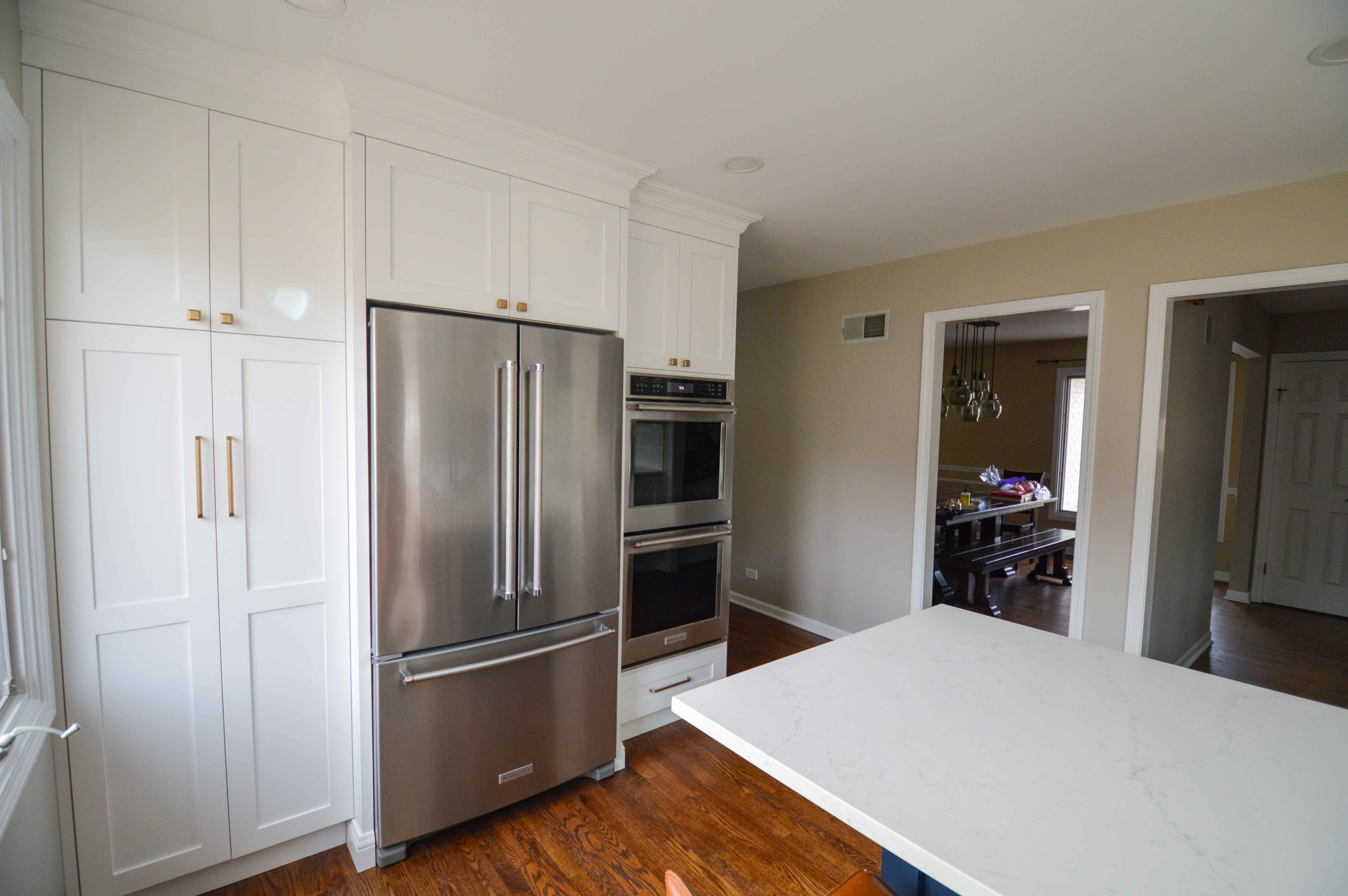 This refers to an enclosed unit that heats and cooks food at a set temperature. If it's stationed in the wall it is referred to as a wall unit oven. This is a great option for those who don't want to stoop to remove hot or heavy pans from the oven. Now it can be stationed at eye level. For those who want the ability to cook two dishes at once at different temperatures, then they should consider a double oven. However, know that both a single wall unit and double oven eat up cabinet storage space. This is especially true for double ovens. Either way, if you do a wall unit, ensure that there is a "drop zone" close by. What I mean by this is to ensure there is some countertop space in close proximity so you don't have to carry a hot pan very far.
Cooktop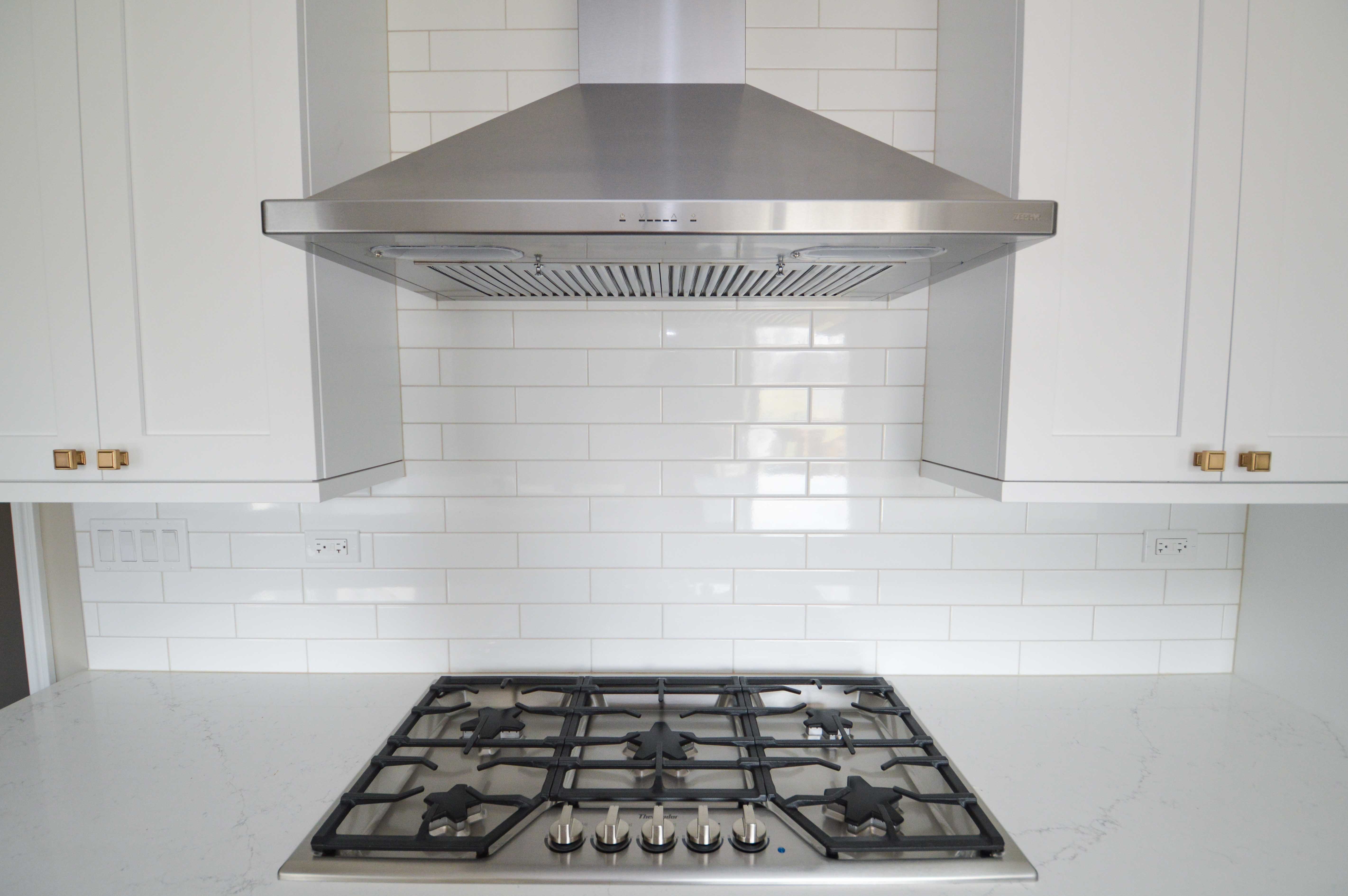 A cooktop is the appliance that includes the burners. If you do a wall mount oven, then you will need a cooktop to be located elsewhere in the kitchen. Some people opt for island cooktops when perimeter countertop space is limited, however, this can be complicated when it comes to finding proper ventilation. Most people, however, like to put the cooktop on a perimeter countertop, with pot and pan storage drawers beneath. Not only does this create an organized space, but it helps create a highly functional cooking area.
There are three types of heating options for your cooktop:
Gas: This is when flames heat your pots. Gas burners allow for the heat of the flame and pot to change instantaneously, plus you can see how high or low the heat is based on the size of the flame. On the other hand, flame burners are the most dangerous.
Electric: This is when electricity is used to heat your pots and pans. The burners are often flat, and show a red glow when they are one. This type of heat is known for making your food hotter, faster. However, if you have to change the temperature of your heat while cooking it takes far longer to adjust than a flame. This is a safer option than a flame, however, can be very dangerous if someone touches a heated cooktop.
Induction: Similar to electric heat, this type of burner uses electromagnetic power to heat things up. That being said, you need very specific cookware for this type of stove. It is by far the safest cooktop, as it only works if it feels the pan and is less likely to burn its users.
While remodeling may give you the opportunity to make the choice between gas and electric, that doesn't always mean the choice is free or easy. Switching from one system to the other can be an unexpected cost while you're remodeling. This decision should be made early, and thus another reason to discuss your appliance purchases with your designer before searching.
Need to Vent?
For those who cook frequently, we strongly urge them to consider getting a ventilation hood to help keep the air fresh and pollutant free while cooking. So many older homes, unfortunately, don't include a vent or simply have an overhead microwave to act as their vent, however, nothing can compare to a fully devoted ventilation hood. These help remove grease and smoke from circulating in your home and discoloring the walls. It also helps keep the air clear of certain toxins released while cooking. For those with larger cooktops, they're going to need a larger hood with more CFMs, which just means a higher powered hood, and unfortunately a higher price tag.
Here are two types of hoods to familiarize yourself with before you go looking:
Wall Mount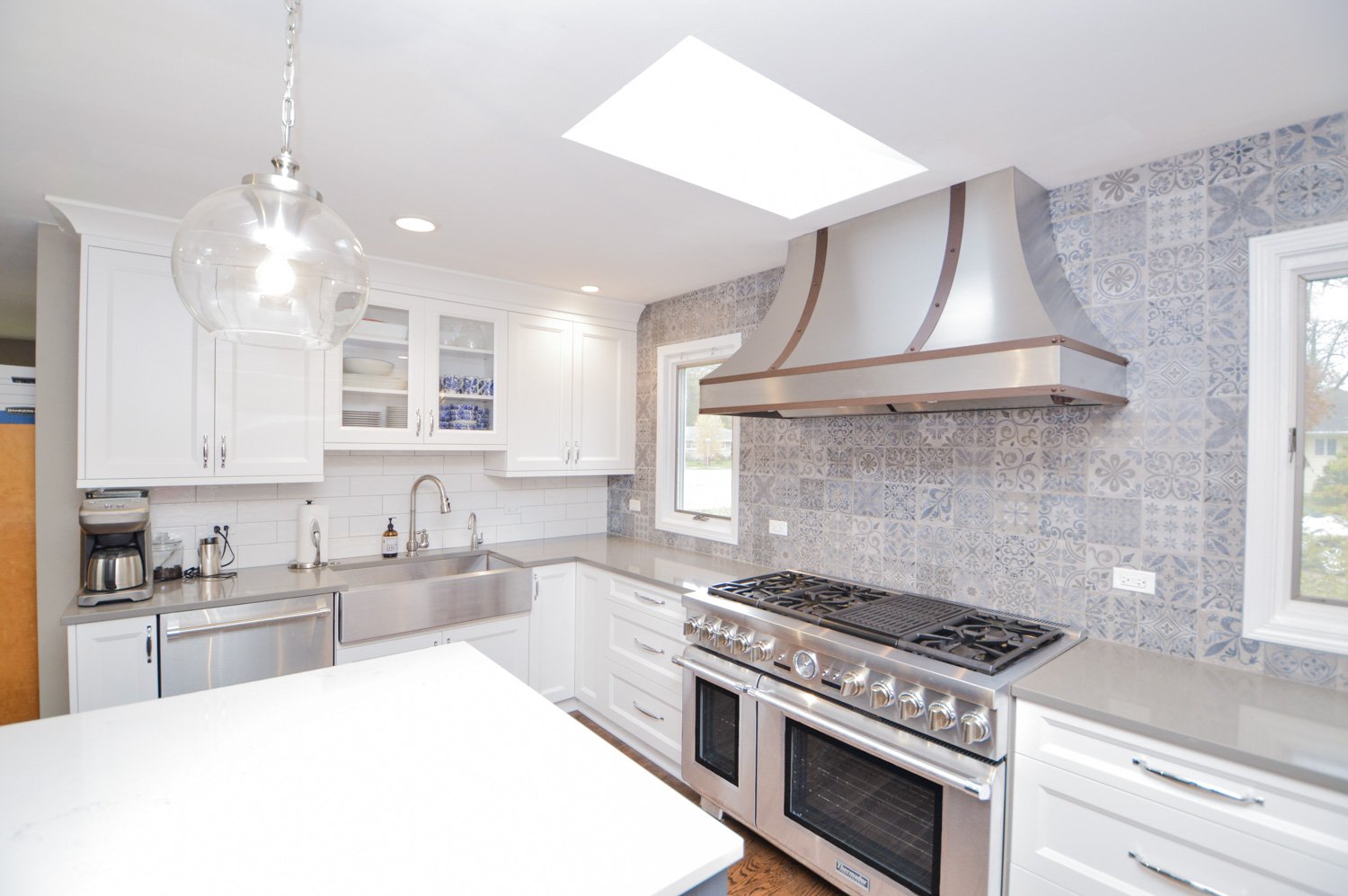 This type of hood is mounted to the wall and is found on the perimeter of a kitchen. This is the best type of hood for giving you the cleanest air and ventilation.
Downdraft Vent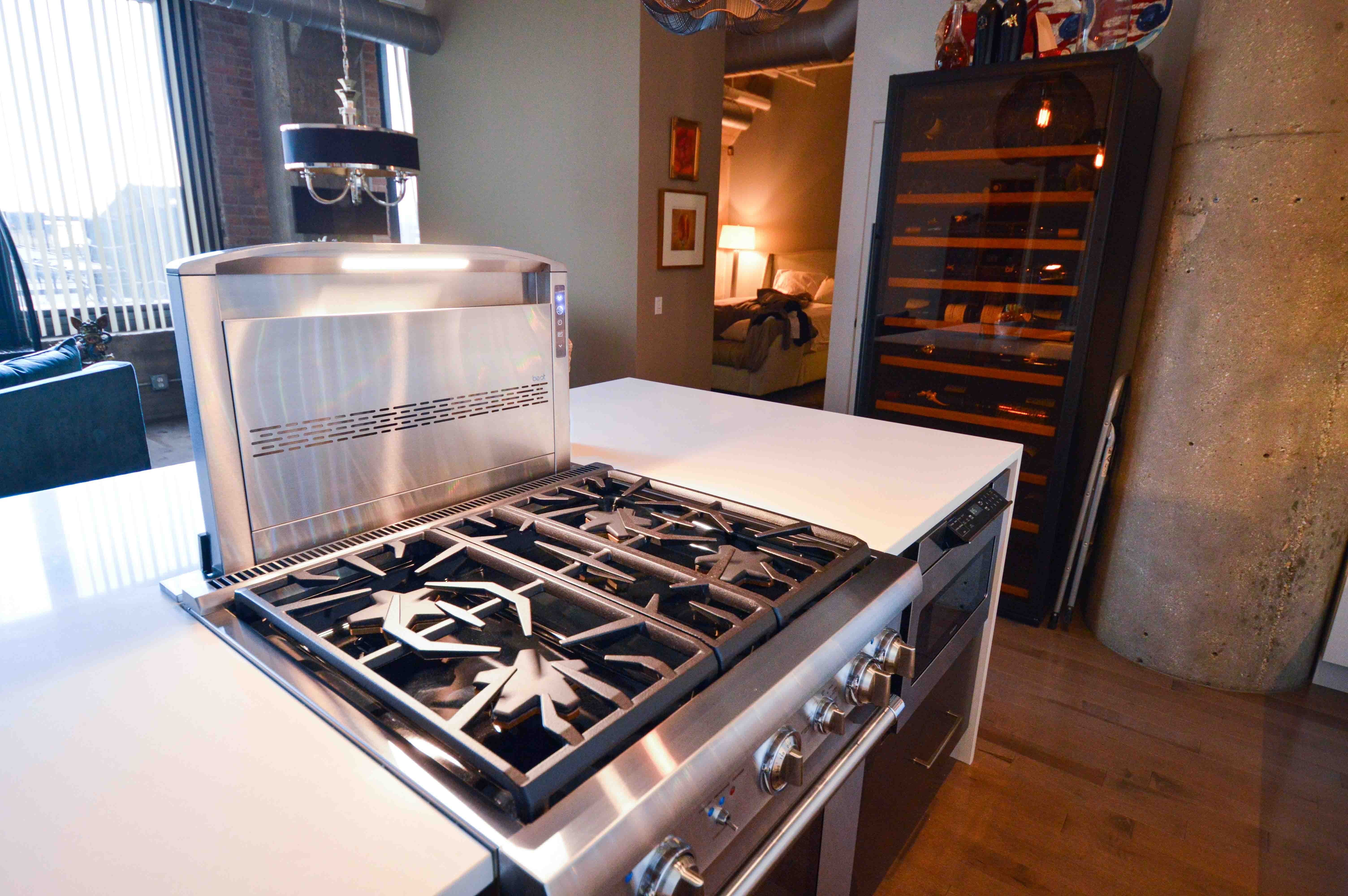 Often, these are for cooktops placed on an island. Many versions are retractable, though some are stationary. While they are better than nothing, they don't catch all the grease and smoke as well as an overhead vent.
A downside to ventilation hoods is how they tend to be quite loud, and can make it difficult for conversation. However, nicer brands, like Vent-A-Hood, have created some of the quietest motors to reduce the noise levels to a gentle hum.
An added benefit to hoods is the style element they bring. With a variety of options, hoods are a great way to add a noticeable dash of character to your space. From shape, size, and color, the customization is almost endless.
Throw It In The Microwave
Finally, it's time to discuss the appliance created to make cooking easy for every person in the world: the microwave oven. It's fast, reliable cooking capabilities has made this a staple to almost every kitchen. However, rarely do we think about where to position it and the different benefits that come from the common placements. Here are the most popular spots for your microwave.
Over the Range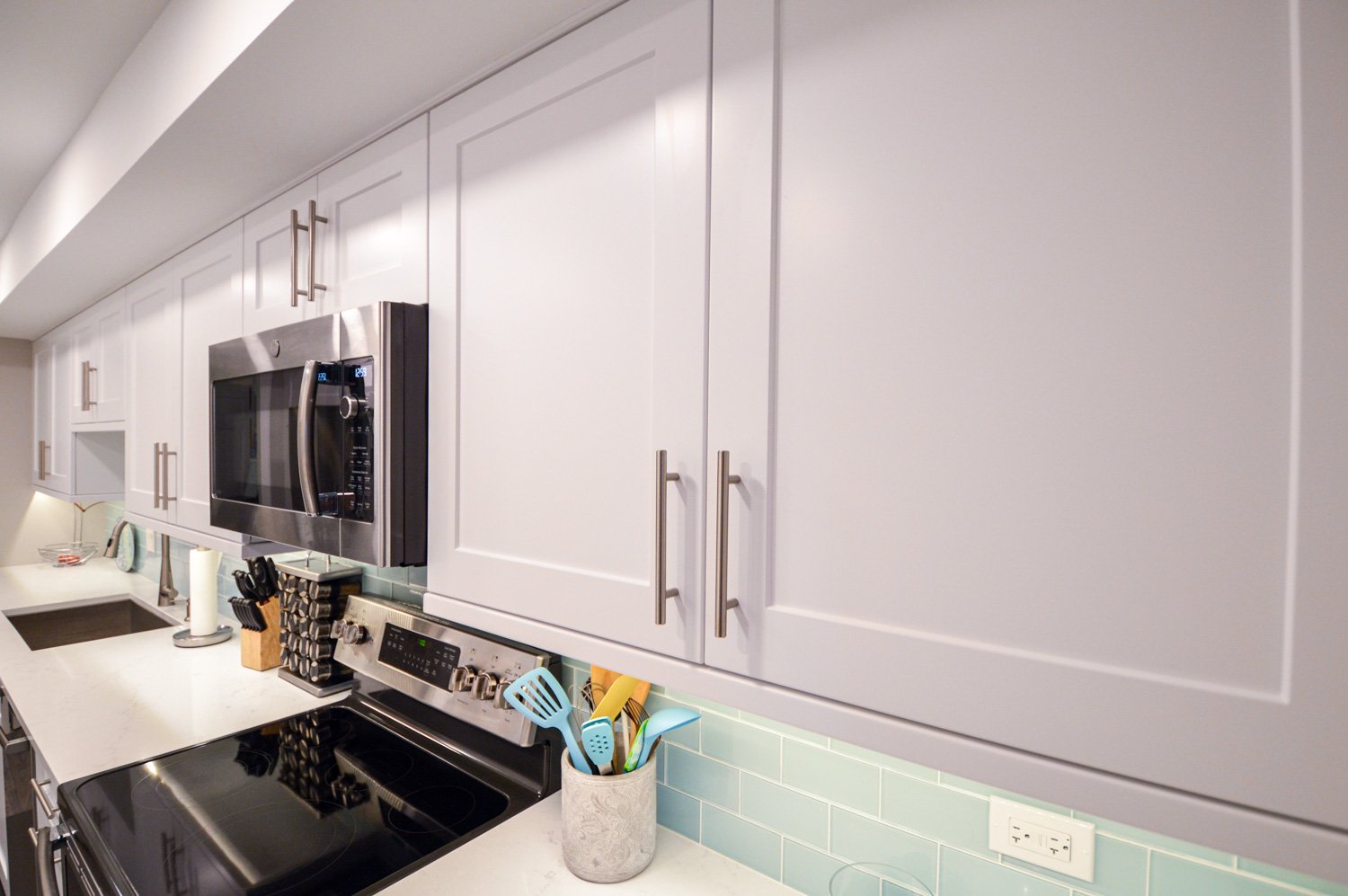 This is when the microwave is stationed above your range and acts as the ventilation while you cook. We do not recommend this option for those who cook multiple times a day. However, if you are trying to save money on appliances and don't cook often, this might be a great solution for you. Simply know the ventilation capabilities aren't great.
Countertop Microwaves
This option is often for kitchens that didn't originally think through where to put a microwave, or didn't prioritize it's placement. It's not a bad option, however, it will take up a significant amount of precious countertop space, as well as cause the kitchen to appear slightly more cluttered.
Wall Microwave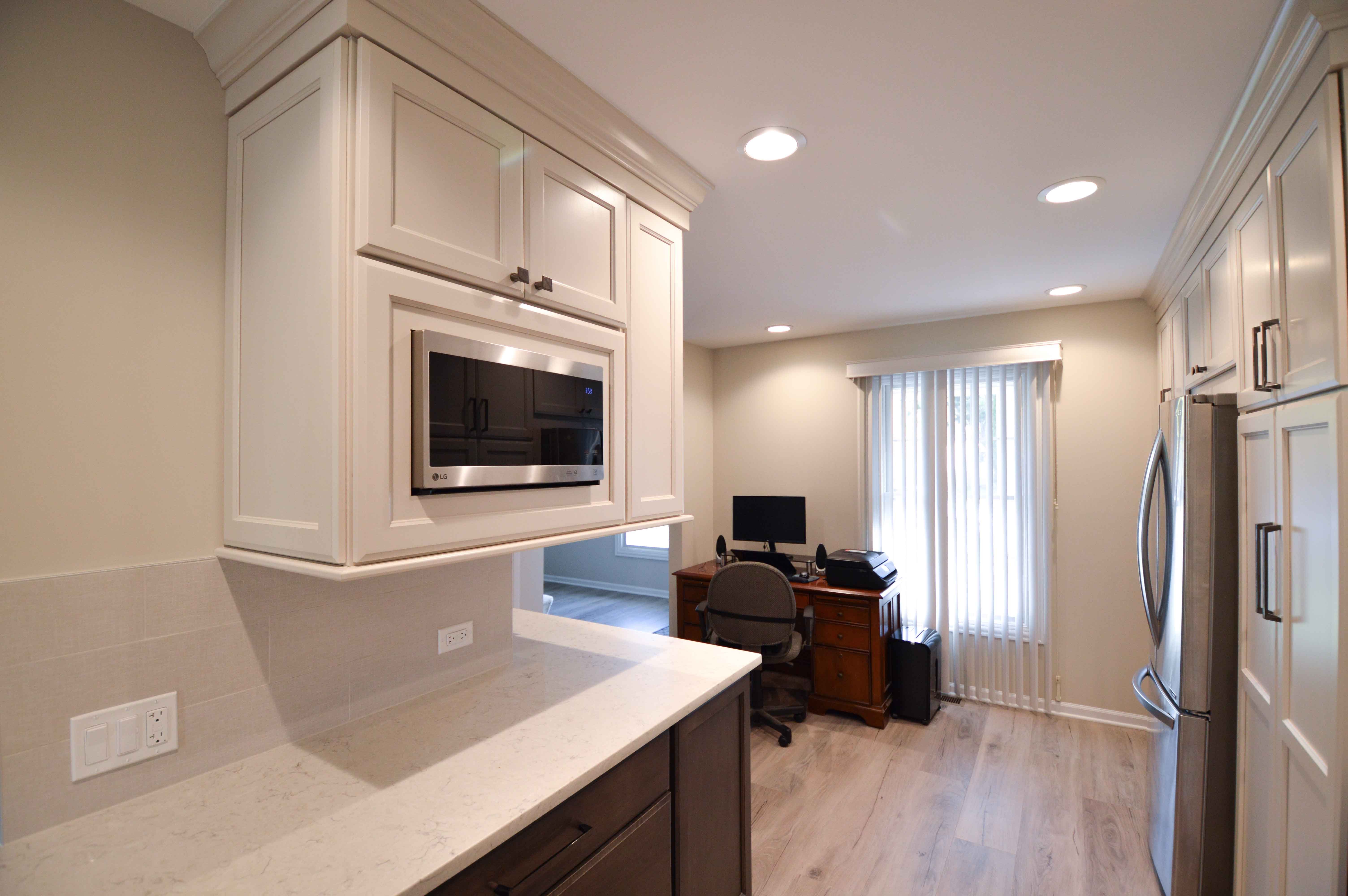 The microwave is built into the wall of your cabinets. This is a great option because you can make it easily accessible so you're not always reaching up. It also feels more cohesive with the rest of the design. The downside is that it takes up valuable cabinet space.
Microwave Drawers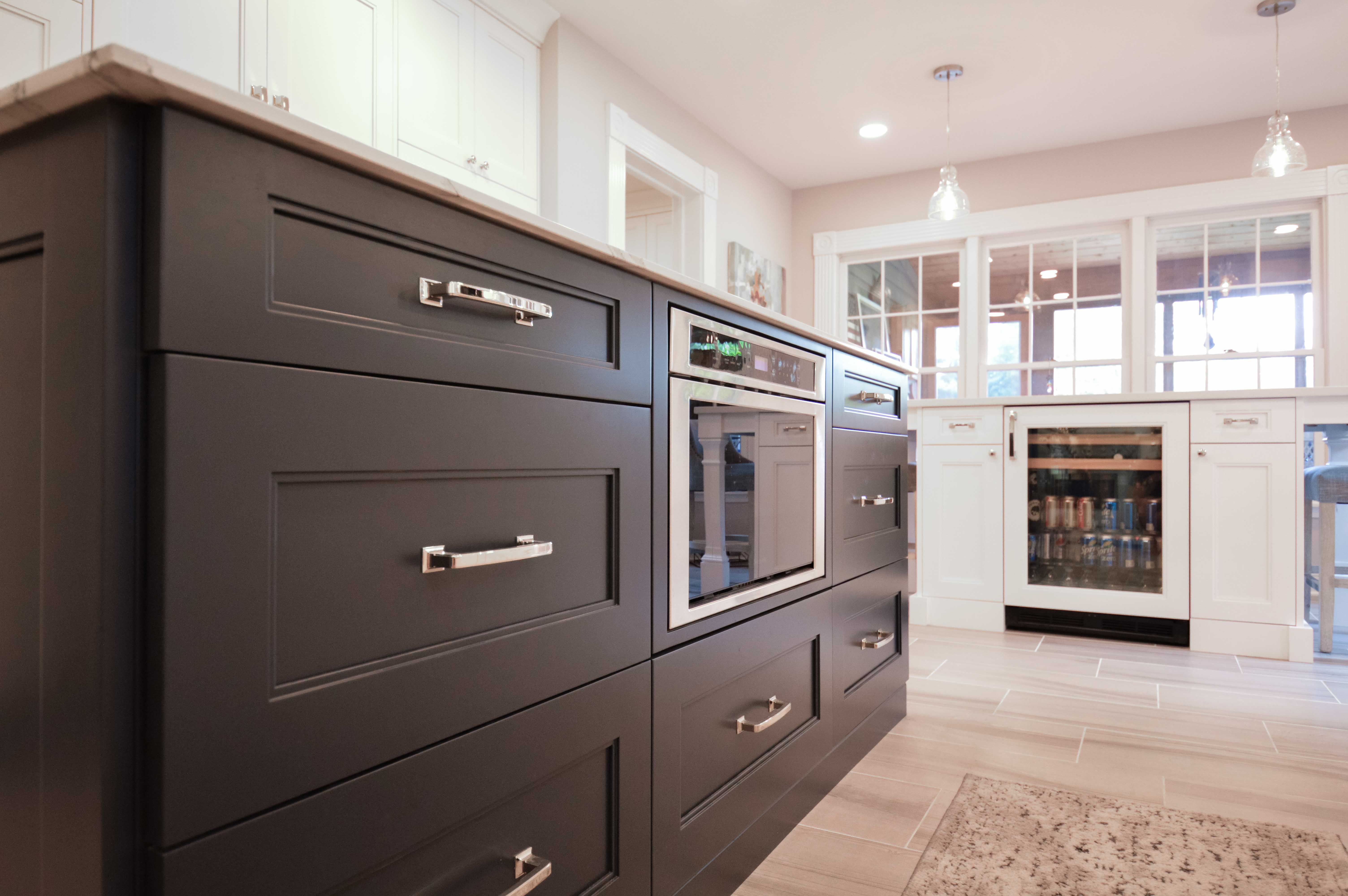 The microwave is stationed in the lower cabinet portion of your cabinets and instead of a hinged door, it is a drawer so you don't have to stoop too much. Many people like this option if they have an island and want to maximize their space.
Besides location, an important factor to consider when purchasing a microwave is wattage. The higher the watts the faster and more evenly your food will be cooked. It seems obvious to purchase one with higher watts, however, the higher the watts the higher the price tag.
At the end of the day, selecting appliances comes down to your personal lifestyle and how much you're willing to invest. The options can be overwhelming, but with a little better understanding of the different types, you will be able to make a well-informed decision.