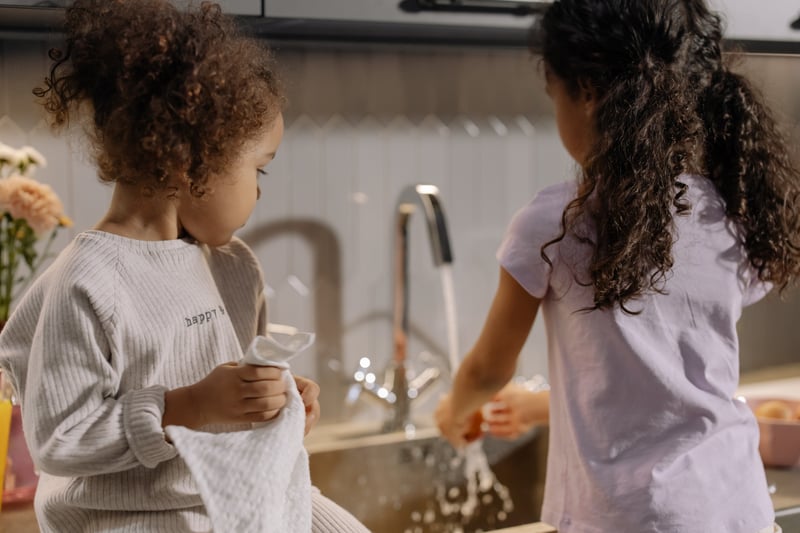 Spring cleaning is a great way to prepare for a carefree summer of playing and sunshine, but it can also be tedious and overwhelming. The kids are going stir-crazy and counting down the days til school is over, and all we want to do is open the windows and enjoy the fresh breeze while sipping a glass of wine. Yet, how can you relax when the kids have tracked in mud, and your laundry is piled to the ceiling? Cleaning the whole house can be a lot on one person, so why not involve the entire family?
We have a few ways to help make your cleaning day fun for the whole family and ensure the kids will WANT to help!
Set a Schedule
Any successful family affair needs to be organized! So gather the family, get your spring cleaning checklist out, and make your plan of attack. Write down what areas of the house you'll do each day and assign each family member specific tasks. This is to clarify who is in charge of what and t help ensure the list isn't too overwhelming for any one person. Kids thrive on structure, so setting a schedule will make them feel better about being involved, and assigning them specific tasks give them a sense of responsibility.
Make it a Game
Now that everyone knows what needs to be done, it's time to get them excited. For little kids, you can start by making a scavenger hunt to find their cleaning supplies. Now that they have the supplies tell them to pick a character to be while cleaning. They can be anything from a superhero saving the house from a mess or a princess before the ball.
Have a Dance Party
Taking a break when working hard is always important. A great way to incentives cleaning is by throwing a family dance party! Set a timer for every 30 minutes, then let the kids pick 1-2 songs for you all to sing and dance your hearts out to. It's a great way to have fun and take a quick break. You can also make the whole cleaning day a dance party by creating a playlist of all your favorite jams to listen to throughout the day.
Make it a Competition
Sibling rivalry is inevitable in families, so why not use that to your advantage and get things done around the house? Set a timer to see who gets their tasks done *well* first, then reward that child with their favorite candy. You can also have them compete against themselves by seeing if they can beat their record time the next day.
Give a Reward
Everyone needs motivators for a job well done. At the beginning of the week, when you make your schedule, have your kids give suggestions as to what the family's reward for cleaning should be at the end of the week. For younger kids, you can hide coins or candy throughout the house; as they clean, they'll find a treasure. Once every item is checked off your list, you can take the family to a movie or dinner. Other rewards could be letting them buy a new toy or video game, going somewhere fun, doing a craft, or having a bonfire!
We hope our tips and tricks make spring cleaning fun for your whole family! If you want to give your home a fresh look beyond a clean surface, our team can help design the perfect space by including materials that are easy to clean and maintain. Get started on your project today!
Related Articles