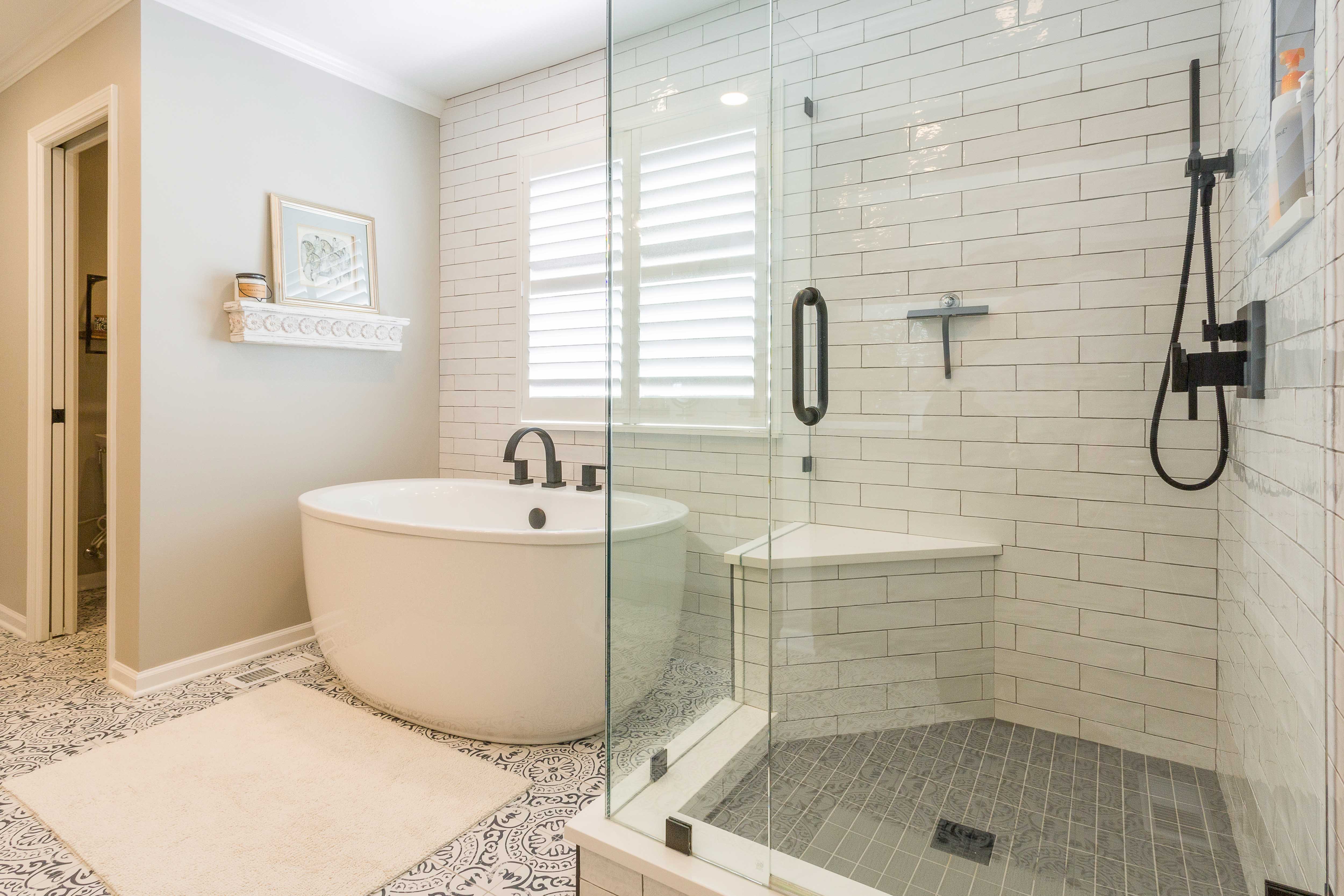 When it comes to bathroom remodeling, one debate often takes over: should the bathtub stay or go? For some, the shower is all that matters, and for various reasons we will discuss below, it is easy to say goodbye to their bathtubs. However, depending on your lifestyle or taste preferences, getting rid of your bathtub could be a bad idea.
In defense of a "Shower Only" Bathroom
The holy grail of a bathroom, especially a primary bathroom, is installing an impressive shower. A good shower is high on the list for most bathroom projects, whether packed with five body sprays, a rain shower head, and a handheld shower head or expanded to include bench seating and a niche. Some showers are so complex that they seem like a car wash. Here are a few reasons people prioritize the shower.
The Look
When clients choose to go the shower-only route, sometimes it's because they prefer the look. Sometimes, they're replacing a tub-shower combo that lacked the elegance they prioritized. Since a shower-only option provides more space, homeowners can often get a glass door which creates a seamless look to the area's design; the glass installation can also help give the space the appearance of being more prominent. The expansion also allows room to create a shower niche, which often acts as a stylistic focal point since it's smaller square footage to splurge on a fun tile.
The Space
Has anyone else ever experienced a cramped shower shoved into the corner of the room? Usually, they're dark, claustrophobic, and an altogether unenjoyable experience. There is often little storage for the necessary shower toiletries, and if you're tall, forget about it; you'll probably have to hunch over to wash your hair correctly. This is why when some people remodel, they opt to remove the bathtub. If the footprint of your bathroom is limited, removing the tub often frees up space for our designers to expand the shower into a glassy, light-filled haven. Expanding your shower creates room to breathe and presents the opportunity for a bench, even if just a corner bench. A niche is also often added as well, creating a place for storage or a focal point for the bathroom.
Safety and Accessibility
Bathtubs can be dangerous. The nature of having to get in and out of a bathtub can not only lead to people slipping and falling, but it can also be extremely difficult for people with limited mobility. And while you can add a tub deck to create a safer way to enter the tub, it doesn't absolve its limitations for those who struggle with getting in and out of the tub. The shower is the best best. You can do a curbless shower to remove the potential for tripping or having to take a step. You can create a wide door and a more expansive space for those whole need an aide while showering. Not to mention, you can add benches for those who may need to sit while showering.
Usability
Sometimes the bathtub removal boils down to one simple fact: it never gets used. As more and more people make showering the primary and only way they bathe, the need for a bathtub diminishes. For those homeowners, a bathtub is a waste of space when they could create an area of luxury. They can instead focus all of their square footage, money, and interest on crafting a shower perfect for their needs. Having a tub detracts from the functionality of their space because it will never get used, and thus, is simply in the way.
In defense of sticking with the bathtub
In recent years, many homeowners have approached us with the intent of stripping their bathrooms of bathtubs in favor of expansive showers. We get it. As stated above, bathtubs can be cumbersome and dangerous, especially for those who are aging or have disabilities. But a part of us feels the need to defend the bathtub. After all, it has its charms, especially when done well. While we usually recommend you have a shower of some sort in your main bathrooms, including a bathtub also has its perks.
Usability
While a shower can be easier to access for people in wheelchairs or older adults who cannot climb in and out of a bath tube, parents with young children tend to favor bathtubs. The shallow tub makes it easier to set and contain a rowdy child while allowing parents to help bathe their children without getting soaked from the shower spray. Pet owners also often prefer a bathtub in their home to easily clean their fur babies.
Home Value
Most real estate experts recommend that a home have at least one bathtub to secure the highest possible resale value for your home. The logic is that some homeowners may desire a bathtub, especially families. This is important to keep in mind before removing all traces of a bathtub from your home.
Self Care
There is something uniquely calming to soaking in a bathtub. Dimming the lights, lighting a few candles, and playing your favorite music while taking a bath create an idyllic atmosphere that can help you catch your breath in an otherwise chaotic day. It creates a space for thinking and relaxing that is separated from anyone bothering you. While shower thoughts can be great, the slow pace of a bath is even better. Just don't fall asleep.
The Look
Opting for a bathtub allows homeowners to make a statement in their bathroom. While showers have niches that get an element of pizazz, your bathtub can function like a piece of art. You can choose an antique-like claw foot tub to bring drama and character, or you can install a sleek, modern soaker that screams elegance and refinement.
Related Articles