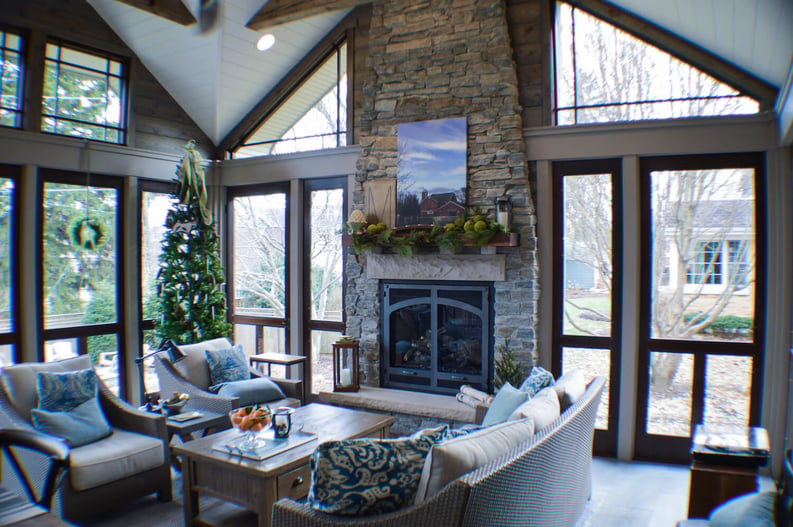 Looking for a way to sit on your patio all-year-round, even in the harsh Illinois winter? Consider building a four season room. This extension of your home has potential to become your favorite space, whether for lounging around or chatting with friends. It can become your escape in this fast paced world.
It can be challenging to know if you should invest in one and to know what features you should add. This breakdown is to help all who feel lost and overwhelmed. While it is a brief overview, it can help you better determine if this is an investment you should make.
What is a Four Seasons Room?
Before moving any further in your decision to invest in a four seasons room, be sure to know the difference between that and other common indoor/outdoor spaces to ensure you choose the one right for your vision and lifestyle.
Solarium: Commonly known as a room made of glass, solariums commonly have windows for at least three of the walls, as well as either glass panels or skylights in the ceiling. Oftentimes, a sunroom is called a solarium, as they have similar materials used.
Sunroom: A sunroom is often an extension of the house. It's main purpose is an indoor room with plenty of access to sunlight. The interior would match that of the house, rather than mimicking the exterior materials used on the house. It would use the same HVAC system from the rest of the house. Often, a solarium is considered a sunroom, though a sunroom does not have to be a solarium (meaning there aren't always windows on the ceiling).
Screened In Porch: Typically, people think of screened in porches as the spaces attached to the front of the house with no heating or cooling, however, I often think a screened in porch is synonymous with a three seasons room or a four seasons room. It is a space often designed to match the external materials of the house, internally as well. It has plenty of windows with the potential of the glass panels being removed to allow for only screens to remain, making it the truest "outdoor" space of the Indoor/Outdoor options available.
Three Seasons Room: While extremely similar to a four seasons room in look, these differ due to their lack of heating. Often, these are for climates that favor a warmer spring, summer and fall. They're more affordable than a four seasons room and are often constructed with different materials.
Four Seasons Room: As mentioned, a four seasons room can also be considered a screened in porch. They differ from a three seasons room because they include heating and cooling. Often, in appearance, the materials used on the interior reflect those of the exterior on the house to give it a more outdoorsy aesthetic. Often, it includes windows that either slide up or can be removed, creating a porch-like environment. The main factor is that it can be used all four seasons and is often insulated.
Reasons to Invest in a Four Seasons Room
Often, people who invest in a four seasons room are trying to perfect their forever home. They are trying to create as many unique spaces for their lifestyle as possible, including an indoor/outdoor space. Often, people love these areas as a way to feel closer to nature and enjoy its beauty all year round while still indulging in modern day amenities. Furthermore, it gives your home more space, which is particularly beloved by people who host friends and family frequently. Many times, it becomes one of the most used rooms for homeowners who decide to invest in one.
What Should I Consider for a Four Seasons Room?
Once you decide to invest in a four seasons room, you will have to start thinking through quite a few details to ensure everything from floor to ceiling is perfect. Of course, before you begin, consider your budget as certain details will increase the amount of your investment.
What Type of Heat Source Do You Want?
In general, there are three different heat sources to consider for your four season room.
In Floor Radiant Heat: If the floor of your four seasons room hasn't already been poured, you can install radiant heat. This allows for heat to be released directly under your feet, and then rise throughout the room, making it a very sustainable option. This is my personal favorite, as the warmth you feel while walking on it can take the chill out of any cold day. I find it to be relaxing and cozy.
Infrared Radiant Heat (Ceiling): Similar to flooring, this is a heating system installed in the ceiling that directs the infrared warmth downwards into the room. Often, people love infrared heating systems because they are noiseless, don't blow dust around, and can sometimes even reduce your heating bill.
Conventional HVAC System: One of the more common heating and cooling systems, HVAC consists of ductwork and vents that will be positioned in the room. Unlike Infrared, it makes noise and can blow around allergens. However, many homeowners find it to be the easiest, natural progression from the system they use within their home.
Apart from choosing an appropriate heating system, you will want to ensure the entire room is insulated and that thermal windows are selected to help retain the heat.
Determine How the Exterior Should Appear
At OHi, we always encourage homeowners investing in an addition to spend more for matching exterior materials. This is required to achieve a seamless look; it is required to have a four seasons room that outsiders would never know was added onto the house at a later date.
We believe (as many of our clients do) that it looks better than a room that appears as if it was haphazardly tacked on. However, we also understand that matching the exterior is not in everyone's budget, especially since finding matching products can be quite costly. If matching materials is out of the question, there are ways to create a four seasons room that is coordinated to your home without being an exact match.
What Type of Windows Do You Want?
For starters, don't consider any window unless it is thermal paned. This helps trap in the heat during the cold months and keep the heat out in the warm months. This ultimately helps you save money on your energy bill and achieve an appropriate temperature for each season.
From there, you can select a window style based on your preference, whether double hung, single hung, or sliders. I personally recommend you choose one that has the ability to be easily removed in the summer months. This way, it can be a truly outdoor space with access to the summer sun and warmth.
Ceilings, Floors, and Doors
Ceilings: These are a great way to add character to your four seasons room. They are often a way to create an external feel. Commonly, clients will request a tongue and groove ceiling, which is essentially a paneled ceiling. This enhances the porch-like aesthetic, while also adding some rustic charm.
In some of my favorite four seasons rooms, we have painted the ceiling black. While it feels like an odd choice, in the evening, the ceiling blends in with the sky. The room then feels limitless and creates an unexpected, yet welcomed calm.
Floors: For durability and weather, we strongly recommend either stamped concrete or tile flooring. Any other option has the potential to be damaged by water. If you choose windows that are removable, then these would be the only options to consider since water would inevitably enter your space.
Doors: While selecting a standard door for the entrance to your four seasons room is completely acceptable, modern technology has created a far more impressive option: accordion doors. These doors fold like an accordion and open the entire room into your home. This creates a seamlessness between the home and the four seasons room perfect for hosting or creating an earthiness throughout your home. Since accordion doors are a hefty investment, a good middle ground might be french doors which offer more access than a single door.
How Will You Use Your Four Seasons Room?
I strongly encourage clients building a four seasons room to always determine how they will live in their new space. Some want it to purely be a sitting room with cozy furniture. For them, I always suggest adding a little fireplace. Afterall, a fire goes a long way on a crisp autumn night or during a snowstorm when you're holed up inside. Others want it to be the perfect gathering space and add a television complete with an impressive sound system. One of my favorite four seasons rooms I built included a hot tub. The options are limitless, however, it's always a good idea to have a vision before construction begins.
Reasons to Not Invest In a Four Seasons Room
While the idea of a four seasons room is attractive to many, there are a few reasons people never move forward to invest in one.
The main reason? Budget.
Four season rooms can be quite costly and, in general, cost more than a standard addition due to the specialized products used. Everything begins to add up, especially to achieve the look customers truly want.
Space is another consideration. Many clients only have room to add onto their house once. If this is the case, many will choose an addition over a four seasons room because an addition will have a better ROI if they ever sell their home. Furthermore, additions are less of an investment and can be more versatile. Whereas a four seasons room can often only serve as a recreation space, an addition can be an office or a bedroom or a playroom depending on your life stage.
Overall, a four season room is a great investment, especially if you're looking for a way to perfect your forever home. For more information on building a four seasons room, schedule an appointment online or give us a call at (847) 541-4848.