If you've lived in the Chicagoland area for a while, chances are you know someone who has worked with OHi for something within their home. From carpets to kitchen renovations to second story additions, OHi has been improving our neighborhood one home at a time.
A Legacy Of Family Values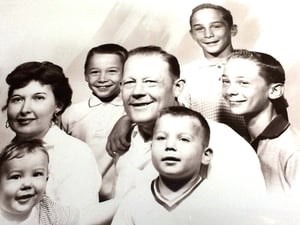 In 1900, Christian Kautz began providing his community with carpeting, teaching his son Charles and grandson Ray everything he knew about the business. Christian and Ray even installed carpet for the Chicago World's Fair in 1933. In 1967, Ray and his wife Kathryn opened a storefront, Carpets by Ray & Sons, which resulted in a second store opening in Buffalo Grove in 1977.
Time-Honored Tradition & Growth
Ray, a father of six boys, eventually employed his sons in his stores when they were old enough to work. He taught them everything, from the product and installation process to the importance of customer service and building relationships. As the business continued to grow and we added new services, we changed our name to OHi. We now specialize in improvements for the entire home, and commercial interiors for healthcare, student housing, property management, and multi-family housing units.
A Commitment To Service
Exceptional customer service and trustworthiness are at the core of our business. Ray and Kathryn founded our company on these values, and we carry them through everything we do today. Even as other companies continually choose to outsource their work, we stay true to our roots and still employ an expert team of professional interior designers, product specialists, project managers, and skilled tradesmen all in-house to ensure the highest quality possible with minimal sub-contracting.
There are endless possibilities for creating your dream home, and OHi has been helping families in Chicago and its surrounding suburbs remodel their homes since we founded our family business in 1900. Our expert team members will help you find design inspiration and carry out your vision. We've been improving our neighborhood one home at a time through expert advice, exclusive products, and exceptional service. Check out our portfolio, or contact us to speak with an OHi family member about your remodel!