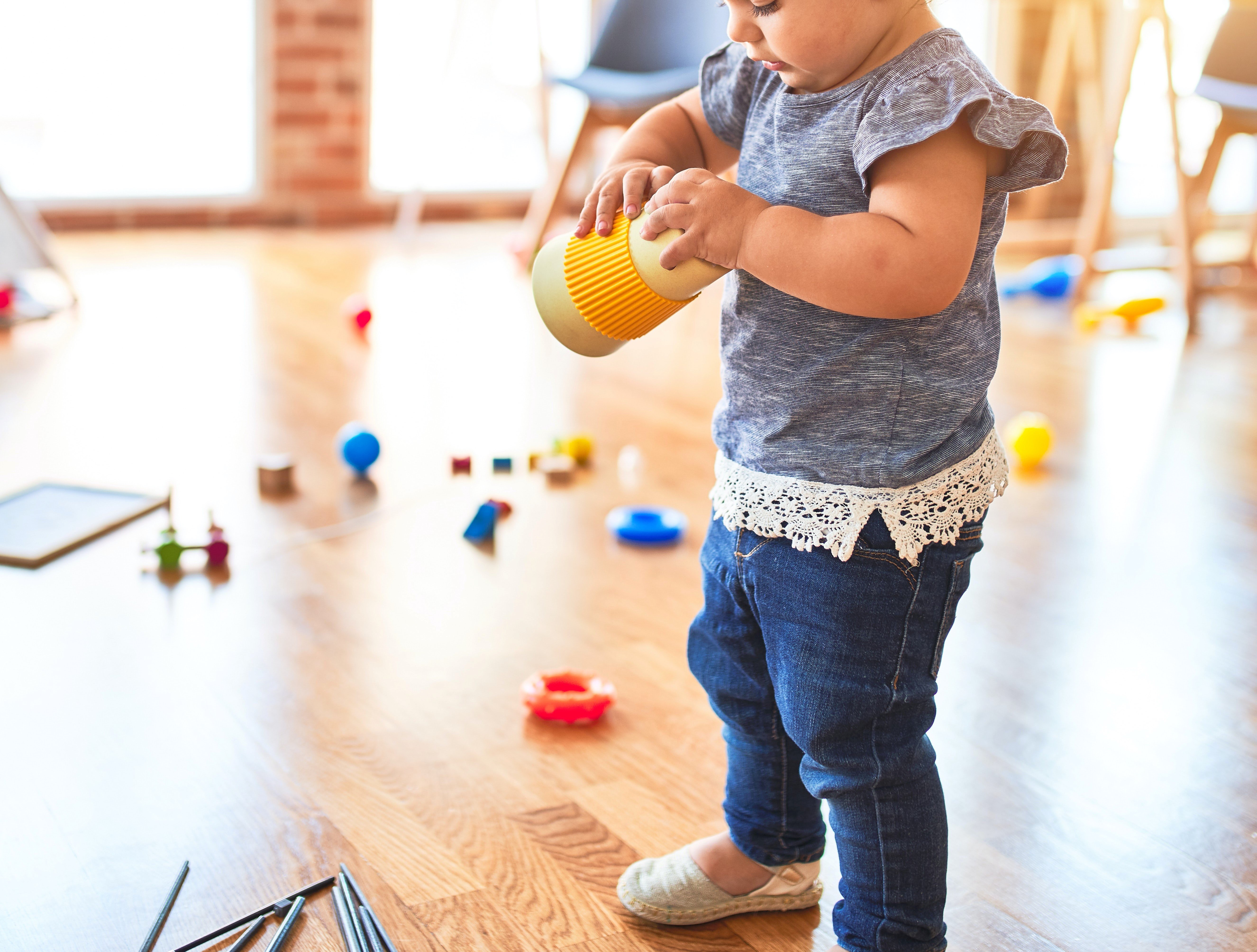 We love family; if we didn't, we wouldn't be a 5th generation family business. We believe in creating spaces made for family gatherings. We relish the joy that families, especially children, can bring to life. At the same time, we recognize being sequestered to your home while balancing a full-time job, e-learning, and the general beautiful chaos children create can be overwhelming. By the end of each day, it may feel as though you spent your time in battle trying to squeeze in just a few victorious moments of productivity. It may also feel like most days, you lose that battle.
It doesn't have to be that way.
We have 3 tips and tricks to help make working from home with kids less of a nightmare. There are no guarantees that everyday will be successful, but with a few boundaries compromises you might just find that elusive productivity you so desperately need.
1. Mark Your Territory
While this may look different for each family depending on circumstances such as e-learning and child care, it is important to create your own work space. Often, a room where you can close the door to the general clamor of your kids. However, that is sometimes a luxury not everyone can afford due to limited space or need for parental supervision while kids go through e-learning. The most important aspect is to station yourself at a comfortable desk that includes storage and organization for all your papers. Be careful in choosing your desk. This will become a space you spend a lot of time, and it should reflect your needs, whether that means one that can compact to fit in a tight space, or one that is decked out with impressive storage, think through what fixture you will mark as your work home.
Whether you build a custom desk as a part of a home office remodel or you buy a manual assembly desk off the shelf at Target, communicate to you children that this area is off-limits and is your personal space. If you have an office, you may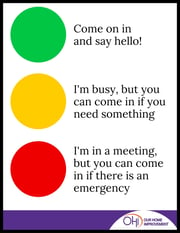 need to have an open door policy or a system to help communicate when kids can interrupt you (obviously, explain that emergencies are always an appropriate time for interruption). For an open door policy, explain that if the door is open, it is okay to talk or come in. If the door is closed, it signifies you aren't to be disturbed. Another system we recommended when discussing making your office perfect for Zoom calls, was to adopt the stoplight system. Have a stoplight printed and put a clothespin next to the color that signifies your current availability. Just don't forget to keep it updated! Click here to print.
2. Make a Schedule and Set Clear Boundaries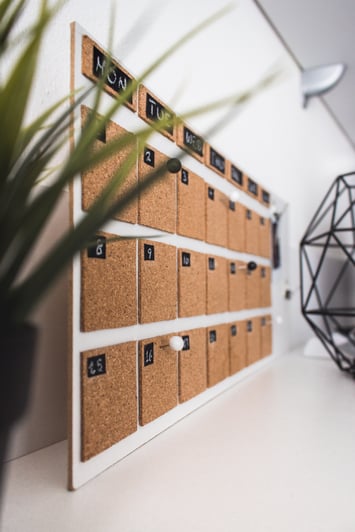 As you will notice, a recurring theme in each of our tips is communication. One of the easiest ways to establish communication alongside stability and structure is to create a schedule. Of course, not every schedule can always be followed perfectly, but it will help set boundaries for availability, as well as work time and fun time for the whole family. Each week, talk as a family about important events happening, whether that's your month-end Zoom call to go over the budget, or a particularly challenging e-learning session for your kids.
Then, write out the schedule. I suggest investing in a large white board with the days of the weeks parceled out. This will help create a visual reminder for everyone. Install the board in a common shared space, such as the kitchen. While it may feel disheartening to design junkies such as myself to have to install a white board in a room you have taken time to make beautiful, there are ways to make it less of an eye-sore. If you are getting a kitchen remodel or in the process, talk to your designer who is trained in interior design, along with kitchen and bath design. They can help you problem-solve any aesthetic issues.
Finally, when it comes to making a schedule, the most important rule is to remember to schedule breaks! Working from home is HARD. Not just in terms of focus for adults, but it is really hard for kids who are used to socializing and engaging during in-person classes more than is able during e-learning. Schedule fun breaks that involve mini-adventures. Go for walks exploring the neighborhood. Bake something irresistibly yummy. Sure, it may give them a sugar high, but it is also a great way to do something with their hands while also discussing the day. Escape to your basement for a game of ping-pong. While scheduling fun may feel counterintuitive to the idea of fun, it will help create the space and time for relaxation. It will also give everyone something to look forward to.
3. Impress with Your Tech
It's safe to say technology is at the center of transitioning to working and learning from home. Not only does it require a stable and fast internet connection for frequent zoom calls, but it requires power. One of the most popular requests we've seen since the rise in working from home is the increase of charging stations. Whether located on the island or on countertops, adding outlets is a big desirable right now. For many, there is an additional want to hide the power source with pop-up power bars that can be hidden and outlets installed in a bar under upper cabinets. Beware that both options have cones. The pop-up bar can take up space in base cabinets, and the outlets installed under the upper cabinets lead to power cord hanging in the air for all to see, making it a better solution for temporary use items such as small kitchen appliances that get put away.
With all the smart technology available, enhancing your home with smart devices can help with scheduling and comfort as well. However, video devices, such as the Echo Show, help create an easy and seamless way to communicate with members of your family no matter where they are located. These devices, when paired with other devices from the brand (i.e. Google products work with other Google products and likewise for Amazon and Apple products), can act as an intercom system where you can pop in and ask someone a question or call your kids to dinner.
Whatever you decide to try, remember to stick with it for a few days until it becomes a routine. Remember, too, that not everyday will be perfect and that's okay. If you're going to be working from home for a while, consider investing in your space to make it more functional and fashionable. Schedule an appointment with one of our designers and they will help guide you through the process.