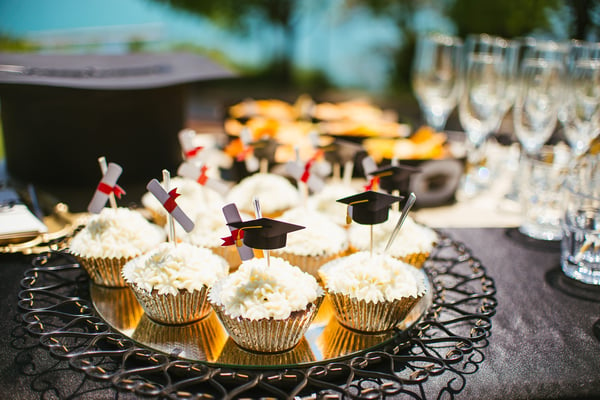 The sun is shining, thoughts of that horrid winter are slowly melting away, and everyone is trying to soak up as much time outside as possible. If you're like me, a mother of a high school senior, then this season is full of joy, nerves, and a busy schedule. From the middle of May through the end of June, our weekends are jam packed with multiple graduation parties in addition to the chaos of trying to plan our own for our son, Ryan. As Director of First Impressions here at OHi, I've had quite the amount of experience planning and attending events. The trick to pulling off any event with ease is spending ample time beforehand creatively and strategically planning for the big day. After countless hours on Pinterest, an extensive Amazon wish list, and my fair share of previous party planning fails, I am so excited to share my favorite ideas with you for the perfect graduation party!
The Grad
The best place, and in my opinion, the only place to start is with the graduate. This is a day to celebrate one of their biggest accomplishments! If they're anything like my son, they diligently balanced school work, extra curriculars, and other commitments. They deserve a great space where they can gather with their friends and family to celebrate past accomplishments and send them off to achieve future successes. Incorporate their favorite colors or most wished-for treat to ensure the party reflects the graduate's tastes and likings. Furthermore, don't over-plan and have the party turn into such an enormous production that it prevents them (and you) from enjoying the day.
A popular way to reflect your graduate's interests is by setting up the perfect "welcome" table. This table should be the focal point of the whole graduation party. On it, display pictures, athletic trophies, academic awards, or playbills of any productions they were involved in. One way to show off how your child has grown is to hang their school picture from every year starting with kindergarten and ending with their senior photo. Family loves to reminisce about when they were younger and their friends love to tease them about how much they've changed.
For me, this table is a great place to share my son's next steps. While I could simply include the logo of his next school in whatever display I create, I love the idea of adding a personal touch. For example, we could buy him a high-quality sweatshirt from the university, and it can double as a nice gift and a special part of the decor. You can also create a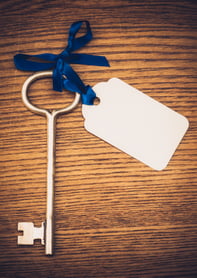 pennant banner in his college's colors with a written mention of how excited you are for him!
Finally, this table should house two important things. First, it should be the location of the cardbox. If you love DIY projects, you can find directions on how to make this super cute graduation cap card box here! However, if you're not the crafty type, and are certain your attempt would result in a Pinterest fail, I recommend you buy one from Amazon. The second necessity is a place for a "guest book" of sorts. This can be accomplished in a variety of ways. For some, it may mean a literal notebook or journal where guests can write a note of encouragement. My favorite is a "Keys to Success" wall. After gathering a bunch of old keys, you attach string and paper to them. On the paper, invite guests to write a piece of advice for the graduate.
The Yum
The second focus should be the thing that every guest is most excited for (besides the graduate, of course)... the food! When feeding such a large crowd, I suggest setting it up buffet-style and doing a food bar! For example, you could do a nacho bar where you put out different types of chips, cheeses, salsas, and a variety of other toppings. If you want to offer a main course later on, a taco bar would be the perfect, low-maintenance shift because the toppings are essentially the same.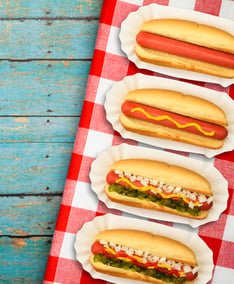 For me, I love the idea of a summer picnic, complete with a burger and hot dog bar. While we grill the meats, guests can find the quintessential condiments on a bar covered in a red and white checkered tablecloth. We'll have potato chips and pasta salads stored in clear jars. To ensure there are healthy options, we'll offer vegetable platters and tiers of fruit. If we decide to get fancy, we could offer fruit kabobs and cute veggie cups with dip. Whatever type of food you decide on, I highly recommend setting it up buffet-style as it allows guests to serve themselves.
If you're looking for the perfect appetizer, try these Cheddar Bacon Pinwheels, shared by Associate Designer, Morgan Schabilion. They are a perfect appetizers for people to grab and go. They're just the right size for those who are making multiple party stops in one day.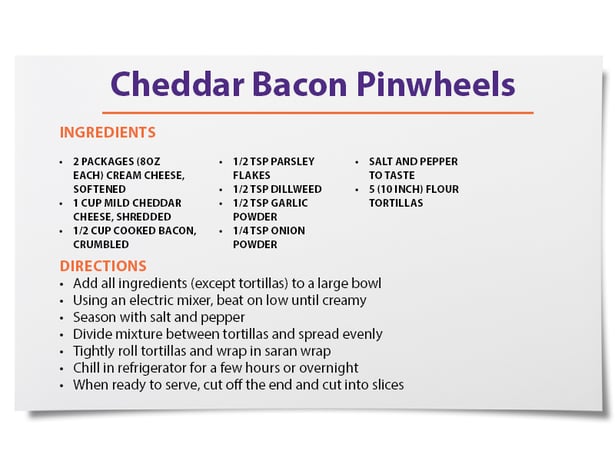 As for dessert, no party is complete without a cake. Perhaps you've been dreaming of buying a big sheet cake with your graduate's picture plastered on top. I also love the idea of having a smaller cake with a graduation pun or an inspirational phrase. This option allows for me to make a dessert table where we can have a wide assortment of treats. An easy sweet treat to include are these diploma cookies. All you have to do is tie ribbon around Pepperidge Farm Pirouette cookies. Or you can follow this recipe here, which uses fondant and other things to make them look even more realistic.
Another great idea that is sure to spark joy for all ages is a candy bar, but especially a pun-tastic candy bar. All you need are silver pails (like these from Amazon), and an assortment of candies where you can make graduation puns. Some of my favorites are as follows:
Gummy worms with "Book Worm" label
Tootsie rolls with "Honor Roll" label
Dum Dums with "So Long Suckers" label
Smarties with "Smartie Pants" label
Cookies with "One Smart Cookie"
Ring pops with "Class Rings" label
I could keep going, but I think it's best if I let you come up with some on your own! Provide little candy bags so guests can stock up on the sugary sweetness and you'll be set (don't forget to refill the pails once in awhile).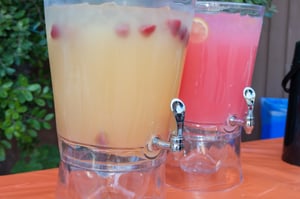 Finally, don't forget the drinks. With the sun beating down on your guests, and teenagers engaging in an intense game of bean bags, people will be parched! Obviously, you can set up a table with red solo cups and bottles of pop and water. But you can also see this as an opportunity to add a little razzle dazzle. For a funny, but cute idea, consider purchasing a kiddie pool, filling it with ice and stocking it with cans of pop or bottles of water. Or, grab that wheelbarrel you forgot you had and park it next to the burger bar, filled with ice, and stocked with drinks. For those going for a higher end look, consider buying clear beverage dispensers and offer signature drinks such as a special iced tea, fruit infused water, or specialty lemonade.
The Look
It's time to let your creative side go wild! When preparing the space, it's important to start with the moment guests arrive. For some, this might be the first time at your home. Be sure to have a clear marker out front that notes your home as the graduation party destination. Consider lining your front walkway or driveway with balloons in the color theme you decide upon. Feel free to go the extra mile and create a decorative sign to put near the edge of the sidewalk or driveway saying "(child's name)'s Graduation Party!" With an arrow pointing towards the backyard or a sign taped to the front door saying "Come On In!". This way, the guests won't feel confused about where to go or awkward about walking right in.
One trend that has almost become a must at graduation parties is the inclusion of photo opportunities, especially in the form of a photo booth! There are so many fun approaches to this idea. Commonly, people create a backdrop of metallic gold fringing. Then, they string a sign that says "Congratulations Graduates!" or some other similar phrase. If this is your approach, spice it up by purchasing fun props like these from Amazon! Also, consider adding a little extra glitz with these tassel glitter balloons.
If you're artistic, you can do something similar to what these two high school graduates did for their parties.They found two tall wood pallets, painted it black, and then stenciled the words "Congratulations (their names)". Then, they added flourishes and extra details. While I still recommend the props, this background provides an elegant and personal touch that stands apart from the usual backdrops. If you want balloons for this photobooth, consider getting number shaped balloons for the year of your child's graduation! They are always a hit, especially with the younger graduates.
A third idea for a photobooth would be to hang large photo frames from the trees in your yard. That way, people can pose behind them, and you can create a whimsical, unique look.
With a fun photo opportunity included, you can spend time creating a cohesive feel throughout the rest of the decorations. After you've determined your colors, you can start choosing tablecloths and fun centerpieces. Mason jars tend to be the ever-popular choice. Many people fill these with colored glass rocks and stand up little school pennants.Or, if your kid is an athlete like mine, you can specialize the jars for their respective sport or activity. One family made football mason jars! Whatever you decide to do, make it simple, cute, and cohesive.
The Space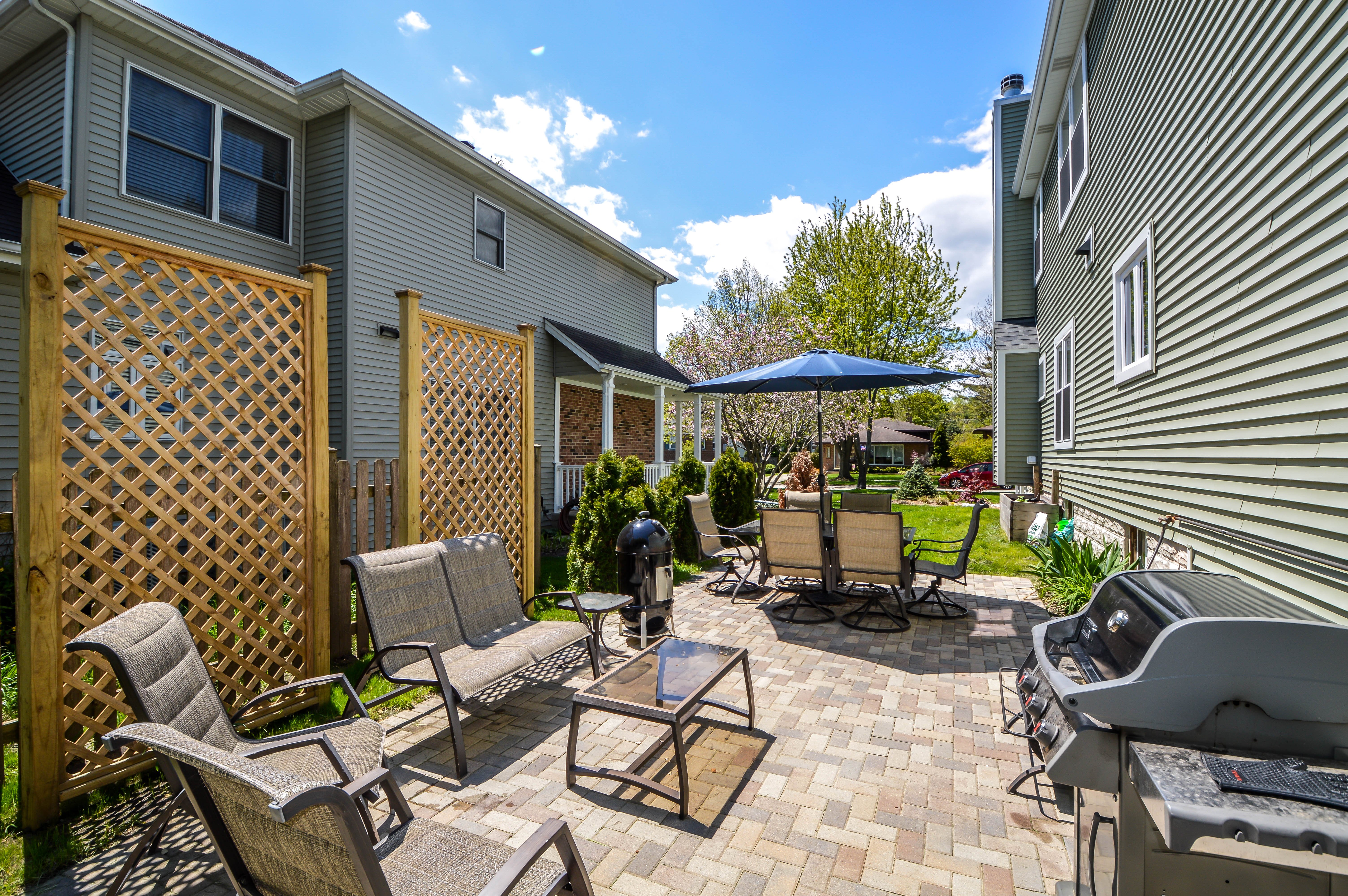 Before you even knew the date of the party, I'm sure you had a vision of where the festivities would be taking place. For some, your go-to party space is the backyard on your patio, or maybe, it's the garage to be prepared for rain or shine. Either way, it's inevitable that guests will be spilling into your home. People will have to use the restroom, more likely than not, some guests will not be able to stay out in the heat for extended periods of time.
You probably haven't thought twice about the appearance of these spaces. And yet, when the party rolls around, you start to panic as you notice every crack in your garage cement, and how the storage solutions you put together last spring,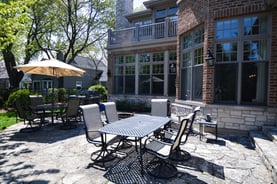 aren't solutions at all. In your backyard, the patio can hardly be called a patio. After all, stones are missing, it's uneven, and you can't even remember the last time you took a pressure-washer to it. Although you have managed to block the image of your dated half bathroom thus far, the thought of every friend, neighbor, and family member filtering in to use it, is absolutely horrifying.
Don't let the appearance of these spaces take you by surprise! Instead, take notes beforehand, and start talking with OHi about how we can help improve these spaces. While these projects certainly won't be done by the party date, you can at least drop little hints that you plan on doing work to these spaces. It's time you graduate from these dated, dysfunctional spaces and move on to bigger and better things!.
If you'd like to see more graduation ideas, visit OHi's Graduation Party Pinterest board, and while you're there, check out our other home design inspiration, or visit our portfolio. If you're interested in talking with our team about starting a project, call us at (847) 541-4848 or schedule an appointment online.
Related Articles