Undertaking a bathroom remodel requires a homeowner to make a great many choices. Each surface or component in a bathroom, from the sink to the showerhead to the towel rack, has a world of options that must be harmonized. Nowhere is the range of possibilities broader than the selection of tiles. With so many materials, colors, and textures to chose from, homeowners can be overwhelmed. Keep these tips from Tammy Ogaard in mind to help make the right decisions and design the perfect bathroom.
Keep It Simple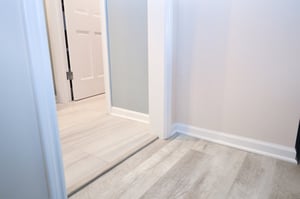 A bathroom remodel can be an excellent opportunity for expression, but it's important to remember that it's a small room. Too much variation in pattern, color, and material will result in a cluttered look that could constrain the space and make it feel smaller. Homeowners should try to limit the design to no more than three different types of tiles. Look at our portfolio for inspiration and try to envision a completed remodel rather than selecting favorite individual pieces. A good technique is to select one must-have tile as the focal point for the design then pick one or two accent tiles to make the centerpiece pop.
Match Matte Tiles With Glossy
A bathroom with only matte surfaces will look bland while utilizing only glossy will give it an overly slick appearance. Try using matte on the floor tiles and glossy tiles for the walls or vice versa to create a nice juxtaposition
Consider The Maintenance Required
While everyone wants a bathroom that looks great, it's also important that it be functional. High levels of moisture and foot traffic can make cleanup a pain on unsealed natural stone or mosaic-style designs with small tiles and lots of grout. Homeowners should take maintenance into account and look for tiles that are beautiful but also practical for the space.
Now What?
There are endless possibilities for creating your dream home, and OHi has been helping families in Chicago and its surrounding suburbs remodel their homes since we founded our family business in 1900. Our expert team members will help you find design inspiration and carry out your vision. We've been improving our neighborhood one home at a time through expert advice, exclusive products, and exceptional service. Check out our portfolio, or contact us to speak with an OHi family member about your remodel!
Related Articles