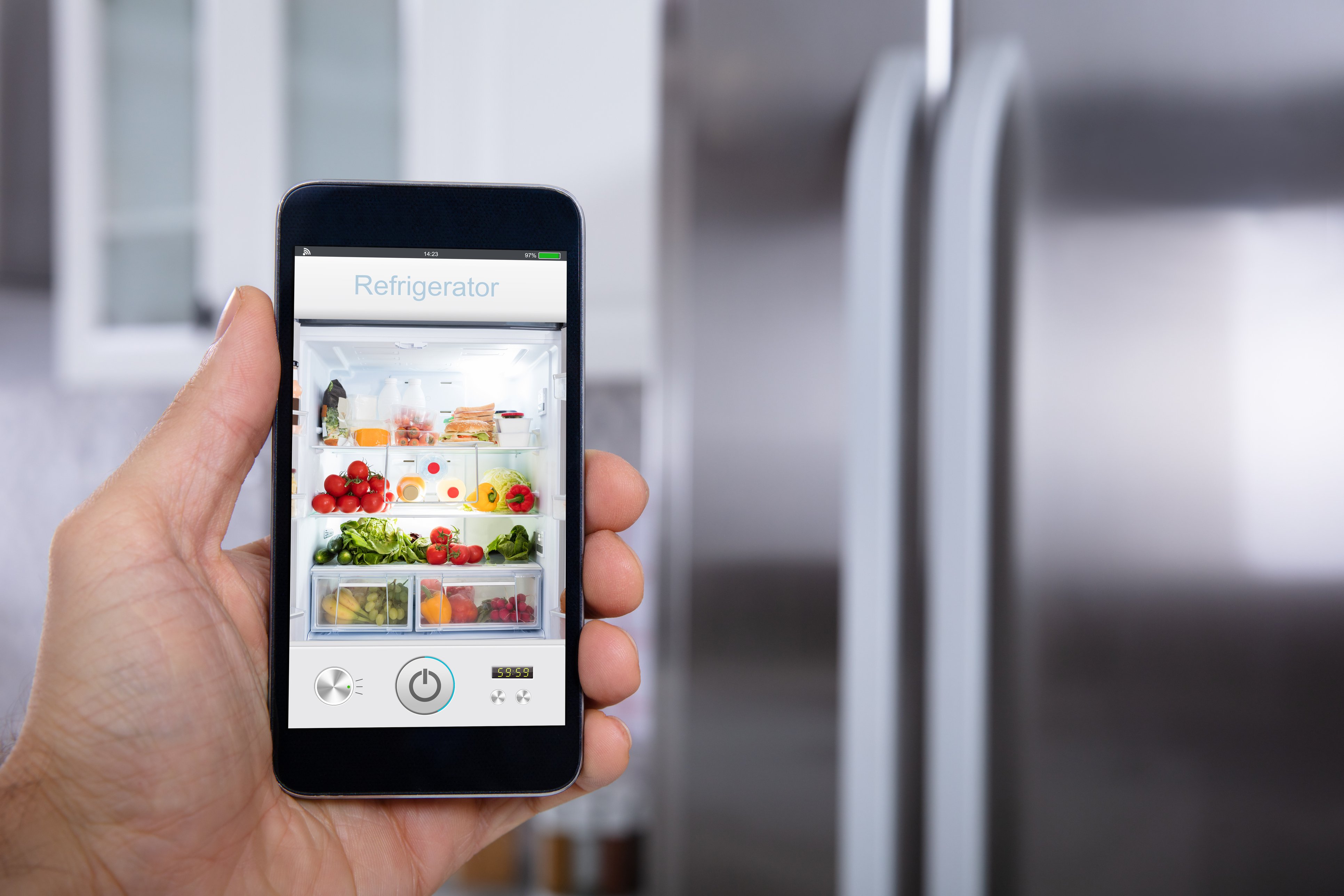 For those who are always on the go, with so much bogging down your mind on a day to day basis, the safety of your kitchen is usually an afterthought. Did you leave the oven on after pulling an all-nighter cooking for the school bake sale? Did you remember to start the dishwasher so you will have clean plates for your dinner guests this evening? These are the questions that you don't typically think about until you've already left the house and will gnaw away until it's all you can think about. Fortunately, life doesn't have to be this way, filled with fear and the unknown. Instead, we live in a world where we can invest in smart home technology to make our kitchen landscape a simple, convenient, and connected space that we can control wherever and whenever we want. Kitchen and Bath Designer, Dove Brown, is here to share her favorite smart kitchen features.
Faucet-nating Technology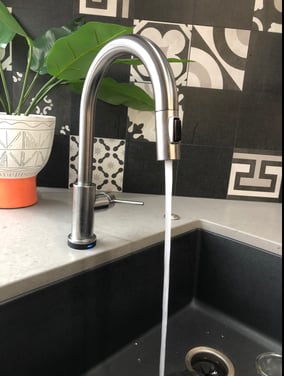 For those who just want to dip their toe in the water, we'll start by discussing high-tech sink faucets. Many of us are familiar with the ever fickle motion sensor faucets. The ones located in every movie theater and fast food restaurant's bathroom. You wave your hand beneath the silver faucet head and impatiently wait for the water to gush forward. Sometimes, it doesn't work and you may even make a mental note to never invest in a hands-free faucet for your own home. Perhaps you were a bit too hasty. After all, companies like Moen offer highly intuitive faucets that have sensors above and below to determine when to start and turn off. The benefits include a germ-free experience and convenience. If you just handled raw chicken and don't want to touch the handle? Not a problem. Kids have paint on their hands and rush towards the sink? Bring it on. Motion sensor faucets really are the way of the future for cleaner kitchens. Kohler, however, takes it one step further with their Sensate Faucet. Available in three colors and complete with motion sensor technology, this faucet truly is a smart faucet as it integrates with Alexa and Google Home. Now you can yell from the living room, requesting that the faucet fill up four cups of water… and it will.
Fridge Door to Another World
Samsung is giving us a whole new reason for the refrigerator to be our favorite, most frequented appliance in the home. Sure, it's a great place to store food and feel a rush of cold air in the summer months, however, Samsung saw its potential to be so much more with something they like to call the Family Hub. This smart fridge can function as the control center for your other smart appliances, allowing you to dim the lights, set the thermostat, or turn on the oven. Beyond that, it truly becomes a place for your family to gather. With the help of Google Assistant, your fridge can house a family calendar that keeps track of everyone's schedule. Photos can be shared and saved, shopping lists created, and groceries ordered. You can play music from Spotify or watch TV if you have a Samsung television and utilize the screen sharing function. If you're out at the grocery store and see something you can't remember if you already have, the Family Hub allows you to see inside your fridge so you don't overbuy. A final touch, that is sure to spread joy, is the ability to write notes on the touch screen. This is perfect for homeowners who have little ones practicing the alphabet, or for those who want to leave notes of appreciation before they run out the door.
No Need to Look Under the Hood
Not to be confused with the Samsung Family Hub, GE recently released a stove hood called the Kitchen Hub. This 27 inch tablet screen rests above the range top with patent pending technology that protects it from steam, smoke and grease. The hood meets all ventilation requirements with a powerful 600 CFM and adjustable speeds. Perfect for those who love to cook as it comes with over 5000 recipes for users to follow along with at home. GE realized that we spend hours in the kitchen, and often can feel isolated, which is why they included two cameras. One camera is for video chatting while you're cooking, so you can still talk to friends and family. The other camera faces the stove, so you can snap pictures for Instagram of the incredible meal you're preparing. For those who want to video chat, but also need to follow a recipe, no worries, you can just split the screen. You can play Spotify, watch Hulu and Netflix or check your family's schedule with Google Assistant. If you invest in other GE smart appliances, the Kitchen Hub will become the new control center.
All it Takes is a Little Wifi
You're probably thinking, "Dove, all this technology is really cool, but I'm still stressed about controlling it all". That's where using apps will come in handy. Many of these systems have an app you can download on your phone allowing you to control your smart appliances. The leader in smart technology, Miele, know how to do it better than anyone else with their Miele@home app. If you fill your home with Miele smart appliances and download the app, you have the control to start your dishwasher, check how long your washer will be running, if the fridge is closed, or if the oven is on. Don't worry, the appliances will still work without the app and wifi, they'll simply have to be managed manually. The Miele app holds recipes, can create shopping lists, and notify you when you're low on a specific product. It can even start the coffee machine so you can lay in bed for a few extra minutes.
Integrating technology into your bathroom or kitchen can be a big leap. However, if you're interested in Smart kitchens, or just regular kitchens, consider giving one of our team members a call, or scheduling a showroom appointment. We love to talk about all home remodeling projects smart or dumb.