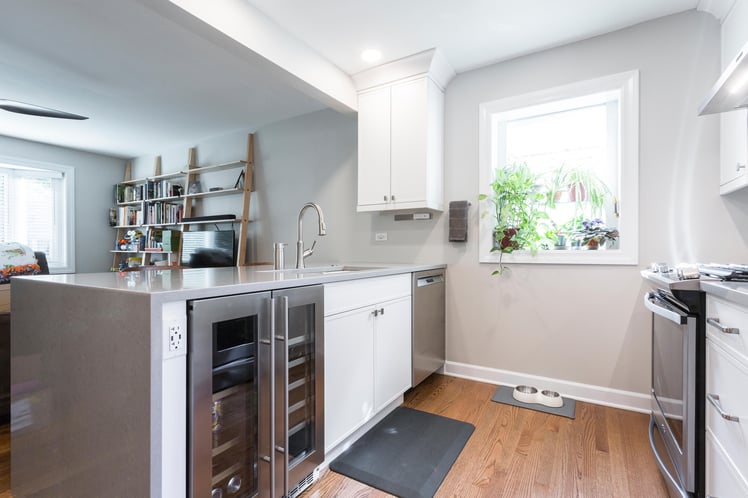 The days are getting longer, the pool is open, and the sun is shining, but all you can think about is how you can't stop sweating and that every time the temperature rises, so does your electric bill. This is what we at OHi call hot people problems. We've found an easy solution to this problem, and it starts with your interior design. We thought we'd share six solutions to keeping your home cool without overworking the A/C.
Stay Shady😎
Implementing window treatments is a great way to keep your home cool and help your electric bill decrease. This affordable solution can be as simple as blinds or black-out curtains. Today, blinds have come a long way from the standard, cheap-looking mini blinds found in many builder-grade homes. They are often more stylized to fit your taste, are easier to use, and can even be automated. Automated blinds are both convenient and efficient. They can be programmed with an app to open and close at a set time or will close on their own based on the weather to protect your home from excessive sunlight and keep it insulated from the heat.
Beat The Heat🔥
Using heavy-weight materials inside and outside your home, like brick, plaster walls, tile, and stone, help reduce temperatures because they absorb heat. During the day, thermal mass stores the heat from sunlight and releases it at night. These materials work great for homes in the Midwest climate, where it is hot during the day and drops significantly at night. These materials also provide aesthetic benefits for your home design.
Bare Necessities🌴
To keep your environment cool, use hardwood or LVT flooring. Carpet fibers absorb sunlight and radiate the heat in your room, whereas hardwood floors better conduct heat to keep it off your feet. Of course, you can always add an area rug to make certain sections of your home, like the living room, cozier.
Time to Tan☀️
Dark colors are prone to absorbing sunlight and naturally warming a room. Using neutral colors, like white, natural woods, or pastels, reflect sunlight and keep your room bright and cool. If you like moodier styles or rich stark contrasts, you can always use dark colors in accents like cabinets while opting for neutral colors for the wall paint.
Life's a Breeze🍃
Creative light fixtures can provide another solution for keeping your home cool. A recent trend, Light fixtures with fans are the ultimate way to keep your home cool. They provide natural air circulation and allow you to feel a cool breeze throughout your day without using as much electricity as your air conditioner. They also add an element of style to your room with the unique designs and option of a chandelier fan fixture. Another way light fixtures can provide cooling powers is by using more eco-friendly LED bulbs that don't give as much ambient heat as incandescent lights.
Ice, Ice, Baby❄️
Beverage coolers make for a fun and functional way to keep your cool. You can have them installed directly into your kitchen island, basement bar, or outdoor kitchen. They create easy access for kids to grab a drink while playing outside. Beverage coolers are also great for hosting as they free up space in your main fridge and allow guests to have a cold drink anytime.
If you're someone who is always hot and wants to create a cool environment in your home, contact us today! For more examples of these features, check out our portfolios!