In home decorating, the vast range of carpeting can be confusing, if not overwhelming. To help in this pursuit, homeowners can explore some carpeting basics in order to find the best option for their space, courtesy of the king of carpet himself, OHi President John Kautz.
Carpet Materials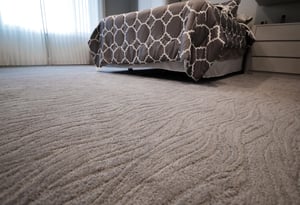 When considering wool vs. synthetic materials, there are pros and cons of each. Wool is the leader in terms of high-end quality, but also tends to come with the biggest price tag. Many low-maintenance synthetic options like Nylon come with the added benefits of stain-resistance and durability—making them an excellent choice for households with pets or small children.
Influence Of Carpet Pile
The pile of carpeting refers to the density of its fibers. With flat or short pile, the loops of fabric that comprise the carpet's base remain connected for added durability. With cut pile, the loops are trimmed at their ends for a thicker, softer feel and appearance.
Styles Of Carpeting
The most common carpet styles are plush, Saxony, Berber, and Frieze. Plush and Saxony are usually selected for master bedrooms and formal living rooms. Berber's flat and durable stain-resistant surface is ideal for high traffic areas. Frieze is a cut pile less formal than plush but fancy enough for bedrooms and softer underfoot than Berber.
The Importance Of Padding
Carpeting relies on a firm layer of padding for support, strength, and some additional cushioning. When properly installed, quality padding will prevent the carpet's fibers and backing from separating over years of wear. Homeowners should consult with a home design expert to determine the right type of padding to suit the choice of carpet and space.
Prices Of Carpeting
Given the range of styles, choices, and prices in the carpeting marketplace, shoppers can rest assured that there is a type of carpeting for any lifestyle or budget. To keep the bottom line in check, always request separate pricing for materials and installation, and don't forget to ask about available warranties.
Now What?
There are endless possibilities for creating your dream home, and OHi has been helping families in Chicago and its surrounding suburbs remodel their homes since we founded our family business in 1900. Our expert team members will help you find design inspiration and carry out your vision. We've been improving our neighborhood one home at a time through expert advice, exclusive products, and exceptional service. Check out our portfolio, or contact us to speak with an OHi family member about your remodel!
Related Articles